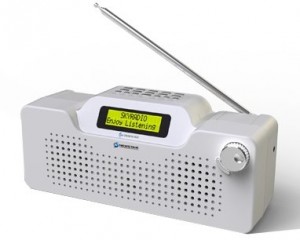 The DR111 is a future DRM portable radio scheduled to hit the market later this year. Pre-production models may be shipped as early as April 2012. We have very little information about this receiver other than what has been posted on the CDNSE website (in fairly vague English–see below).
Let's hope this portable can do what other shortwave DRM portables have failed to do in the past: effectively receive DRM stations, have an intuitive interface/design, and sold and readily available at an affordable price.
(Source: CDNSE)
General Introduction to DR111 DRM Radio Solution
DR111 is our newly developed standard DRM/FM/AM receiver in our serial emphasizing on reducing cost and at the mean time meets all minimum requirements specified by DRM Consortium. Based on CDNSE core technology of DRM receiver and newly developed digital radio platform, DR111 is one of the best solutions for the existing analog AM radio to evolve into digital radio. Our current desk-top DR111 can be converted into portable and car receiver with minimum efforts.
Specifications:
Radio

DRM SW: 2.3-27 MHz MW: 522-1720 kHz
FM 87.5-108 MHz
AM SW: 2.3-27 MHz MW: 522-1720 kHz
Auto seek
100 station memory
DRM text message
DRM AFS
FM RDS

User Interface

16 characters 2 lines LCD
Support multi-language

Audio

Music playback from SD card and USB pendrive
Supports multiple music formats
2W x 2 speakers

Peripherals

Supprts SD card and USB pendrive
Stereo headphone jack
1000mm whip antenna
50 Ohm external antenna jack
5V DC input

Misc.
Reviews: