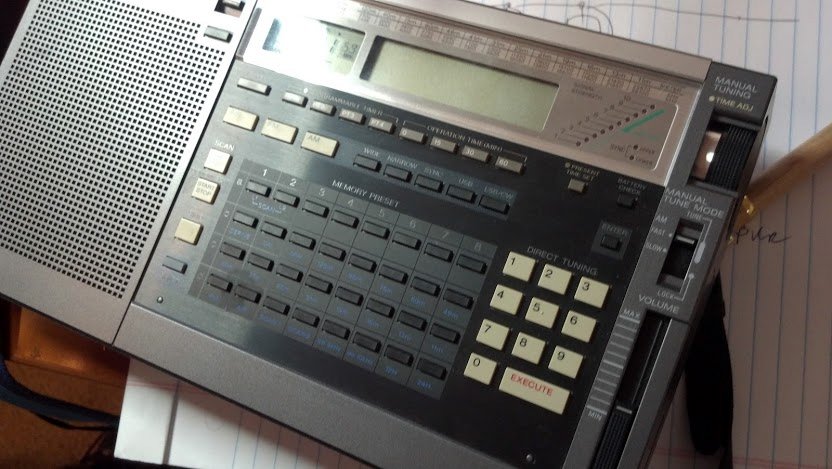 Regarding the Sony ICF-2001D (or ICF-2010 in North America), SWLing Post contributor James Patterson writes:
I have a comment on the Sony ICF-2010. In New Zealand it is called the ICF-2001D, as labeled on it.

I bought the ICF 2001D at a sale. Brought it home and it seemed to perform almost perfectly on all bands. In fact I was very suprised on how well it worked. Audio was excellent, sensitivity was great, even the Air Band received very well. But I'm a very keen SSB DXer, meaning I monitor the Single Side Band [SSB] utility stations like HFAir, Marine, military, etc. so I needed to check the SSB in the radio.

[O]n official frequencies like 8.86700 HF AIR, it was well off, and came up readable around 8.86500, even with the tuning speed mode set to "slow". So I then decided that with the age of the radio, over time it has drifted off zero beat, so I would need to re-align the BFO/SYNC coil.

I looked up on the internet at the signal board, and located the correct coil. Having the batteries out of the radio, I plugged in the DC power supply and retuned that coil and got the speech correct at 8.86700. I also checked the universal time signal on both USB and LSB and it was "Bang on".

I was very pleased with myself, meaning I now had a Sony ICF-2001D working in perfect condition.

But just then the radio went dead. At this stage I still had the board lifted up, as I had just finished the realignment. I could not understand, after all my work, what had happened. So having a good look at the wires and the board, to my most disappointed dismay, I noticed one of two ribbon cables–Sony called it a "Flexible circuit board" had snapped right across and come apart.

There are two ribbon cables on the board. This was the short one. So,with the slightest lift of the board, this one snapped. I then felt the cable and noticed how frail it was with a piece just falling off. The ribbon cable as I call it, had become most fragile with age and probably heat from the sun(?) over the years the previous owner had it.

So all of a sudden I found I had a ICF-2001D no more. I looked at the other board, the CPU board underneath and noticed that ribbon cable was joined to the other ribbon cable side by side to become one cable, and spot soldered onto the board. Also on shifting the CPU board to view underneath it, the selective speed plastic slide switch snapped off.
[B]y now, I was in a state of complete disarray to say the least. Never was I going to have the ICF-2001D operational again.

So guys, be most careful if you ever need to do any repairs or realignment of that radio–remember the ribbon cables become very fragile and will just snap right across as mine did with the slightest lift of the board. I wish I had known this, and I would have taken the cable out of it's socket first,then when finished, plugged it back in, and radio would still be working. But to realign it, the cable would need to be connected anyway. So I hope this does not happen to anyone else, especially if you don't have spare parts, as I don't have.

So Im keeping this one for parts now,and hopeing to replace it with either another 2001D or its older brother ICF 2001. I do have a small collection of vintage portable short wave radios; they all have SSB, and all work very well. Most have the varible BFO control knob and that seems to suit me better, rather than a radio with tuning steps and needing to perhaps realign it. I think the ICF-2001D is very similar to my ICF-SW7600G with only a few memories and no tuning knob. I think the older ICF-2001D would still be my radio of choice though.