(Source: WoodBoxRadio Facebook Page)
ELAD FDM-DUO Preliminay Specifications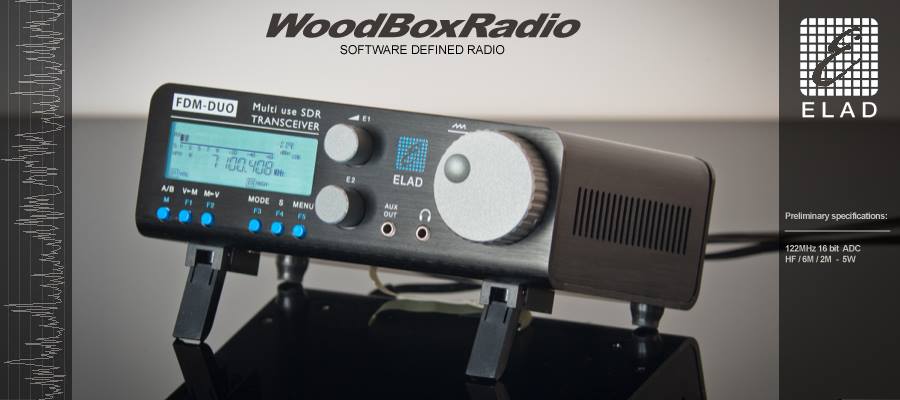 Front-end
ADC Linear LTC2165-16bit 122.88MHZ clock
DDC FPGA Spartan 6 XC6SLX25 + Serial Flash for stand-alone mode.
USB IQ path through CY68013 for RX bitstream (192KHz up to 6.144Mhz single channel and 384KHz dual channel in PC mode)
Stand-alone RX IQ path STM32F4 ARM floating point microcontroller
LCD Controller Keyboard controller LPC1766 Cortex M3
TX modulator use a second STM32F4 Floating Point microcontroller + AD9957 DDS clocked at 368,64 MHz
Clocking source Si5338 drived by 10MHz TCXO or External reference input
TX modulator use I2S sourcing from MIC input (Cirrus CS5346) or USB input (CODEC CM6510B with customized firmware)
The third USB is a FTDI controller for CAT interface
This versatile platform allow transceiving in stand alone mode or in PC mode or in dual mode.
Frequency range: RX 9Khz to 52MHz direct sampling receiver
TX 160m to 6m others frequency to be defined
MDS: -132dBm
BDR: +115dB (500Hz)
Power output 5W
There is available a secondary SMA connector output with 0dBm level for use or as generator
open from 400Khz to 150Mhz (TBD)
2m VHF RTX will be an option as a board to fit (TBD)
The RTX have 2 Antenna inputs and can work as single RTX antenna or separate RX and TX antennas
(selectable by front panel or by CAT)
Standalone MOdes: CW CW+ CW- LSB USB AM
Firmware upgrade:
Cortex M3 by CAT
CY68013 by PC
STM32 RX or TX USB by memory stick through internal dedicated USBs
FPGA by PC
St-alone PROM TBD
When working in ST-Alone mode it is possible to connect an Android tablet (for example a Samsung Galaxy) to see the 192KHz spectrum and send some commands to FDM-DUO. Connection is made done through USB host of the Android and a TTL FTDI cable to EXTio connector of FDM-DUO
In dual mode PC software can show the 192KHz bandwidth of the FDM-DUO and it possible to demodulate with PC Software and with FDM-DUO with internal demodulator
In PC mode the RX bandwidth may have up to 6MHZ and internal demodulator is disabled.
This is a Software Defined Radio and these mode can be changed depending on new software that will be available from ELAD or for from who want to use Extio Dlls.
For using existing programs like HRD and FLDIGI….It will be very simple to plug the USB for CAT and USB TX like an external sound card.
FDM-DUO will be available also as Receiver only as FDM-DUOr name
From aesthetic point of view the box will be available SIlver or Black.
Price: 1159,00 Euro VAT included
Availability: 2/2014