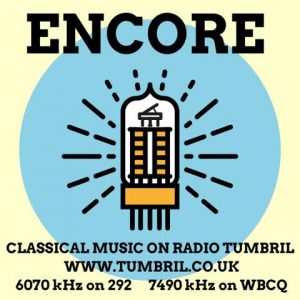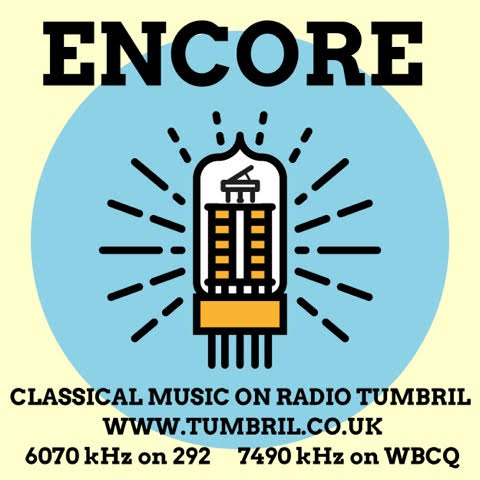 Encore – Classical Music this weekend is being broadcast as usual by Channel 292 (Europe) on 6070 kHz at 15:00 UTC Sunday 30th June.
And by WBCQ on 7490 kHz at 00:00 – 01:00 UTC Monday 1st July
There is a repeat on 6070 kHz on Friday 5th JULY at 19:00 UTC.
This week's show has plenty of xylophone, a horn trio, some Tennyson set to music, and a Vivaldi piece for mandolin. There is a string quartet, some Tchaikovsky, and a Strauss lieder.
All very wonderful.
Please note – Radio Tumbril is on the road being thoroughly analogue for a few weeks so there will be no emails but for a while but Encore will be broadcast every Sunday and Friday as usual – plenty of treats in store.
Thank you for spreading the word about Encore – Classical Music on Shortwave.
Please continue to send in reception reports and requests for pieces of music to play on Encore.
Regular Broadcast times are:
15:00 – 16:00 UTC Sunday, and repeated 19:00 – 20:00 UTC Friday on 6070 kHz (Channel 292 Germany).
00:00 – 01:00 UTC Monday on 7490 kHz 9WBCQ – Maine).
Both Channel 292 and WBCQ live stream if reception is poor. And KiwiSDR's world-wide network of online receivers do a great job too.
All easily found with search engines.