Many thanks to a number of SWLing Post readers who have shared links to this petition for rulemaking–created by Michelle KU3N–to create a new 8-meter Amateur Radio allocation.
I've included the author's notice about this proposal and also a news item from the ARRL below. First, however, just a quick tip on filing comments via the FCC system:
Making a comment
If you're interested in commenting on this petition, you can do so via the FCC Electronic Comment Filing System until July 26, 2019.
Using the system the first time is a little confusing–here's a tip:
Open the comment form on the FCC Express Filing site.
Next, type in the filing number in the first field: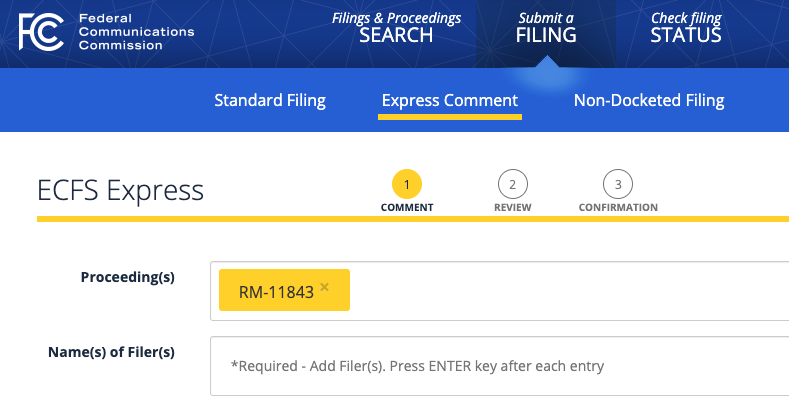 The filing number should auto-complete as you type. Once it has been selected (as in the screenshot above) continue filling out the rest of the form with comments and then submitting it. It's pretty simple, but if you're not used to the comment system, selecting the proper petition can be a little confusing.
Of course, the FCC also has the following help page: "How to Comment on FCC Proceedings"
For more information about this proposal check out the articles below from the petition author at REC Networks and also a notice from the ARRL:
(Source: REC Networks)
Today, the FCC has assigned a rulemaking (RM) number to a Petition for Rulemaking filed by REC Networks, through its founder, Michelle Bradley, KU3N as RM-11843.

This petition calls on the Commission to work with the National Telecommunications and Information Aministration (NTIA) to allow for amateur radio operations in the 8-meter band. This petition was in response to activities taking place in ITU Region 1 where more administrations are starting to authorize very limited operation on 8 meters.  Ireland, Slovenia and South Africa have already granted amateurs regular access to all or portions of the band being asked for in the petition.   In fact, ComReg, the Irish regulator has even gone far enough to allocate virtually the entire VHF low band (30~49 MHz) for amateur radio use.

In the petition, REC/KU3N notes that this spectrum could be used for weak signal experimentation and general amateur use primarily along transatlantic paths using CW, SSB and digital modes such as FT8 and digital voice.  As no radios are currently manufactured for this band, it could encourage "makers" to design new equipment and antenna design.  REC/KU3N predicts low usage of this band except during scheduled activities such as Field Day and contests as well as periods of sporadic-E, high sunspot numbers and other periods with a higher maximum usable frequency.

In the petition, REC/KU3N is asking to use 40.51 to 40.70 MHz, allowing beacons, prohibiting repeaters and discouraging FM operation.

This spectrum is currently used by the Federal Government as part of an older channelized land mobile radio system, mainly by the Department of Agriculture for national forests and parks.  It is also used for federal and non-federal telemetry and wildlife tracking. The spectrum is also sporadically used by the military for short-range communication.  Industrial, scientific and medical (ISM) devices also operate in the 40.66 to 40.70 MHz area.  REC/KU3N notes that this spectrum would be of most interest to those who wish to conduct transatlantic experimentation and thus will have more amateur activity in the eastern USA where it is likely that federal use of this spectrum is more likely in the western USA.

Comments on this petition will be accepted by the FCC through their Electronic Comment Filing System until July 26, 2019.  Select proceeding RM-11843.

A copy of the petition can be found at the following URL:
https://recnet.net/fcc/8_meter_PRM.pdf

Questions and media inquiries should be directed to REC Networks at our Contact REC form.
(Source: ARRL News)
The FCC has put on public notice for comment a Petition for Rulemaking (RM-11843) that seeks the creation of a new 8-meter Amateur Radio allocation on a secondary basis. The Petition suggests the new band could be centered on an industrial-scientific-medical (ISM) segment somewhere between 40.51 and 40.70 MHz. The spectrum between 40 and 41 MHz is currently allocated to the Federal Government and, as such, within the purview of the National Telecommunications and Information Administration (NTIA). ARRL member Michelle Bradley, KU3N, of Maryland, filed the petition in May on behalf of REC Networks, which she founded and described in the Petition as "a leading advocate for a citizen's access to spectrum," including Amateur Radio spectrum.

"REC feels that the time is right for the Commission to open a Notice of Inquiry and eventually a Notice of Proposed Rulemaking, and in cooperation with the NTIA, this new band opportunity can be realized to spark the next generation of 'makers' in the fields of science, technology, education, and math (STEM), especially women and girls," Bradley told the FCC in the Petition. "The more opportunities we give to make things, the more opportunities we have to build a pool of experts in STEM, right here at home."

The Petition said the objective of a new band would be "an effort to foster experimentation into the propagation characteristics of this band midway between the 10- and 6-meter bands." An allocation in the 8-meter band is available to radio amateurs in Ireland, where the Irish Radio Transmitters Society has developed a band plan for 40 – 41 MHz.

"REC perceives this spectrum can be used for weak signal experimentation and eventually general amateur use, especially along transatlantic paths using CW, SSB, digital modes such as FT8 and digital voice," the Petition said. "As no radios are mass-produced for this band at this time, this opens up new opportunities for 'makers' to construct transmitters, receivers, and antenna systems that can be used in this spectrum."

REC anticipates "very low" usage of the new band, "with peak usage around sporadic-E episodes, operating events such as ARRL Field Day, and VHF contests, as well as during the peak of sunspot cycles," Bradley told the Commission. "[W]e feel that the sharing of 40 MHz can be accomplished in a manner that serves the needs of the Amateur Radio Service while meeting the organizational missions of Federal Government agencies that utilize this spectrum."

Interested parties may file short comments on RM-11843 via the FCC's Electronic Comment Filing Service (Express). Visit the FCC "How to Comment on FCC Proceedings" page for information on filing extended comments.