Tonight, for the first time in three years, we will experience a leap second. What is a leap second?  Wikipedia provides a concise explanation:
A leap second is a one-second adjustment that is occasionally applied to Coordinated Universal Time (UTC) in order to keep its time of day close to the mean solar time, or UT1. Without such a correction, time reckoned by Earth's rotation drifts away from atomic time because of irregularities in the Earth's rate of rotation. Since this system of correction was implemented in 1972, 25 such leap seconds have been inserted. The most recent one happened on June 30, 2012 at 23:59:60 UTC. A leap second, the 26th, will again be inserted at the end of June 30, 2015 at 23:59:60 UTC.
Like many of you, when I think of time–or UTC–I think about the NIST radio station WWV in Fort Collins, Colorado.
I had the honor of visiting the facility last year (yes, photo tour still forthcoming!).  During the tour, my guide and Chief Engineer at WWV and WWVB, Matthew Deutch, told me that he's always going to be on site come Leap Second!
I wrote Matt this morning to ask what were his plans tonight?  His reply:
"The leap second happens at 0000 UTC tonight, which is 6:00 pm here in Fort Collins. All of the programming took place at the beginning of the month, so the equipment is armed…we just sit back and watch for the leap this evening.

Even though it is automated I hang around the station to make sure everything goes smoothly at the critical moment…"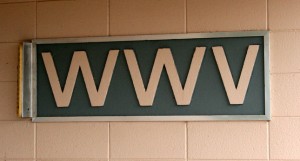 Matthew closed his message by wishing me a "Happy Leap Second."
Back at you, Matt! We hope that second leaps as smoothly as you'd like!
Not to put Matt on the spot, but you can listen to WWV (or the atomic clock of your choice) make the leap second tonight at 00:00 UTC. As for me, I'll hop on 10 MHz and 15 MHz to hear (and hopefully record) the extra "tick." At the end of this post, I've provided a list of time stations for your convenience.
Happy Leap Second!
List of shortwave radio time stations
CHU Canada: 3330 kHz, 7850 kHz, 14670 kHz
BPM China: 2,500, 5,000, 10,000, and 15,000 kHz
HLA South Korea: 5,000 kHz
BSF Taiwan: 5,000 and 15,000 kHz
WWV (Ft. Collins)/WWVH (Hawaii) United States:  2,500, 5,000, 10,000, 15,000, 20,000 and 25,000 kHz
Update
Click here to listen to Leap Second recordings from WWV and CHU.