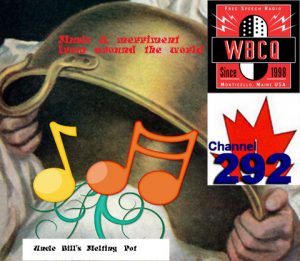 Uncle Bill's Melting Pot Saturday Nights in April
Saturdays April  3, 10, 17 and 24, 1900-2000 UTC, 3955 kHz
Channel 292, Rohrbach Waal, Germany
Saturday nights in April, Uncle Bill's Melting Pot is adding an extra  repeat to its offerings on Channel 292.   On April 3 we will present music from Belize; April 10 will bring music from the Solomon islands, Tonga and Vanuatu;  on April 18 we  will present the original German-language recording of Haare (Hair), and April 24 will feature music from Morocco.  The time and frequency were previously taken by Wooferton.  Uncle Bill  is  testing whether this will engage new listeners from Africa,  the Middle East and possibly South Asia.