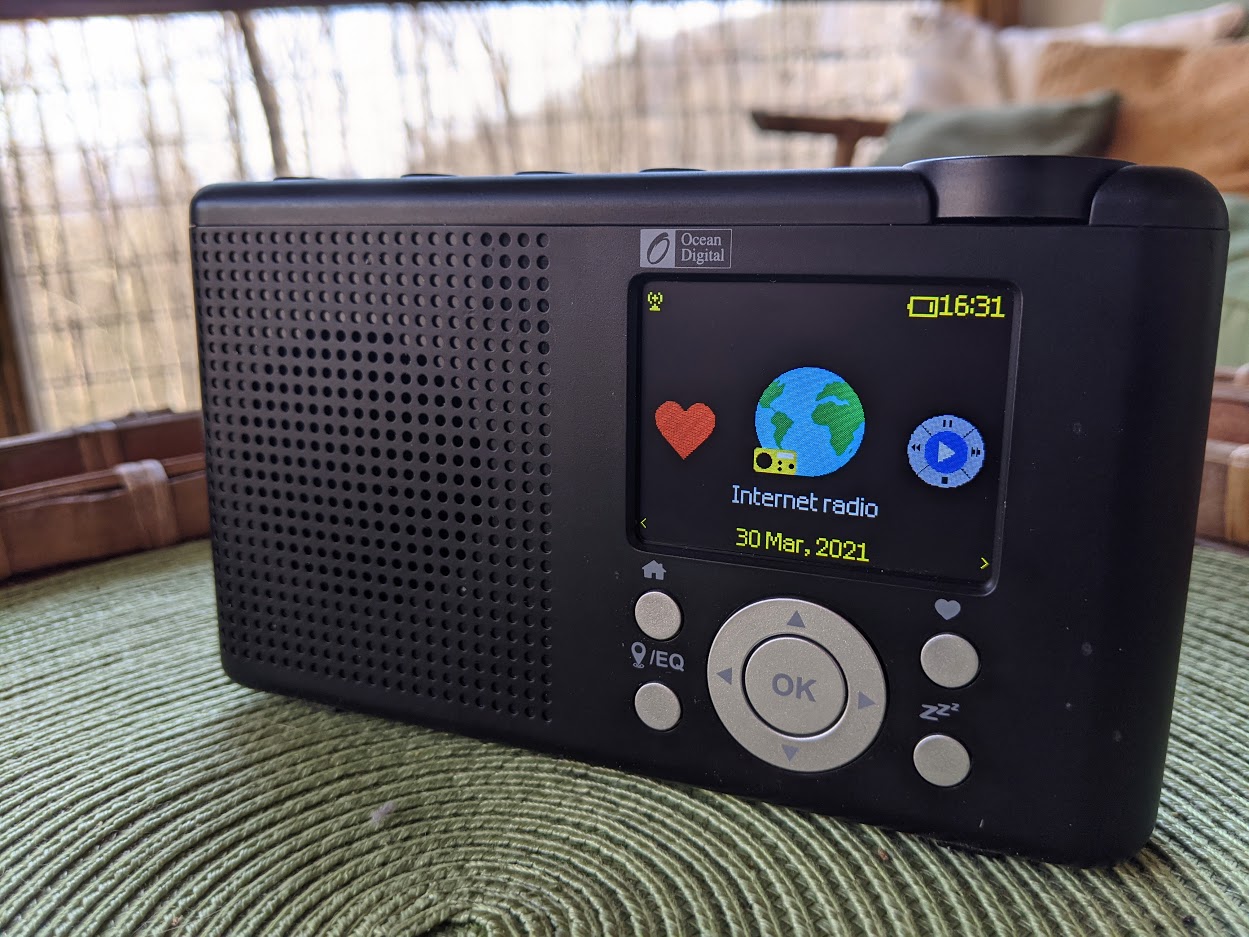 Readers might recall that last year, I reviewed the Ocean Digital WR-26 portable radio and was pretty impressed.
Although it turns out a number of SWLing Post readers were familiar with Ocean Digital and had purchased some of their radios, I hadn't heard of them until an SWLing Post contributor encouraged the company to contact me.
I must say: all of my communications with Ocean Digital have been very positive and the company has also been very receptive to my frank feedback. All good things.
Ocean Digital reached out to me last month and asked if I would like to test their WR-23D portable radio. Why not? They dispatched on immediately from their Amazon stock here in the USA.
In the spirit of full disclosure, Ocean Digital sent this review sample to me at no cost and as soon as this review has been published (as in, right now), I'm sending it to one of our SWLing Post Patreon supporters I pick at random.
Initial impressions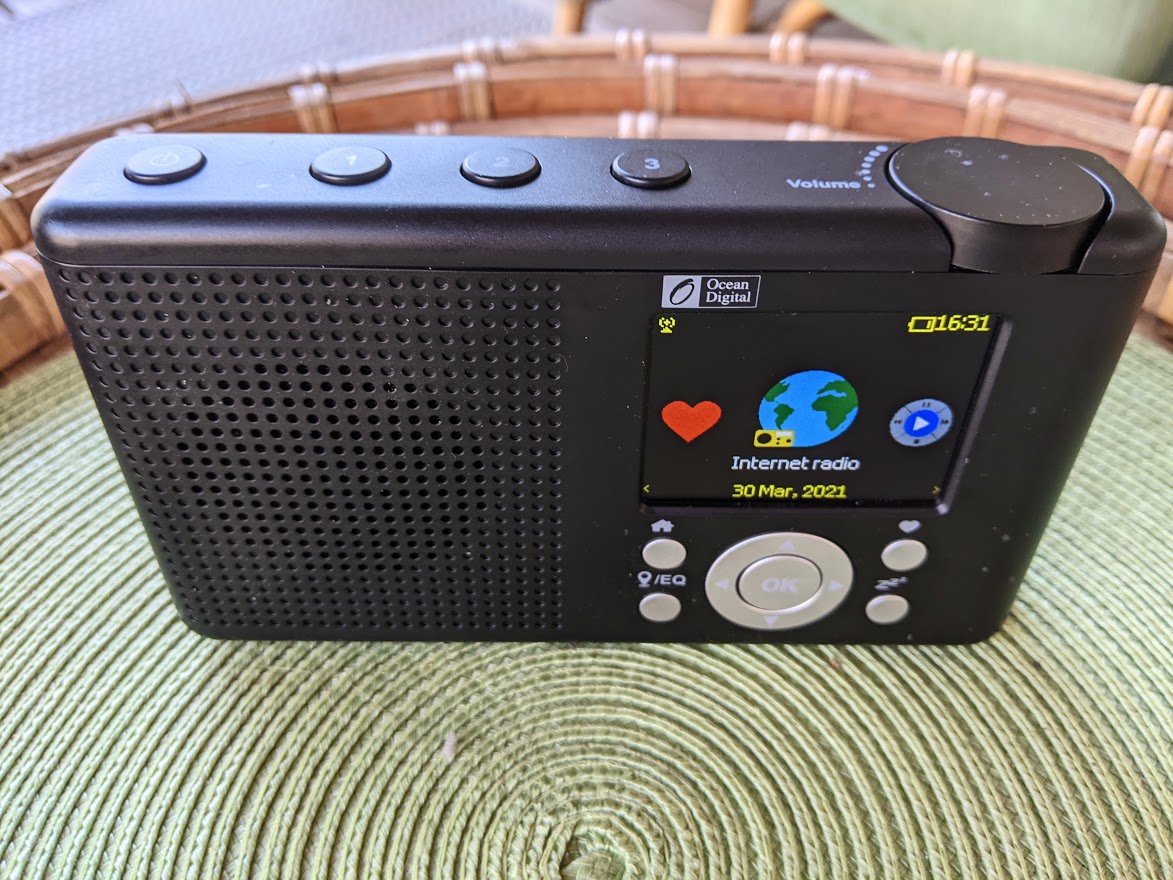 The Ocean Digital WR-23D sports an ABS plastic body that feels very solid in the hand. Indeed, some shortwave portable manufacturers should take note–the ABS structure is so solid, there's no give when I press into the middle of the speaker grill, for example. I feel like this radio would survive falling off of a table or shelf with no problems.
The backlit 2.4″ color display is very easy to read with crisp graphics, text, and ample contrast.
The top of the radio features a power button and three dedicated memory preset buttons. The volume control is also mounted on the top of the radio and protrudes out of the front slightly so your thumb can move it.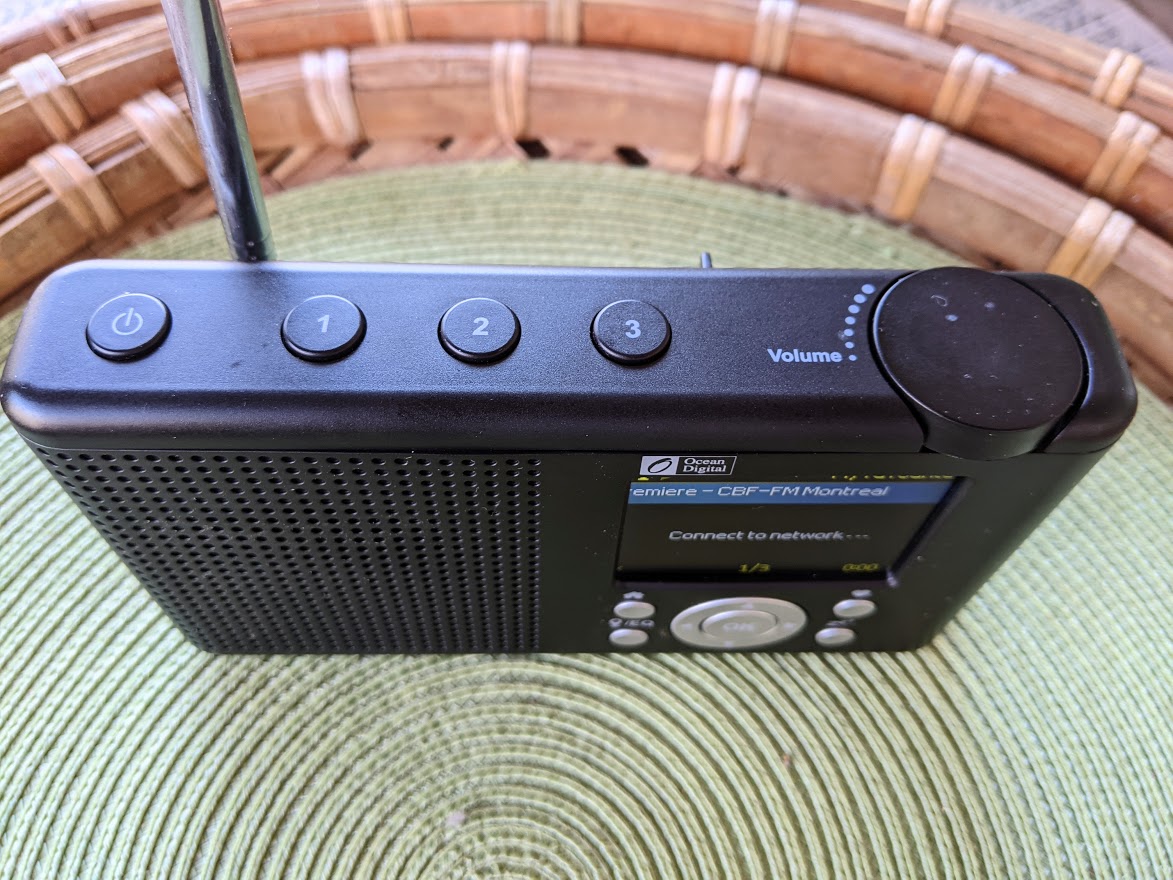 On the front of the radio, there are dedicated buttons for the Home screen, EQ/Local button, Favorites, and Sleep Timer.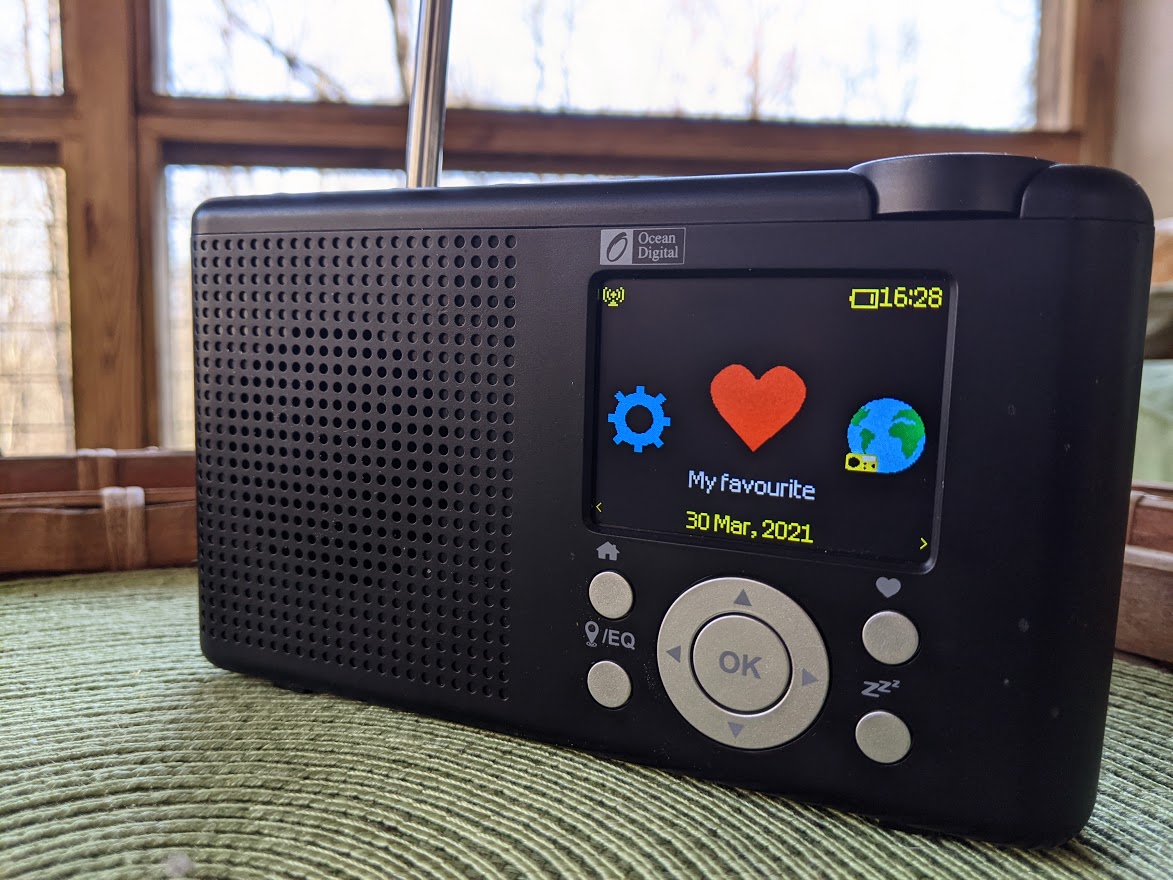 In the center, there's a circular navigation control and selection button.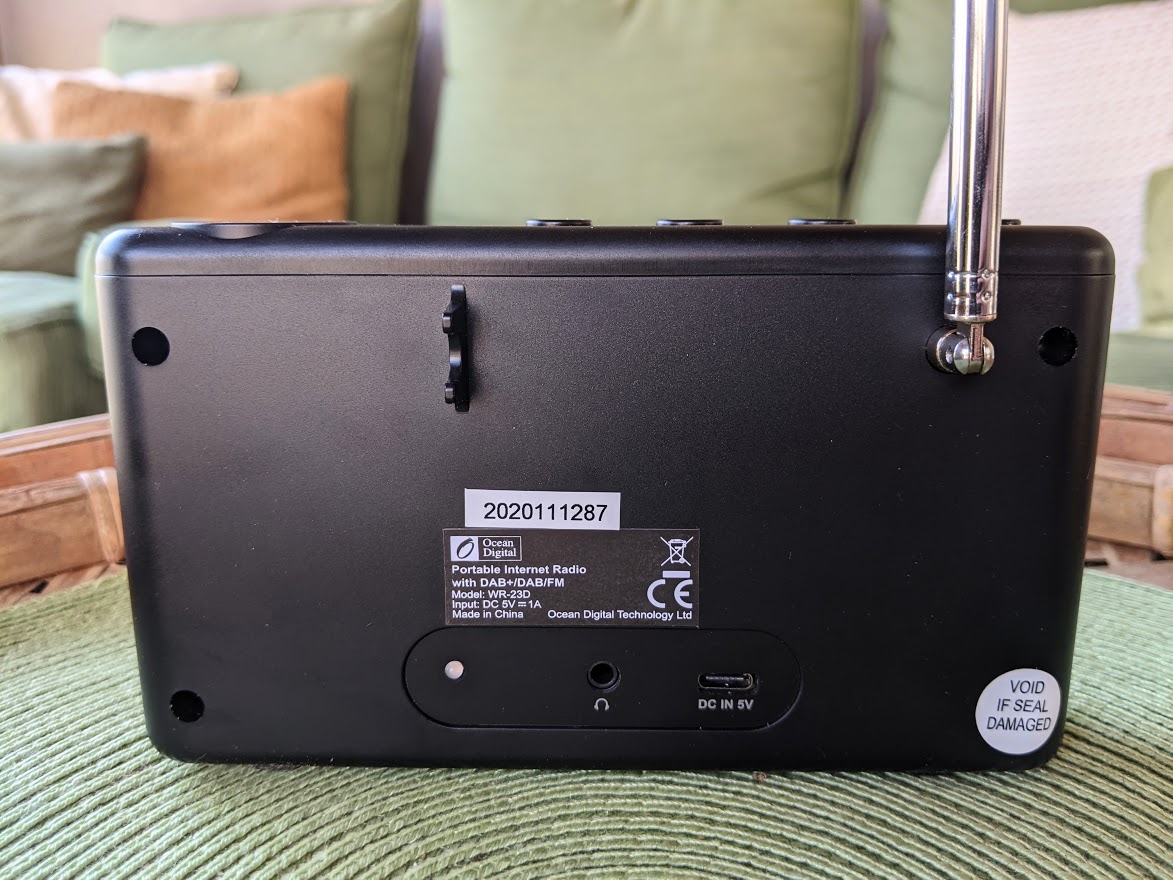 On the back of the unit, you'll find the telescoping whip antenna for FM, DAB/DAB+, an LED indicator for charging, a 3.5mm earphone jack, and (yes!) a USB-C charging port. I'm so happy to see a USB-C port rather than the older Micro USB variety.
Sound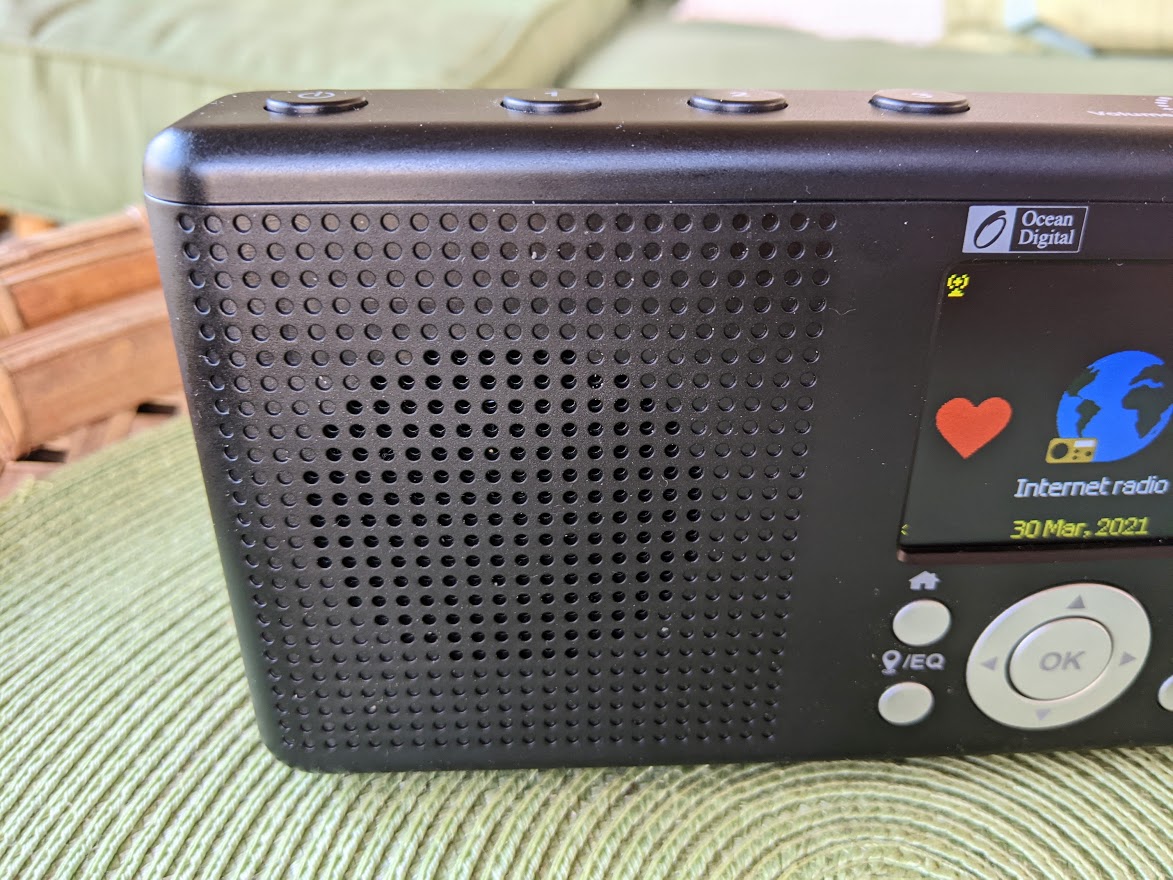 The front-facing speaker delivers balanced audio. There has obviously been some attention given to the speaker enclosure because it produces a bit more bass than I would have anticipated. There are 12 EQ presets you can use to tailor the audio as well.  The WR-3D is not an audio powerhouse–in fact, the audio level stops short of allowing the speaker to splatter–do don't expect a "boom box" response.
For listening to music or voice in your office, bedroom, or living room? Yeah, it'll work a charm!
Portability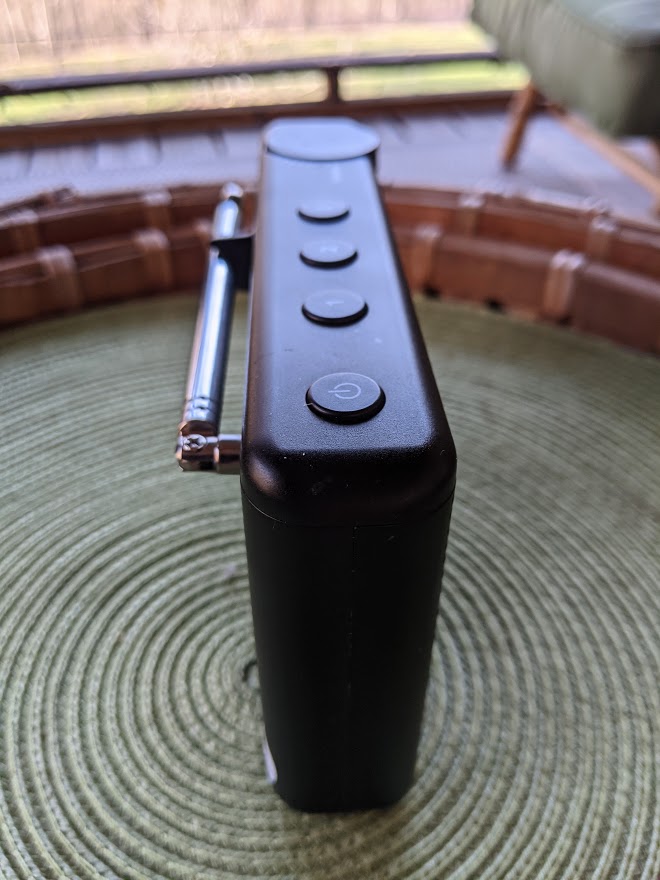 What I love about these Ocean Digital units is that they have a built-in rechargeable battery.
In my household, this is huge.
I often carry my WiFi radios around the house, moving from the kitchen, to my office, to outdoors near the wood shed (it's the time of year I start splitting firewood again!).
I've found that not only does the battery power the WR-23D for many hours at a time, but the WiFi receiver in the unit is also robust enough that the radio can communicate with our router outside the house. With that said, the WiFi reception is not as good as it is with the recently reviewed CC WiFi 3 which actually sports an external WiFi RX antenna. Then again, the CCWiFi 3 doesn't have a rechargeable battery either.
Internet Radio
The Ocean Digital WR-23D uses the Skytune radio station aggregator to search for Internet radio station streams.
In short: I like Skytune. It's easy to search, they'll add streams if they're missing any, and it's well-organized. Instead of reviewing the aggregator again, I'll point you to the Ocean Digital WR-26 review for more detail as the navigation is identical other than the WR-23D has a nice color screen to display information.
Of course, I'm sure a number of readers have been put off by the whole idea of a dedicated Internet appliance for listening to radio in the wake of Reciva's announced closure. For more on this topic, I'd strongly encourage you to read my thoughts in the CC WiFi 3 review (note that the CC WiFi 3 also uses the Skytune aggregator).
On Internet appliances like the WR-23D, one does worry about WiFi radio functionality failing if the station aggregator disappears. We recently posted a way you can hack some Grace Digital and C.Crane radios that use Reciva.
In the case of the WR-23D, WR-26, and CC WiFi 3 (basically all of the Skytune receivers I've reviewed) you can actually program your favorite radio stations manually. In fact, it's very easy. You simply find the radio's IP address on your network (the manual describes how to find this in the Configuration menu selection). Then, enter the radio's IP address in a browser on a computer or device that is connected to the same WiFi network. You'll get a window that looks like this where you can add your own streams, organize memories, and even perform basic control of the radio: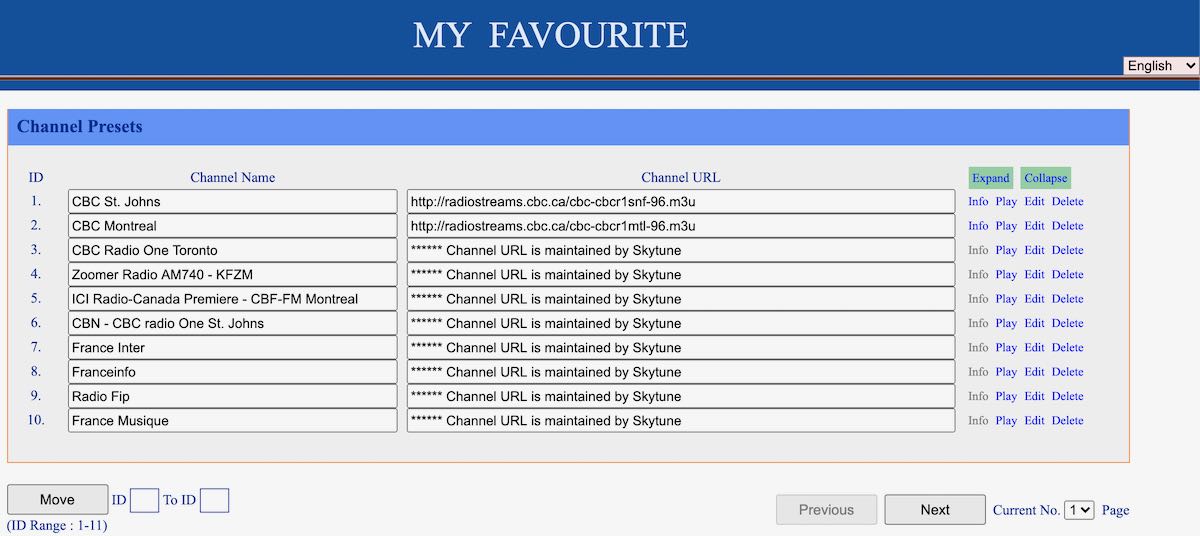 But, again, if the whole idea of an aggregator-tied device like the WR-23D is unappealing, I get it. You might simply pair your smartphone or tablet with a Bluetooth speaker and use a system like Radio Garden or TuneIn to cruise the world of online radio stations.
Bluetooth
Speaking of Bluetooth speaker, yes, the WR-23D is one of those, too! Simply select "Bluetooth" from the home menu and pair it with your favorite device. Couldn't be easier!
FM radio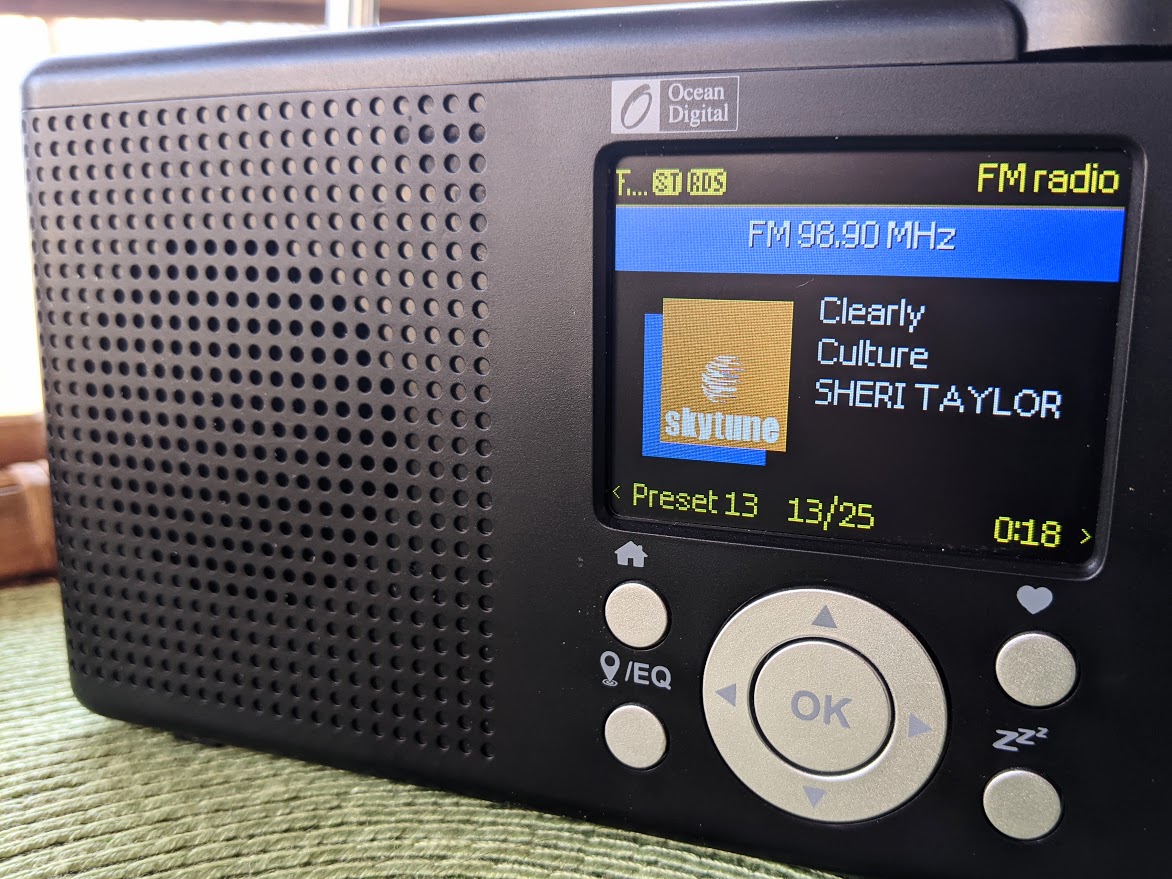 The WR-23D has a very capable FM radio. I had it scan my local FM dial and it automatically picked up all of the stations I would have expected. The radio has both auto and manual tuning.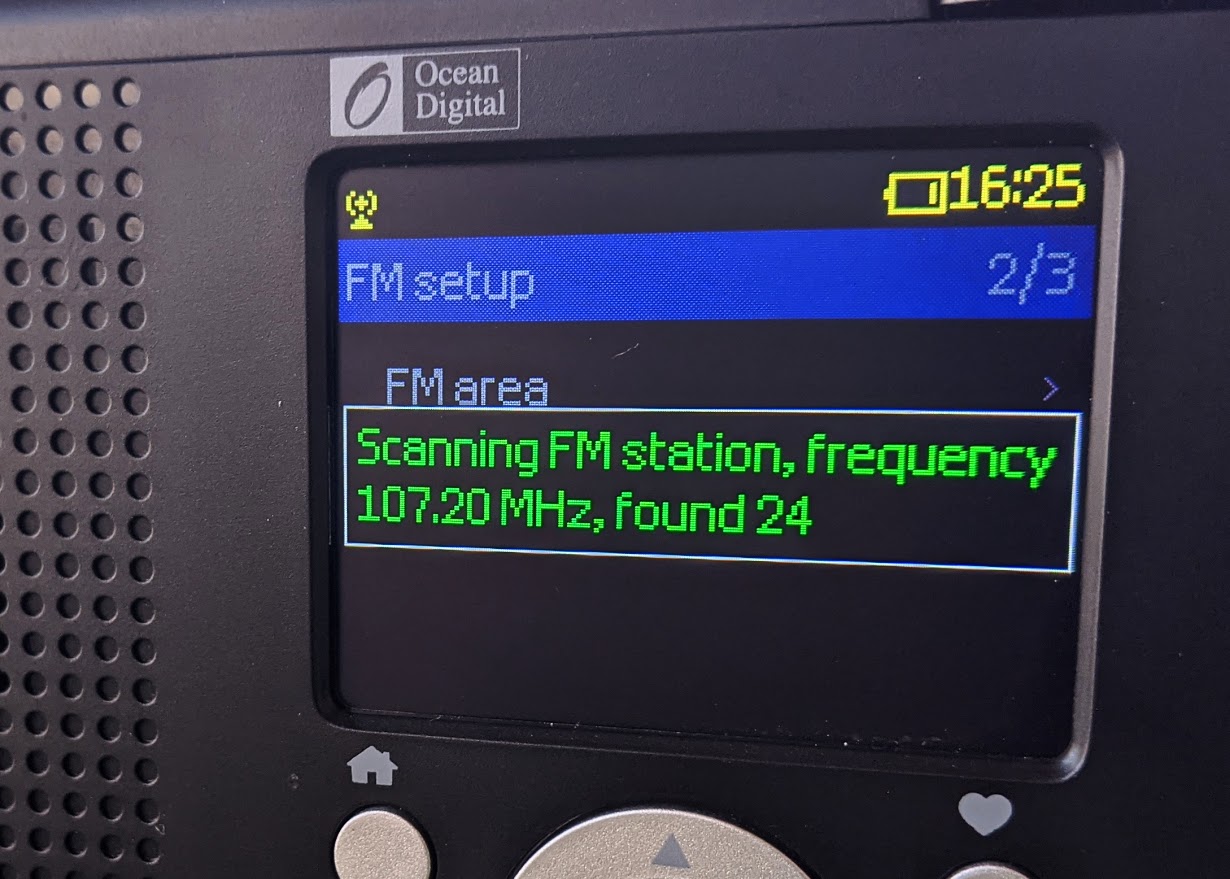 In addition, the WR-23D displays RDS information on the screen. This is a feature I love especially when travelling as it helps me ID the station I'm tuned to.
DAB/DAB+
Unfortunately, we have no DAB/DAB+ stations in the US, so I was unable to test this functionality.
Summary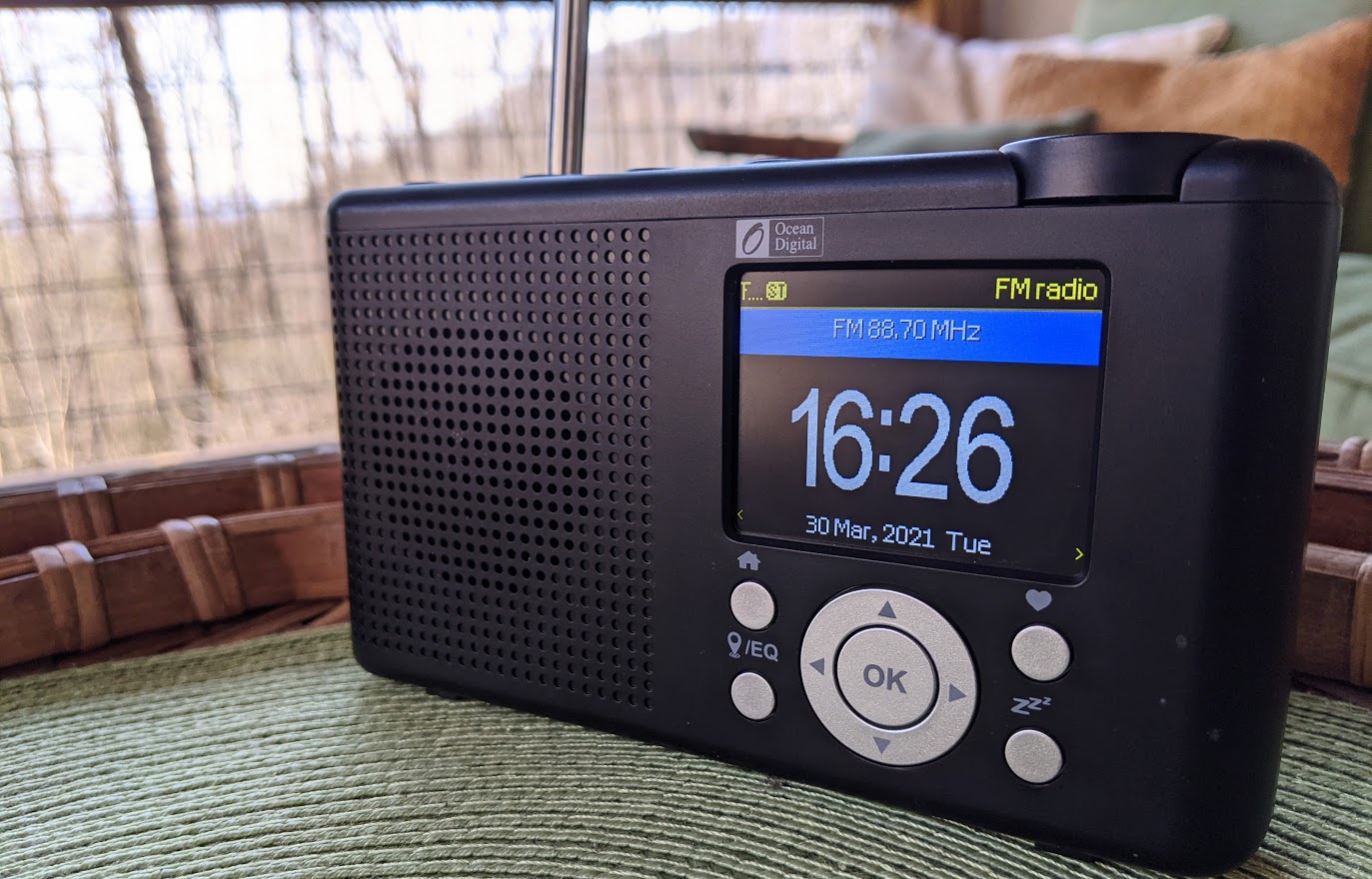 As I mentioned, I really appreciate the matte finish ABS chassis. I like to know that my portables can survive a fall.
I've been using the WR-23D here at SWLing Post HQ for about one month and only have a few minor/personal complaints. For example, I wish the headphone jack was on the side of the radio instead of the back. Also, I wish the telescoping whip antenna fit into a recess on the chassis rather than being fully mounted on the outside. I would like to see a fold out tilt stand on the back of the unit (I've actually used the antenna to prop this radio at an angle, but that's not ideal).
If you're looking for a truly portable WiFi radio and Bluetooth speaker with a proper FM and DAB/DAB+ receiver the Ocean Digital WR-23D is a solid choice.   Amazon's current price is $79.99 US with shipping and free returns–I feel like this is a value for all this radio has to offer.
I can say this: the SWLing Post Patron who wins this WR-23D will really enjoy it! I have.
Click here to check out the Ocean Digital WR-23D at Amazon.com (SWLing Post affiliate link!)