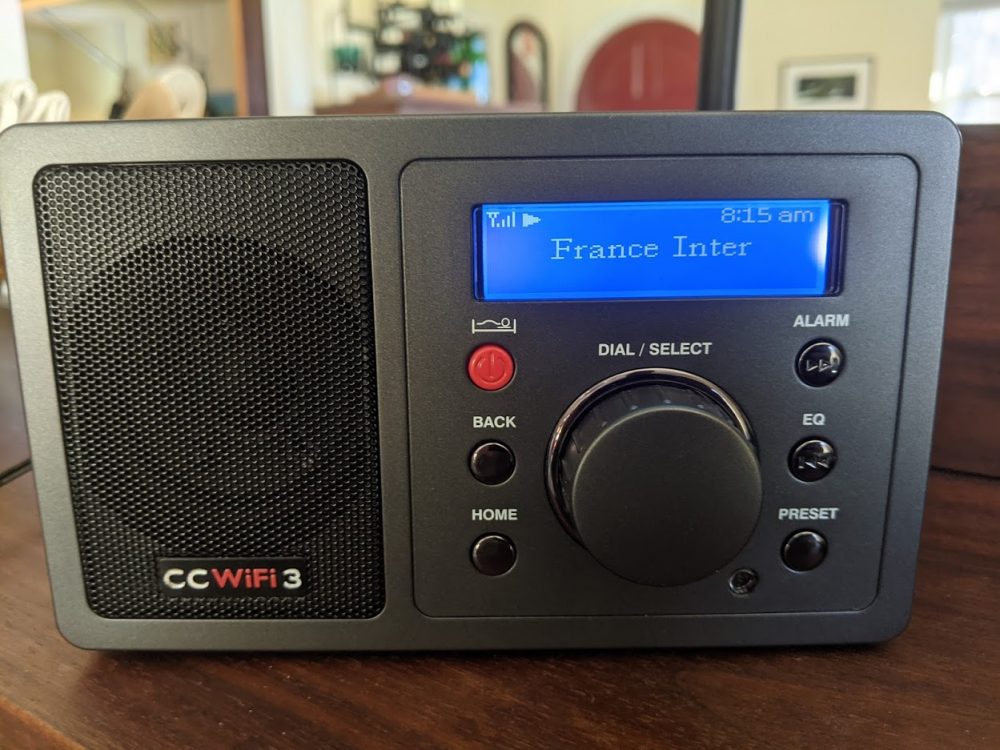 In January 2021, C.Crane announced the latest addition to their radio line-up: the C.Crane CC WiFi-3.
C.Crane was one of the first radio manufacturers that embraced the world of Internet radio with their CC WiFi product line.
The WiFi-3 is the latest iteration and offers the following upgrades over previous models:
This radio uses the Skytune radio station aggregator
Faster boot-up, connection, and response times
Can be powered from a common USB source or the supplied AC adapter
Enhanced audio EQ settings
Bluetooth connectivity
Ability to add station streams manually
Before we dig into the CC WiFi-3, however, let's first take a step back and talk about the current state of WiFi radios in general. This is an important consideration with any WiFi radio purchase these days.
WiFi radios: the pros and cons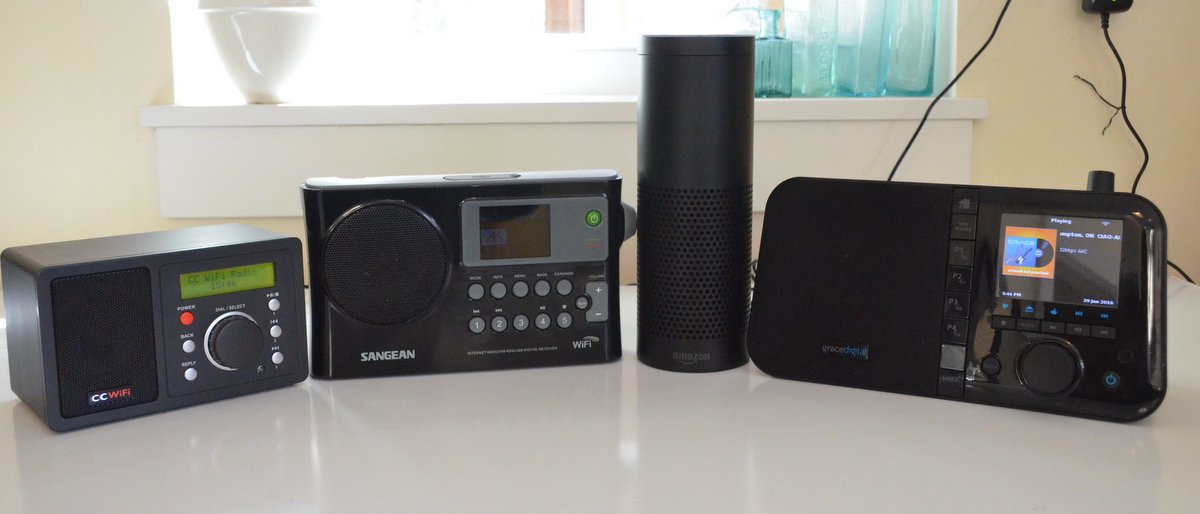 Those of us who like WiFi radios appreciate a dedicated device that gives us the tactile experience of turning the knobs of a radio. We appreciate the simplicity of a dedicated listening device that doesn't rely on a connected computer, tablet, or phone. In addition, most WiFi radios like the CC WiFi-3 don't track your listening activity/habits like many internet radio listening apps and digital assistants do. They also don't force feed you click-through ads.
But let's face it: any of us who own Internet or WiFi Radios have had a rough couple of years. While WiFi radios can open the door to tens of thousands of radio stations across the globe, they do have an Achilles' heel.
 Internet radio station aggregators
WiFi radios are Internet appliances with the ability to stream Internet content, but they're not endowed with the ability to seek out stations in the wild and import their audio streams. WiFi radios rely on "aggregators," or online databases of curated links to radio stations.
In the early days of WiFi radio, there were several models of radios on the market that linked to proprietary/niche aggregators, many of which eventually closed down without warning. When a WiFi radio loses its ability to link to an aggregator, it becomes no more than a pricey paperweight, especially if the WiFi radio doesn't have traditional AM/FM reception as a backup or a back-end means to program radio station stream URLs directly.
Over the past two years, some of the major radio station aggregators have experienced issues that have truly frustrated their users. Most notably:
With this aggravating aggregator history, why would anyone want to invest their money in another WiFi radio? Let's take a closer look at this new device from C.Crane so you can decide.
The new C.Crane CC WiFi-3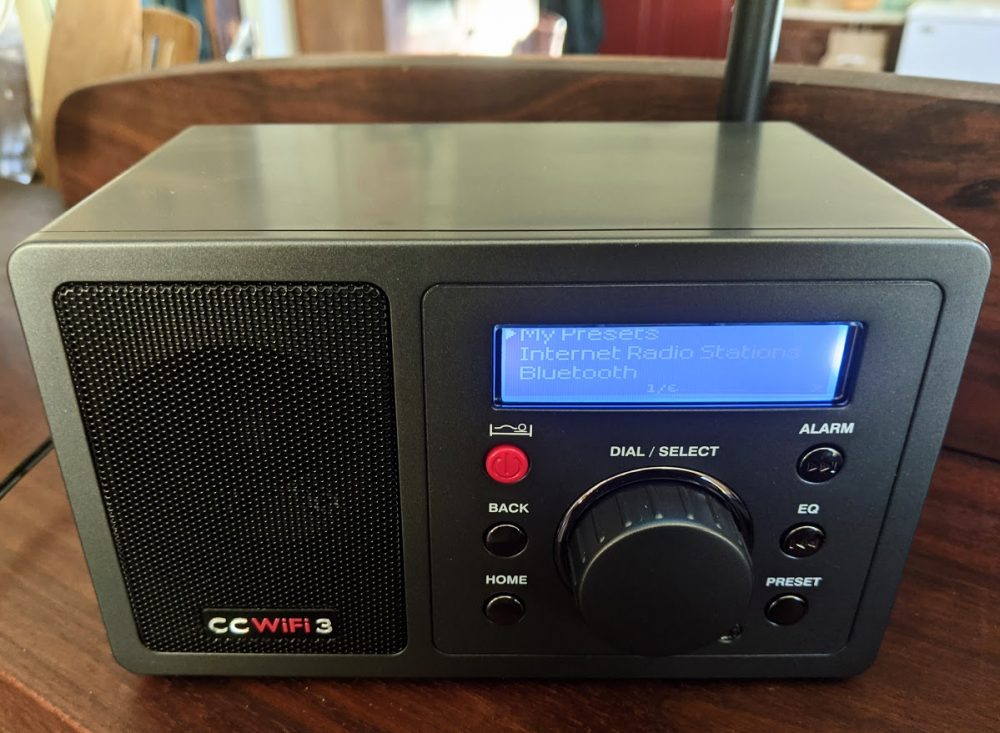 When C.Crane introduced the CC Wifi 3, they acknowledged the inherent issues with WiFi radios and how the Reciva closure affected their customers up-front. Here's a statement they released:
We were happy to be one of first companies to offer ad-free Internet radio because it allowed anyone to listen to the world without a fee. Fifteen years ago, Ben, the founder of Reciva, had a small staff to create the software and volunteers around the world to help manage the station streams. We are sorry, but Reciva's software will soon not work anymore. The software would need to be recreated from scratch. Even If this was done, it would not be possible for the existing radios to be compatible with this new type of software. This is the same way Apple and Microsoft might release a new operating system that is not compatible with older hardware.

We are working on a new radio called the CC WiFi-3. We will be testing the first pilot run of the new CC WiFi-3 in January with the first delivery by April if all goes reasonably well. There are still no ads or graphics to annoy you and nobody tracks your habits for advertising offers. It looks almost the same as the previous CC WiFi but has been upgraded in several ways:

It uses a new 3rd party stream provider called Skytune.
You can add your own streams (URLs) yourself so you are somewhat protected if the service fails for any reason.
It is a little easier to use and it has a good built-in equalizer available.
This radio comes with a 2 year limited warranty.

[…]The CC WiFi-3 comes with the risk of losing connection to Skytune's server if they were to shut down in the future. As we have previously documented in our catalog and on the web: C. Crane has no control over content or the stream provider for Internet radios and cannot be responsible for Internet radio programs or availability.
I love this about C.Crane: they're honest and transparent with their customers even during a new product release.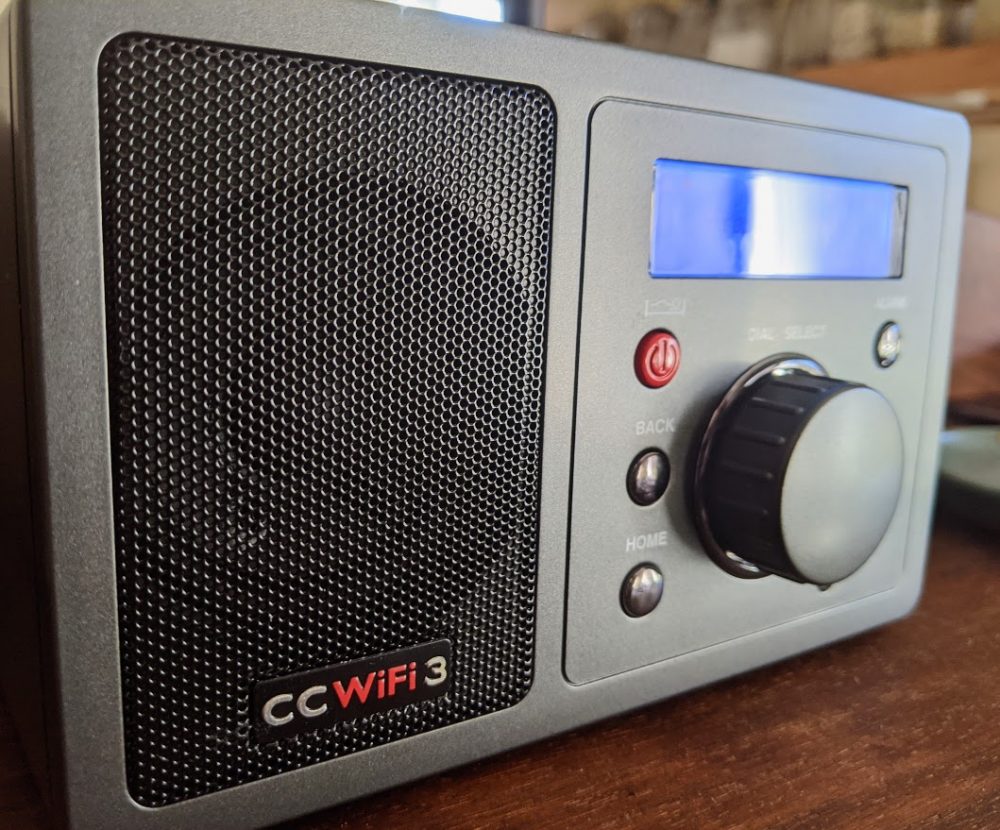 In January (2021), C.Crane sent me a pilot run, pre-production CC WiFi-3 for review and a thorough evaluation at no cost to me. Of course, I don't typically share reviews of pre-production radios, but in this case, I believe the production model should function identically–or perhaps better–than my pilot model. I'm not concerned with variations in receiver sensitivity, selectivity, filtering, AGC, and noise floors as I would with a legacy receiver.
At first blush, the CC Wifi-3 could be mistaken for the CC WiFi-2. Other than the prominent model number, it has an identical form-factor and interface. Inside, though, there have been a number of updates we've already mentioned.
Getting started
First thing I did, of course, was connect the CC WiFi-3 to the internet. It was a pretty simple process to go into the settings, have the radio find my WiFi service, and input the network password. If you have a long or complicated password, allow a few minutes to do this as the input method is character-by-character using the main front panel knob.
Once connected, the radio has access to the new Skytune aggregator to search for radio station streams. I'm familiar with Skytune because they are the aggregator also used by my recently reviewed Ocean Digital radio. I like how Skytune organizes their database allowing users to search by by location/region, popularity, genre, etc. I found most of the stations I enjoy in short order.
If Skytune doesn't have the station you're looking for, they make it easy to suggest an addition via their website.
Adding presets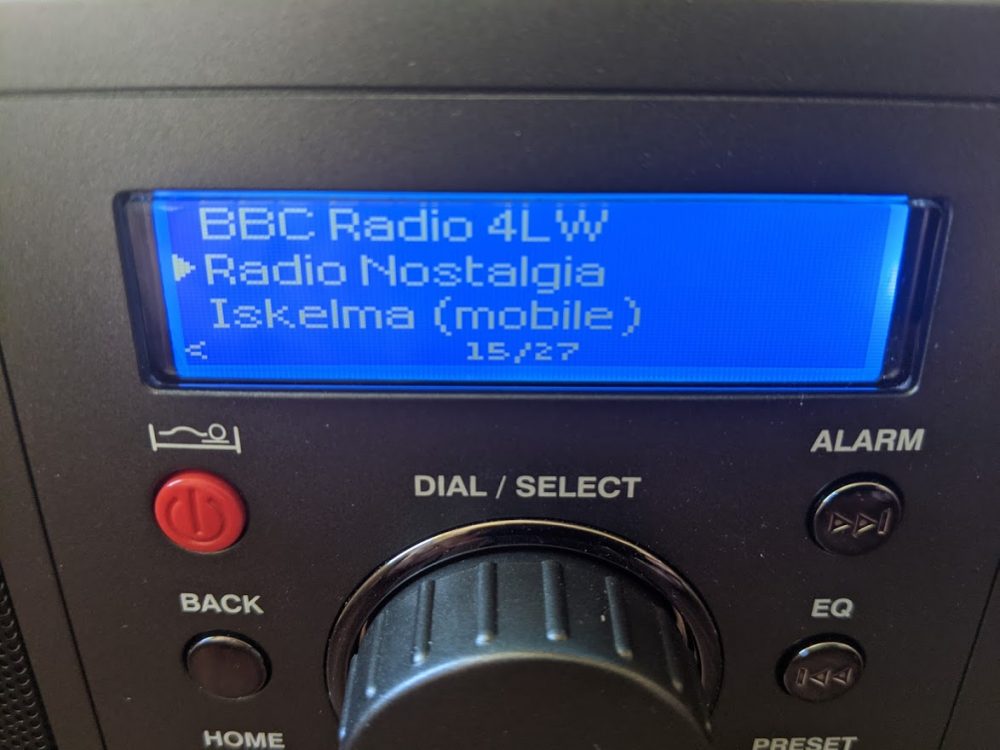 Adding Presets couldn't be any easier. I've been using the most simple method: finding a station, then pressing and holding the PRESET button. This will save the radio station to the next available preset with more than 100 slots available.
Directly adding stream URLs
As C.Crane mentioned in their statement, even if the Skytune aggregator were to shut down in the future, the CC WiFi-3 makes it relatively easy to directly add your own streams by logging into the radio from a web browser.
First, make sure you're using a computing device that is connected to the same WiFi network as the CC WiFi-3.
Secondly, find the IP address of your CC Wifi-3 by pressing the HOME button, then selecting SETTINGS -> INFORMATION -> NETWORK INFORMATION -> IP: (immediately below the signal strength information).
Note the IP address. Mine is currently 172.20.10.5 but yours will likely be a different number.
Next, open a web browser and in the URL bar, type in the IP address of your CC WiFi-3 radio and press Enter:

Your web browser will then load a page served up by your radio's CPU (allow time for it to load):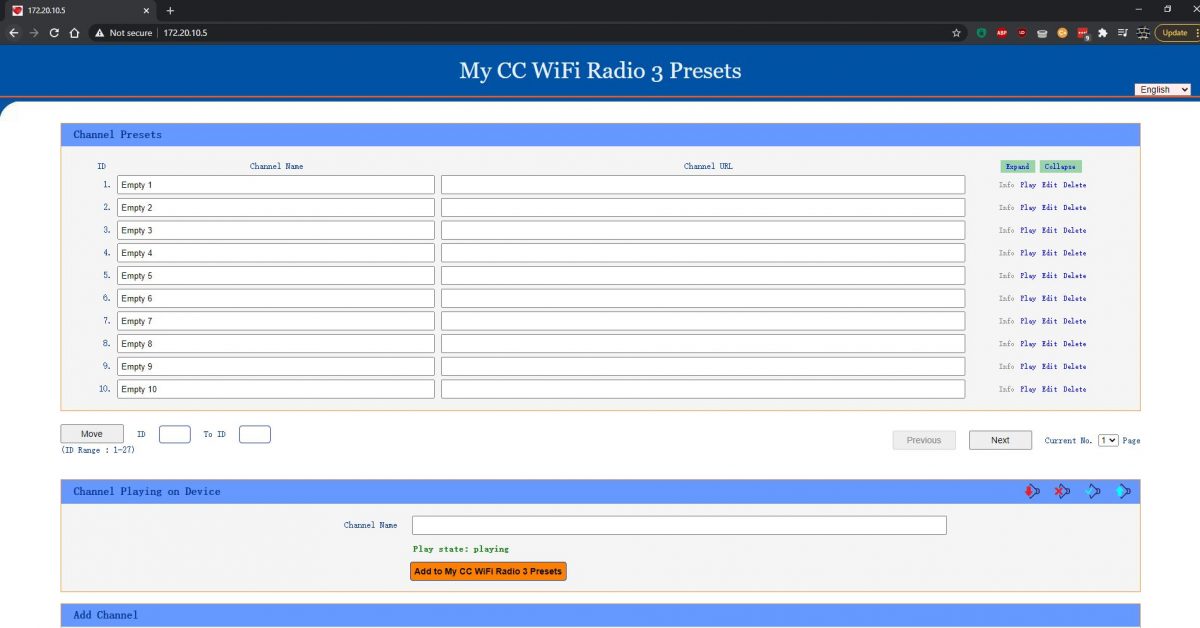 From this page you can add, organize, and label your station presets manually.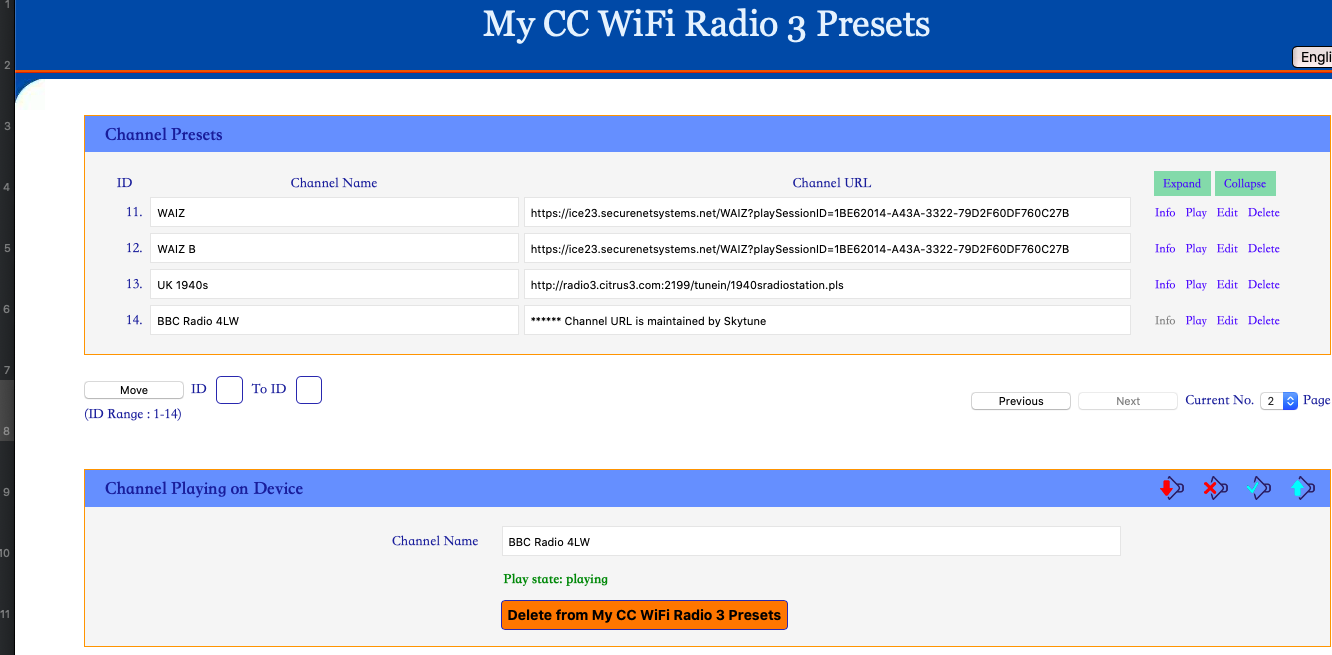 The CC WiFi-3 owner's manual actually gives you hints about how to find URLs for radio stations. There's certainly an art to it.
First thing I did, in fact, was add one of my favorite AM radio stations (WAIZ) to the WiFi-3 directly by finding their main and backup stream URLs and adding them manually via the presets page. This instantaneously added them to the WiFi-3 presets: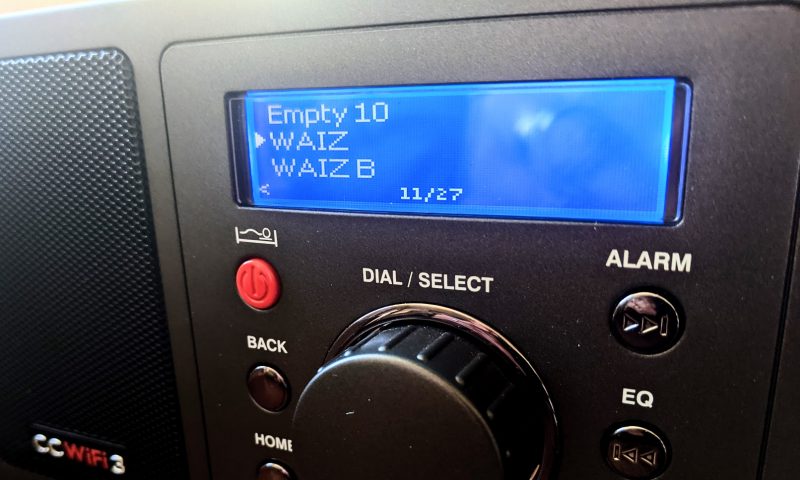 This pleases me to no end because I've never been able to play WAIZ from one of my WiFi radios.
From the presets web page you can also control some basic radio functionality like volume up/down, mute on/off, and channel selection.
While this isn't quite as handy as a dedicated app, I like the fact that I can load this presets page from my phone, tablet, PC, Mac, or Linux box. It's universal and simple.
Bluetooth
I'm happy C.Crane added Bluetooth to the CC WiFi-3 because it makes this already capable radio even more useful.  As I write this portion of the review, in fact, I'm listening to music from YouTube via my MacBook Air streaming to the CC WiFi-3 via Bluetooth. Handy!
Audio
I prefer the audio from the CC WiFi-3 over previous models. It's balanced and has hints of bass and treble. It is robust enough to fill a sizeable room with audio.
It isn't anything that would impress my audiophile brother-in-law because, in the end, the speaker and enclosure are not very large. It does reproduce voice and music with ample fidelity for casual listening, however.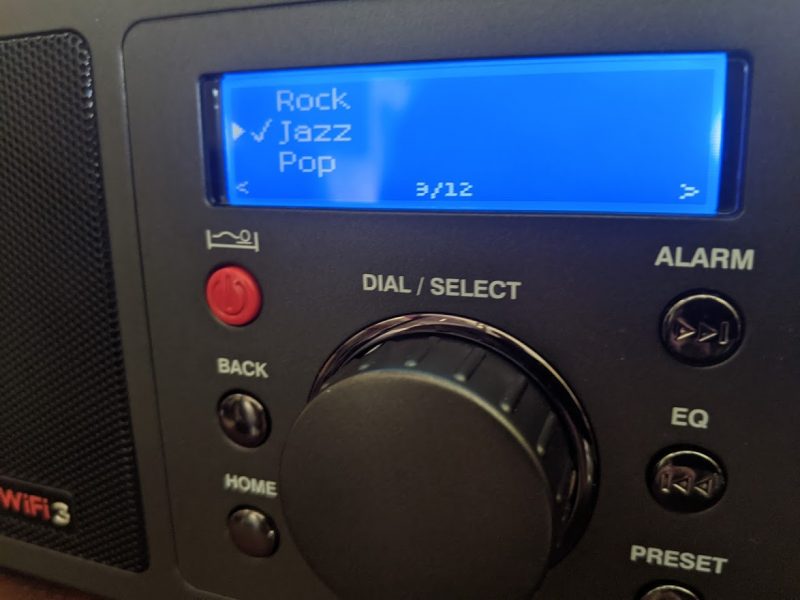 You can tailor the audio with 12 EQ settings included in the WiFi-3 settings menu. I like the Jazz preset.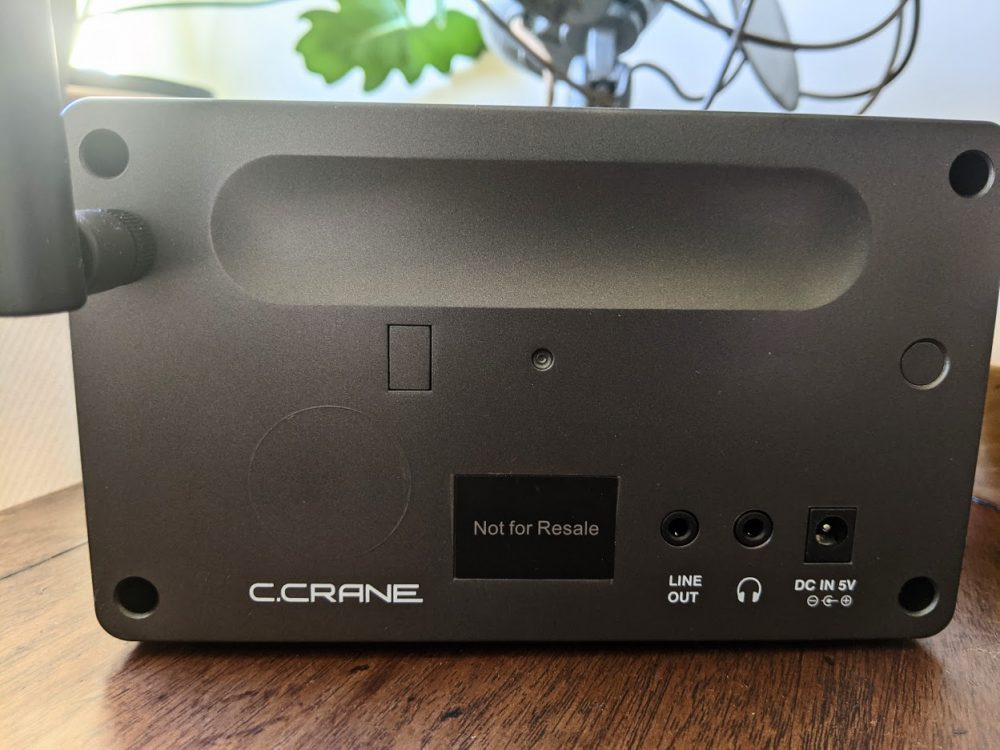 In addition, the CC WiFi-3 has a line-out and headphone jack that makes it easy to export audio to a component stereo system or amplified speaker system. (Note above the "Not For Resale" label on the back of this pilot/pre-production unit.)
Remote control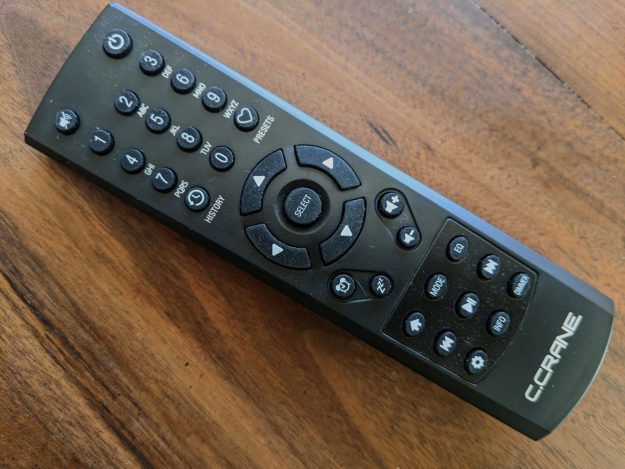 The CC WiFi-3 also ships with an excellent full-size remote control. I love how much functionality this remote offers, making it much easier to navigate and control the radio from across the room. I also much prefer the form factor of this remote compared with the small credit card-sized remotes with membrane buttons.
Summary
Every radio has its pros and cons. When I begin a review, I take notes from the very beginning so that I don't forget some of my initial impressions. Here are the notes I made for the CC WiFi-3 pre-production/pilot model:
Pros:
Ability to input streaming stations manually via a simple web browser interface
Best in class WiFi reception via a dedicated antenna
Input power is 5VDC meaning, you can use the supplied USB cable to plug into any USB power source, or you can use the supplied dedicated wall wart power supply. C.Crane includes both.
Audio EQ can be tailored
Included remote control (full size!)
Backed by C.Crane 2 year warranty and 30 day satisfaction guarantee
Line out and headphone ports
Bluetooth
Cons:
No battery power option (Pro: can use a 5VDC USB power bank)
Backlit screen is small and can be difficult to read at a distance
No dedicated iOS or Android control application (Pro: remote control)
As with any WiFi radio, dependent on a station aggregator for easy radio station searches
Should you purchase the CC WiFi-3?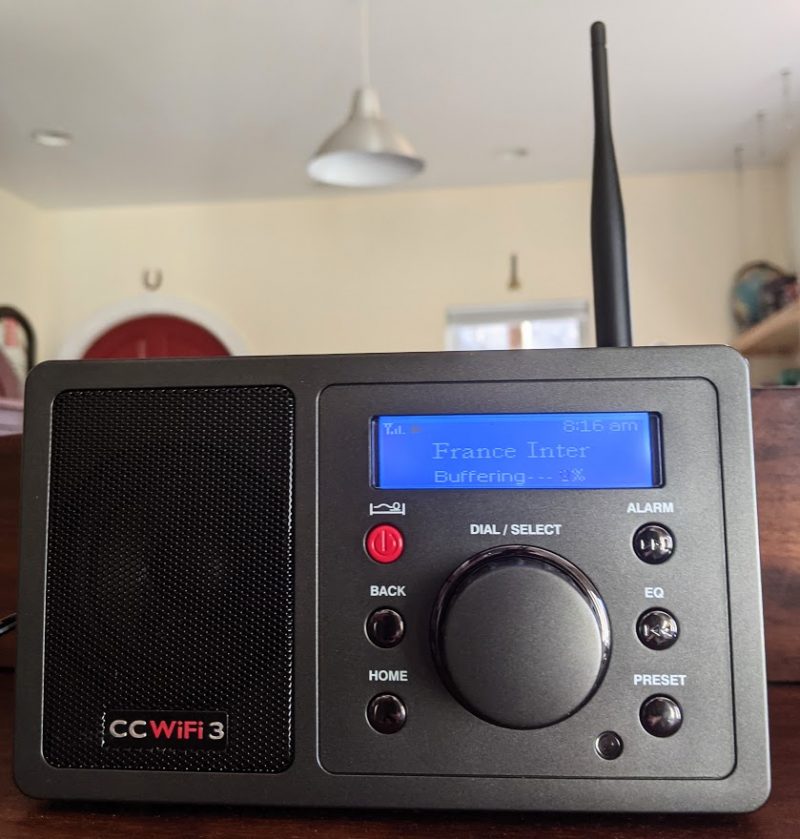 If you're not intimidated by the "aggregator aggravation" we mentioned early in this article, I would suggest you give the CC WiFi-3 a try. Since the WiFi-3 offers easy, open access to add your station streams manually, you always have a backup if, for instance, the Skytune service  were to unexpectedly close down in the distant future.
For $119.99 US, you'll be purchasing a radio from a company that takes care of their customers.
Indeed, C.Crane was so upset by the unexpected closure of Reciva, they have offered their existing CC WiFi customers the following options:
This is a one-time offer from C. Crane. This offer will end June 1, 2021.
If you have purchased a CC WiFi and it is under the 1 year limited warranty, contact us for the available options.
If you have purchased a CC WiFi and it is no longer under warranty, the CC WiFi-3 is available for half price – $60.00 USD plus shipping. You must fill out the form (click here) and include a picture of your serial number(s). Instructions are included on the form for how to locate your serial number. If you need help with this, please contact us. You will be contacted once we receive our shipment to get payment information and to confirm your address.
To my knowledge, no other radio manufacturer or retailer has made an offer like this to compensate for the loss of the Reciva service. Kudos to C.Crane for giving their customers options and discounts.
C.Crane expects to have the CC WiFi-3 in stock and shipping in June 2021. We'll post updates on the SWLing Post when they become available.
Click here to check out the CC WiFi-3 at the C.Crane website.