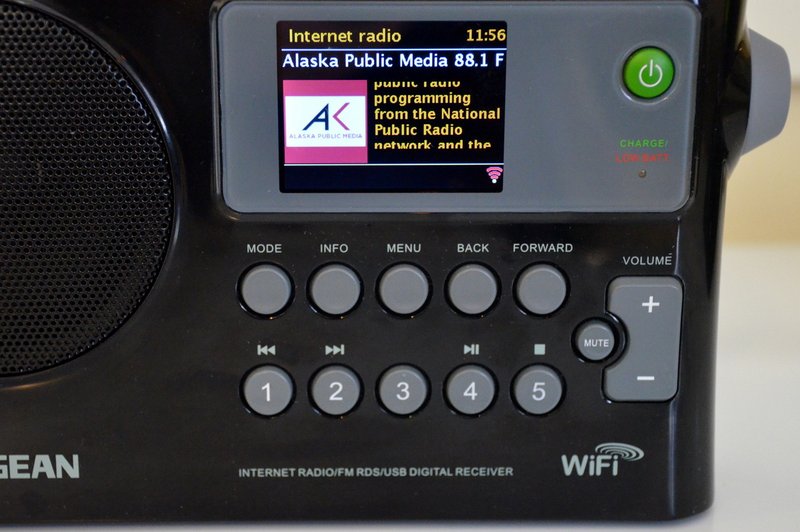 Many thanks to a number of SWLing Post readers who've contacted me regarding the ongoing issues with WiFi radios that rely on the Frontier Silicon/vTuner aggregator partnership. Two days ago, we mentioned this in a post about the service outage that affected Sangean and Como Audio WiFi radio devices.
Turns out, the outage was a sign of deeper troubles that will affect any Internet radio device using the Frontier Silicon aggregator. I know that at least Sangean and Como Audio use the service, but I image there are many more, especially in some automobiles. Indeed, this might also affect devices which use the vTuner service.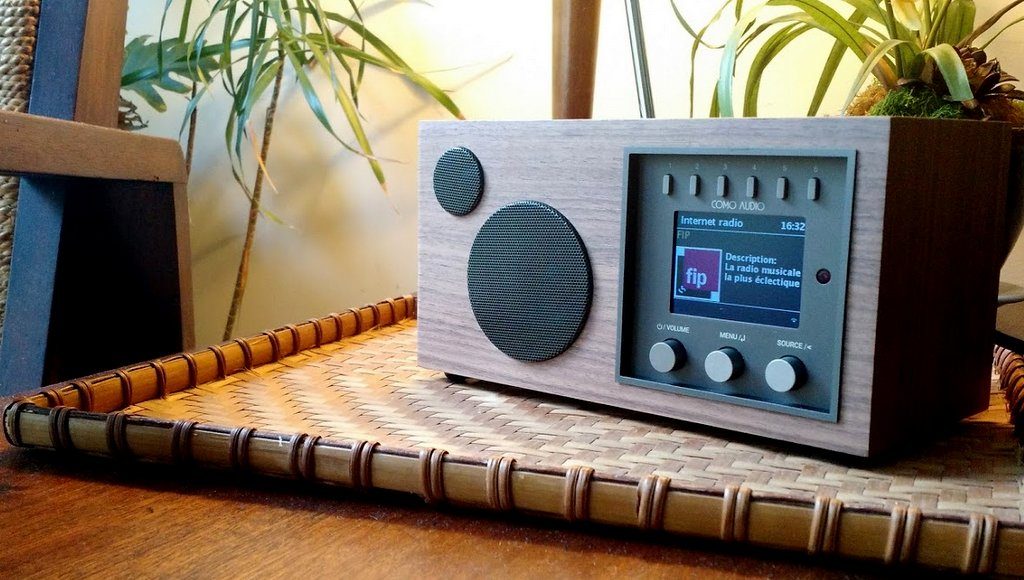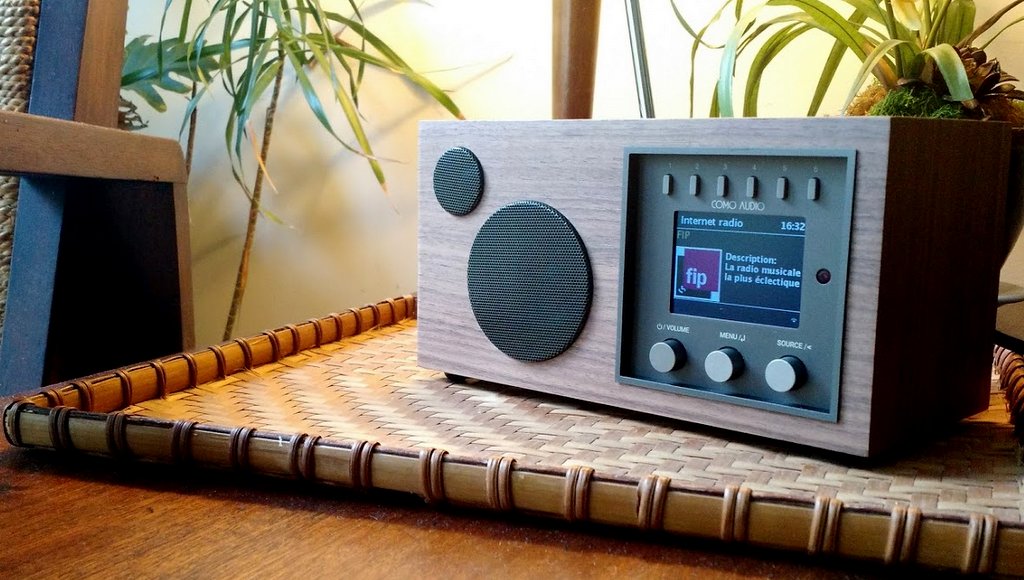 At present, I am unable to use my Como Audio Solo or the Sangean WFR-28 WiFi radio. Both require re-saving all of the presets.
Sangean posted a short message on their devices yesterday. Dennis Dura notes:
I have the Sangean WFR-28 and just came home to find a message on every preset saying "due to recent changes to our internet radio service, you will need to save your presents again".

Not only that, but many of the menus of the radio have changed.

And most bizarre, in the Genre setting, they have eliminated "Jazz" as a category, and have added many I've never before or heard off. How does a company eliminate a category that is understood across the world?
Como Audio actually sent an email message regarding the lapse of service yesterday evening.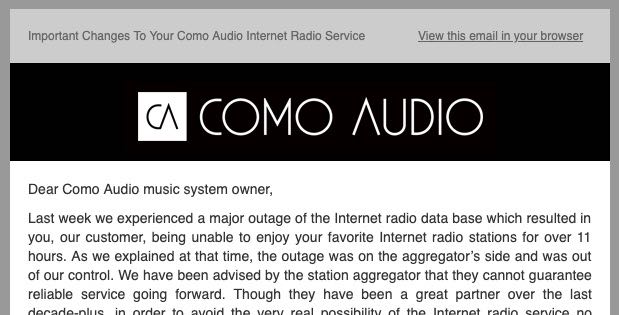 The Como Audio message described, in some detail, what had actually taken place. Much of Como's message was based on the following message Frontier Silicon posted on their website:
Why did the service change on 7th May 2019?

On 1st May 2019 we experienced a major outage of the Internet Radio & Podcast service used by our customers' Internet Radio devices. This was caused by issues with a third-party service provider that were outside our control.  The service provider has also informed us that they are unable to ensure service provision beyond week commencing 6th May.  Any such failure to provide the service would have caused the Internet Radio functionality on all our customers' devices to stop working unless we had taken this remedial action.

As a result, we have made some changes to the way the service is delivered, and you may notice the following changes:

We have deployed a replacement service, and configured all devices to use it.  It may take several hours for your device to see the new service.  Older devices may need to be powered off and back on again to force them to see the new service.
We are using a new provider for the Internet Radio and Podcast directory.  You may discover some new stations and podcasts that were not previously available, and you may find some stations and podcasts are missing.  If you notice a station or podcast that you think is missing from the database then please raise a support ticket and we will aim to get it added within 2 business days.
You may see some slight changes to the menu structure on your devices due to the change of provider.
The previous customer portal is no longer available, and so you can no longer use it to add your own stations.  If you would like a station adding to the database then please raise a support ticket and we will aim to get it added within 2 business days.
It is no longer possible to recall Favourites.  Depending on your device, we recommend using the Device Presets or Last Listened functionality to recall your favourite stations instead.
Any Device Presets that you have previously saved will no longer work and so you will need to resave them.

We apologise for any inconvenience caused as a result of these changes, which we have made in order to provide continuity of service for customers and users.  This is a large and complex migration and whilst we have tested and rehearsed this scenario in advance there may be an initial period of reduced service stability.  We will be monitoring the service closely during this time and will communicate any issues via the status page at https://status.frontiersmart.com/.

If you have any further comments or questions about the service then please browse the Knowledge Base, and submit a support ticket if you cannot find the information you are looking for.
Of course, we all know that the "third party" is the vTuner aggregator. I'm curious who Frontier Silicon will use now as an aggregator, or if they'll self-host the database.
A number of readers have reported issues saving their front panel presets and other favorites. My guess is that this functionality will return after the new service is fully implemented. I also assume Frontier Silicon could implement any missing music genres (like the Jazz genre Dennis mentioned). At least, I hope so.
One thing we've learned is how very little is actually stored locally in these WiFi radios. It seems everything down to the front panel presets rely on the aggregator functioning properly.
If you have one of the affected WiFi radios, please comment about your experience getting it back online and loaded with station presets. Please report any quirks you encounter during the process. I've gotten mixed reports about the Como and Sangean mobile phone applications working properly.
I shall now go about re-saving all of the presets in my family's WiFi radios.