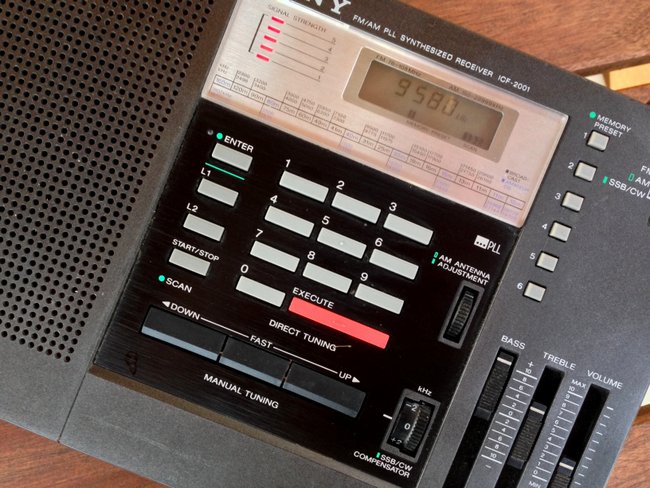 A few weeks ago, I made an impulse purchase: a Sony ICF-2001.
Perhaps it was the post about John Lennon's ICF-2001, or perhaps it was the simple fact I couldn't afford a '2001 when I was a kid; either way, I saw what I thought was a fair price and I bit the bullet.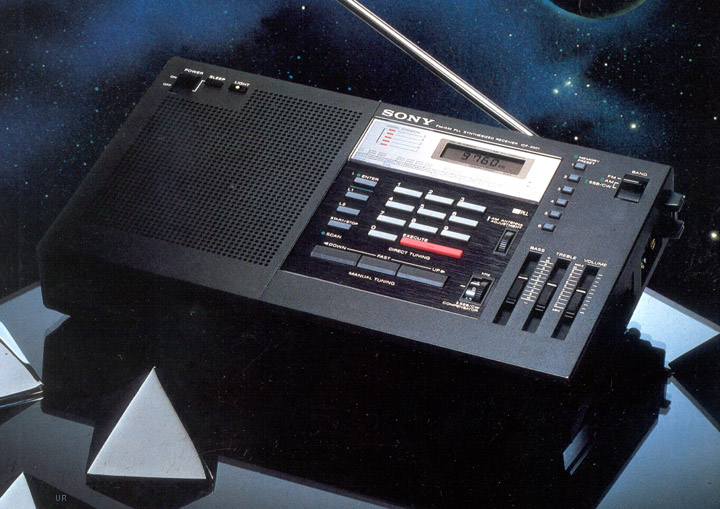 At about 9-10 years old I remember seeing the (above) image of the ICF-2001 in an advertisement and imagining all that I could hear with this amazing–microprocessor-controlled, dual conversion, frequency synthesized general coverage(!)–portable receiver.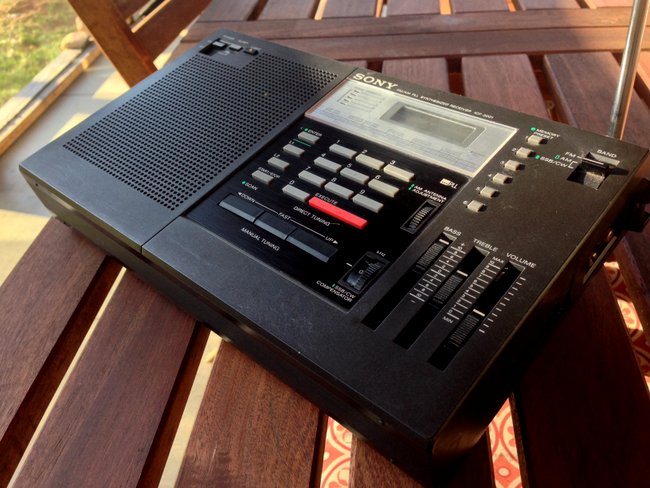 At the time, my only shortwave radio was the Zenith Trans Oceanic Royal D7000–a wonderful radio for sure–but the convenience of digital tuning? I could only imagine.
The ICF-2001 had revolutionary featured like direct access keypad tuning and an LCD digital readout. The ICF-2001 covered 150 to 29,999 kHz and, like my Transoceanic, could receive single sideband. It also had six memories that could be assigned to buttons for quick access to my favorite frequencies. Six. Whole. Memories!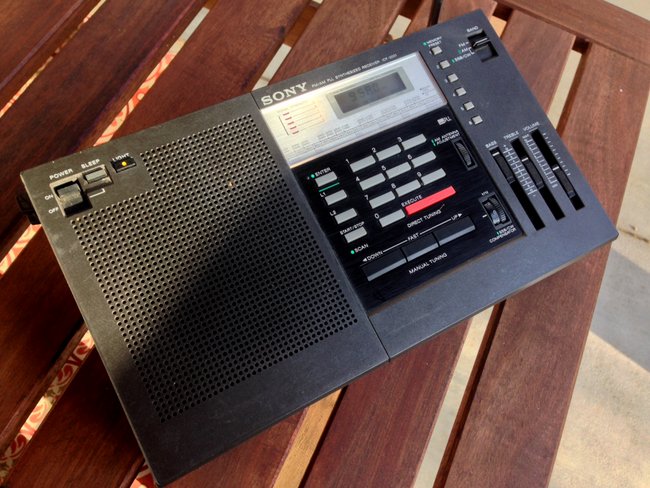 I picked up my used ICF-2001 for $67.00 US shipped. The seller (a fellow ham radio operator) insured that the radio was in excellent mechanical shape, though cosmetically showed some signs of wear. The only thing missing was the ICF-2001's shoulder strap. That was fine by me, though, because the seller included all original manuals/documentation and a very cool canvas carry bag (below) that fits the ICF-2001 like a glove.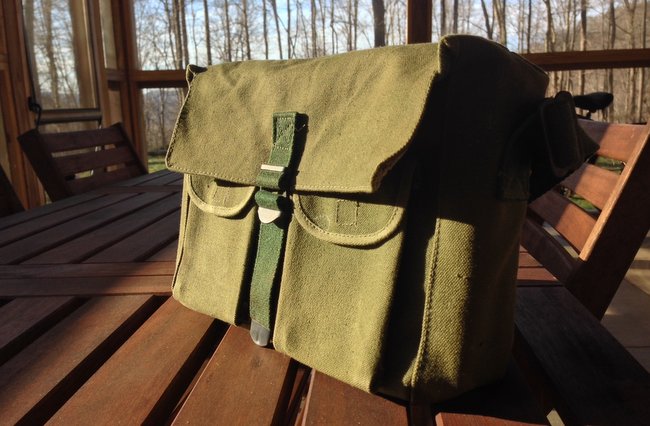 I've had the ICF-2001 for a few weeks now and I must say that I'm quite pleased.  It's much larger that most portables currently on the market, but was probably slightly smaller than the venerable ICF-2010.
The audio from the ICF-2001's built-in speaker is top-notch; with separate treble and bass control, it's easy to adjust audio to your taste.
Would the ICF-2001 out-perform a modern portable receiver? Probably not. Was performance similar to the ICF-2010? No way. The ICF-2001 has a few annoying quirks (like muting between frequencies, no tuning knob, a backlit display that's rather small and hard to read at certain angles)–items most modern portables have long since addressed.
With that said, the ICF-2001 does have a few features I wish modern receivers would adopt, like, a built-in antenna trimmer.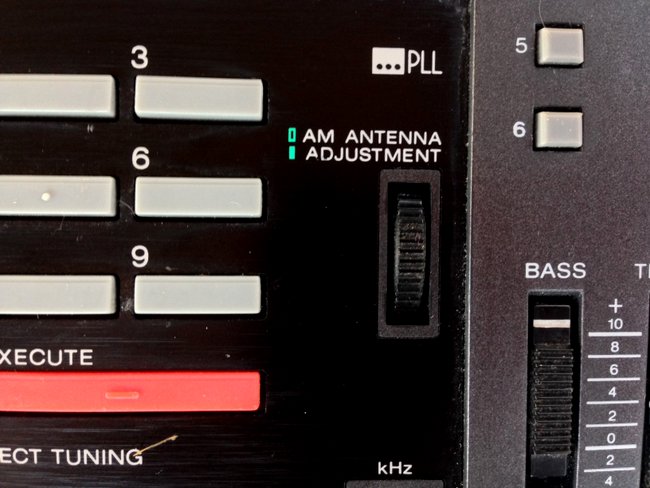 This morning, on my porch, I listened to several broadcasters across the bands and used the antenna adjustment to tweak the match. The adjustment would sometimes increase reception by three S units. I would love to have a similar feature on, say, my Tecsun PL-680.
I also like the old school power switch–a proper mechanical switch that makes it much more difficult to accidentally turn the radio on while traveling or operating in a portable setting.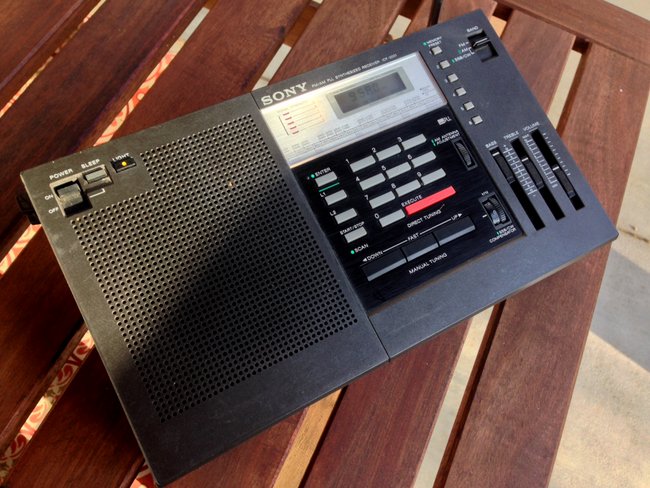 Even thought the ICF-2001 was a bit of an impulse purchase, I have no buyer's remorse at all. She's a sturdy rig with great audio and, I believe, decent performance on the shortwave and medium wave bands. I can certainly confirm that it would have blown my mind when I was 9 years old!
Besides..if the ICF-2001 is good enough for John Lennon, it's good enough for me!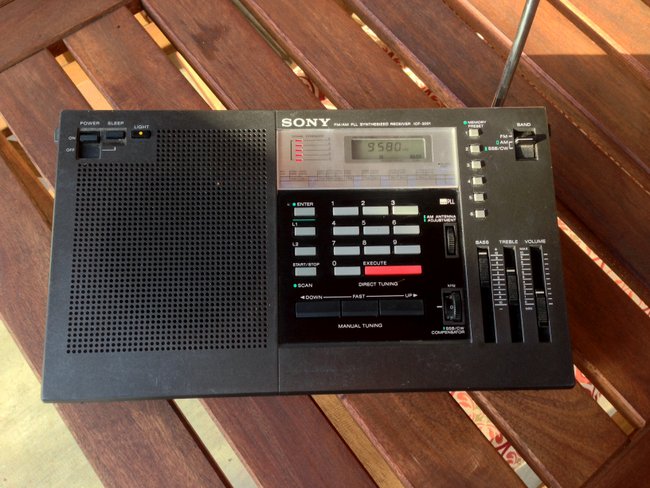 Any SWLing Post readers out there still have a Sony ICF-2001?