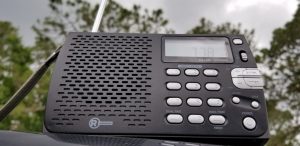 Hello shortwave listeners! I wanted to share an exciting update about a new high power broadcast I'll be doing for listeners in Africa, Europe and beyond!
Beginning Monday the 11th of December, 2023 and continuing every Monday – this radio program will be heard across Africa, Europe & Beyond from a high power transmitter in Issoudun, France.
The broadcast is 1 hour in length and I always consider it to be a light entertainment program. The aim of this radio show is to provide good music and occasional news commentary to listeners worldwide. Oftentimes, listener music requests are taken and played – and all are invited to participate.
Here is the broadcast schedule for this additional airing:
Mondays 1900 UTC  – 11920 kHz – Issoudun 100 kW – Africa, Europe, Middle East
For this airing I will resume QSL verification of reception reports, there will be a new QSL every month!
Reception reports and feedback are most welcome at [email protected]
That's all for today, I just wanted to let you all know that there's a new airing out there if you'd like something to listen to!
73's John