Dear SWLing Post Reader,
It's New Year's Eve and as I do each year, I've been spending time on the radio tuning around the bands–crossing borders and time/date zones at will. Most broadcasters spend this day going over events of the year, playing music and looking back. Some even have an in-house on-air party of sorts when they slip into the new year. It's always fun.
I remember very fondly the full day I spent at the radio as we entered the year 2000. I wrote a post about this and published a recording several years ago. I decided it was time to pull that post from the archives and put it on the front page once again. I hope you enjoy it.
Since this post was first published, Radio Australia has gone off the air of course, so I find recordings like this even more meaningful.
Here's wishing you and yours an amazing New Year!
-Thomas
---
Radio Australia rings in the millennium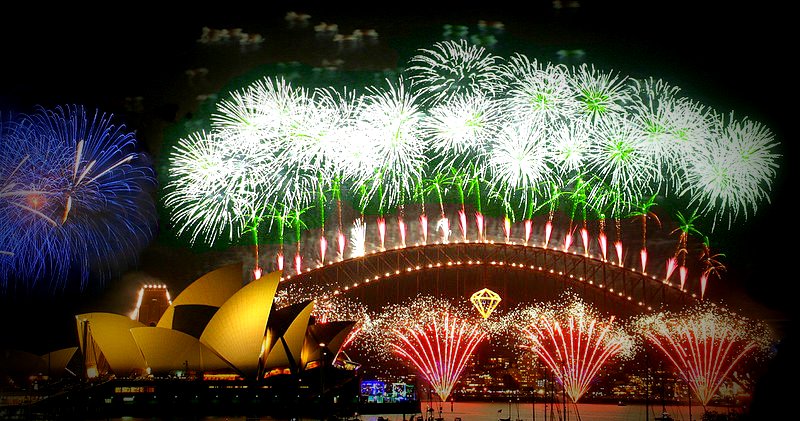 Yesterday–New Year's Eve, 2014–I spent some time listening to a few broadcasters as the new year passed through their time zones. While I missed hearing Radio New Zealand International (the first to welcome the New Year on the air), I did manage to catch Radio Australia, and the New Year was celebrated with no fanfare; one program merely ran into the next, and there was a brief mention of 2014's arrival in the headline news.
Oh, but it wasn't that way when we moved into the year 2000…
Rewind 14 years
Back in December of 1999, before setting off to visit family for the New Year, I had a sudden notion: I decided it would be fun–and a bit novel–to record radio broadcasters as each moved into the new millennium. As we were packing the car to travel, I changed my mind about using my Grundig Yacht Boy 400 to accomplish this fairly ambitious, round-the-world listening/recording endeavor; instead, I grabbed my ham radio transceiver, an Icom IC-735, and packed it, along with a hefty 12-volt power supply. While my IC-735 lacked AM filters (at the time) it had much better sensitivity than the YB400, especially when hooked up to a decent antenna. I also had the foresight to take along a few odds and ends, including a mechanical antenna tuner and a spool of long wire.
To record the broadcast, I used my trusty Aiwa AM F70 MiniDisk recorder–remember those? Upon arrival at our extended family's home, they kindly permitted me to erect a long wire antenna in a sloping configuration in their yard. It did a fine job netting the airwaves. The MiniDisk recorder recorded brilliantly, allowing me to monitor levels and even edit afterward.
As a result, I spent New Year's Eve 2000 recording station after station as the earth turned.  It was great fun, and meanwhile had very little impact on our family celebrations as I simply left the recorder running for long periods of time.
While I have yet to dissect the many hours of recordings, if memory serves, I think I managed to record Radio New Zealand International, Voice of Russia, Radio France International, NHK, Voice of America, and Radio Canada International as each rang in 2000. The IC-735 performed quite well, save a lack of bandwidth filters, as I only really had two–very wide, and very narrow.
So, for your New Year's Day listening pleasure:  I hope you'll enjoy, as much as I did,  listening to Radio Australia ring in the new millennium yet again. In the news items, you'll hear that Russian President Boris Yeltson has handed the reigns over to Vladimir Putin, and remarks about the (lack of) problems resulting from the infamous Y2K threat.
Click here to download the recording as an MP3, or simply listen below: