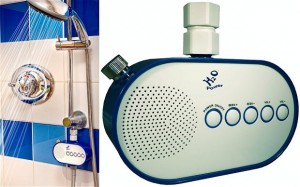 (Source: The Telegraph)
The man who helped turn the Wind-Up Radio into a global success in the 1990s has invented a radio that is powered by the motion of water flowing into a shower.

The H20 water-powered radio clips onto the water pipe that runs up to a shower head. Using micro turbine technology, the radio is powered by the water pressure running up a pipe.

[…]Tango hopes that the waterproof radio will enjoy the same success as the Wind-Up Radio. The H20 was invented by Vivian Black, a former director of Freeplay Energy Group, which helped turn Trevor Baylis's Wind-UP Radio into a commercial success in the 1990s.
While shower-powered radio is certainly an inventive use of flowing water, I seriously doubt the technology will enjoy the overwhealming success of wind-up radio. Wind-up or crank-powered energy generation can be used pretty much anytime, anywhere.  It's also a very appropriate technology for the developing world.
In situations where one lacks access to power, there will most likely be a lack of water. However, for those of us who love listening to radio in the shower, this may be worth the investment. (I do wonder if how "green" this product will be if it keeps you in the shower a bit longer.)