Encore – Classical Music on Shortwave – Broadcast on Sunday afternoon in Europe and USA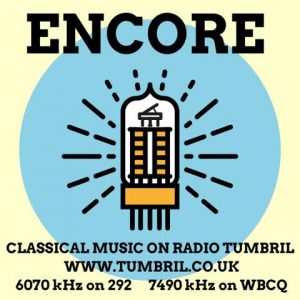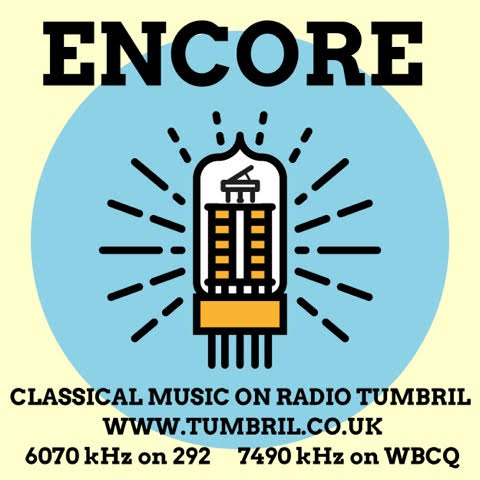 Encore – Classical Music this weekend is being broadcast as usual by Channel 292 (Europe) on 6070 kHz at 15:00 UTC Sunday 1st September.
And by WBCQ on 7490 kHz at 00:00 – 01:00 UTC Monday 2nd September
There is a repeat on 6070 kHz on Friday 6th September at 19:00 UTC.
This week's programme starts with a Bach 'cello suite followed by another of Paul Mealor's wonderful madrigal settings of Tennyson's Now Sleeps the Crimson Petal. Then we have Purcell's overture to his King Arthur. Contemporary next – Triangle by Canadian composer Ana Sokolovic. Then Hamish MacCunn's The Land of the Mountain and the Flood followed by some Janá?ek quartet – exquisite. Then something almost medieval for flute and pipes leading into a couple of wild cards – a secret. The hour ends with some of Bruckner's 4th.
I hope you can join me to listen.
Both Channel 292 and WBCQ do live streams if the reception is poor in your location. Easy to find their sites with a google search.
Thank you for spreading the word about Encore – Classical Music on Shortwave. And thank you to everyone for letting us know how well/badly the signal is received where you live.
Brice Avery – Encore – Radio Tumbril.
Regular Broadcast times are:
15:00 – 16:00 UTC Sunday, and repeated 19:00 – 20:00 UTC Friday on 6070 kHz (Channel 292 Germany).
00:00 – 01:00 UTC Monday on 7490 kHz 9WBCQ – Maine).