Many thanks to SWLing Post contributor, Michael Ye (BD4AAQ), for the following guest post:
---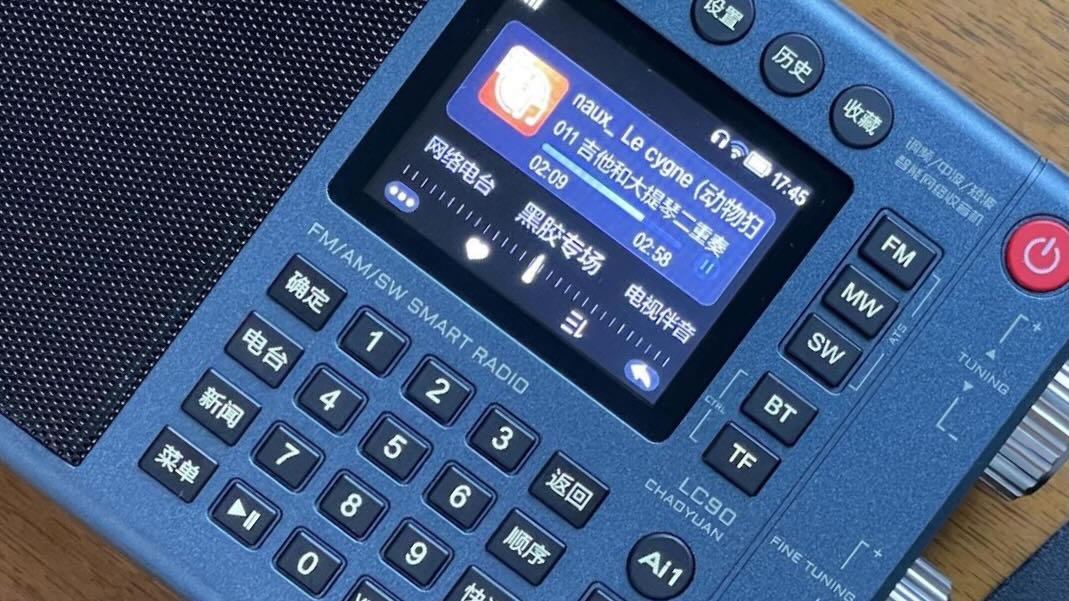 The LC90, a Great Radio Spanning Two Worlds
by Michael Ye (BD4AAQ)
It is an awkward era for radio receivers. Although technology becomes more and more advanced and increasingly sophisticated radios are made, there are fewer and fewer stations to listen to. But hardcore radio hobbyists, mostly hams and shortwave listeners, would not give up the hobby. They continue to look for and enjoy stations among noises in the airwaves. Although Internet radios have been around for a long time, I never thought seriously about them. Perhaps I was stubborn, but in my mind, radios were noises and noises were radios and it's the stations among the noises that I enjoyed. Receivers without noises were hardly real radios.
Until I got my first full band radio with Internet features. The LC90 was a pleasant surprise, completely changing the way I look at radio receivers. The LC90, or "full band smart Internet radio", is my first shortwave radio AND Internet radio in one. There may be other radios with Internet features, but I have heard of few receivers that integrate the traditional radio (shortwave in particular) and the Internet. The LC90 was launched in China in early 2023, and quickly became popular among hobbyists thanks to the unique combination. News has been confirmed that the overseas version of the LC90 will be launched later this year. It provides more options for users at a time when shortwave broadcasters continue to shut down transmitters and bid final farewell.
Chaoyuan Company
The manufacturer of the LC90 is Chaoyuan, an electronics company based in Shenzhen, China, known for mobile phone design and Hi-Fi equipment. In recent years they started to design and make radios. And they are serious about the business, too.
The Radio at a Glance
The radio is of regular size. A computer mouse is placed in the picture above, so you have an idea of not only the radio's looks but also its size. The exact dimensions are 22x122x40mm. Its weight is 640 grams. The radio has a built in 4G SIM card, with 3G prepaid data. You have to add credit to the card in time by scanning a QR code on the screen before the built-in SIM card expires. You can also use your own SIM card by inserting it to a slot at the bottom of the radio. And of course, you could use Wi-Fi at home.
Although the radio is a combination of the traditional radio and the Internet, it is very ingeniously designed and does not put off the user with too many bells and whistles – you could press the tuning button to change the shortwave band and the fine tuning button to change the band width. The tuning button also serves as an "enter" key. These are clever designs that effectively save extra buttons. I have not seen a similar design in other radios.
For those who do not read Chinese, the upper five buttons are, roughly, "Configure", "Timer", "Setup", "History" and "Favorites". The four buttons on the left: "Confirm", "Stations", "News" and "Menu". The four buttons on the right: "Back", "Sequence", "Rewind" and "Fast Forward". The button with a globe says "Internet".
The radio has excellent audio quality, rich bass, with a well-balanced frequency response. It is powered by two 18650 rechargeable lithium batteries. The radio has no back stand.
Traditional Radio
All three modes (or bands) are available, FM, MW and SW, as shown in the three buttons on the upper right (to get LW just press MW again). The FM band covers 64-108MHz, which includes Japan's FM band. During the FMDX season you could have stations from Japan and other countries to explore. The SW band covers 2300-26100KHz, continuous, almost the entire shortwave band, more than enough for broadcast listening. The antenna jack works for all three modes (or bands).
Excellent Shortwave Performance
As a shortwave listener of many years, I am most interested in the radio's performance in shortwave reception. Well, it is indeed very good in terms of sensitivity, selectivity and audio quality, with no compromise although the radio has an Internet section which requires additional space and resources.
When you use the radio indoor, reception could be poor and you can insert an external antenna to the antenna jack. Unfortunately, I cannot connect my AOR LA400 loop antenna to it as the antenna jack is too close to the tuning knob and so there is not sufficient space for the plug (see picture). Generally, a 3.5mm plug with a wire should work well if you extend the wire outside.
If there is a disappointment, its shortwave reception does not decode SSB signals. If the user is not a ham radio hobbyist, SSB reception may not be really needed anyway and the buttons, circuits and space can be saved accordingly.
Fair FM Reception
FM reception is good, but there is no obvious improvement of reception when an external plug is inserted in the antenna jack.
Mediocre MW Work
Reception on the lower bands, e.g., the medium wave band, is always a challenge in cities. It is not surprising that medium wave performance of the LC90 is mediocre at best. I don't do much MW DXing but nowadays for each MW frequency there is almost always an FM frequency. Let's face it – we should perhaps forget about medium wave reception in cities where there is excessive low band EMI.
However, if you go outdoor with the radio, medium wave reception can still be a lot of fun. And, contrary to FM reception, an external antenna significantly improves its performance!
Internet Radio
Admit it or not, the best days of traditional radio are gone, and while we continue to have fun on the old time radio, we should not hesitate to embrace newer technologies such as the Internet. By launching the LC90 and combining the two, Chaoyuan has made a significant move.
The Internet radio is an integrator of many online stations on the Internet, and more. It is completely different from the traditional radio which receives radio signals transmitted on air. The Internet radio, which relies on the Internet, provides much better audio quality, no noise, customizable and replay-able.
If you want to kill time and look for signals from noises, turn to shortwave and enjoy DXing. If you feel like listening to solid content or enjoying noise-free music, the Internet radio is there for you. This Internet radio integrates major web stations in China and on that basis the user can further select and configure their own favorites. Among apps that are built-in is Ximalaya FM, the leading audio platform in China. Due to requirements of policies and regulations in China, the user does not have much discretion to include foreign stations in the radio. However, Chaoyuan has indicated that they are working in an effort to secure authorizations from Spotify, Alexa and Pandora which they hope could be incorporated in the overseas version of the LC90. The future overseas version is expected to give the user more discretion to include online stations of their own choice.
Two buttons, Ai1 and Ai2, are voice assistants. Activate and speak to them and the radio directly plays the content (Ai1) or displays their findings for you to choose from (Ai2).
Finally, this is a radio with the most accurate time. There is no need to set the time for it, as it is based on the Internet.