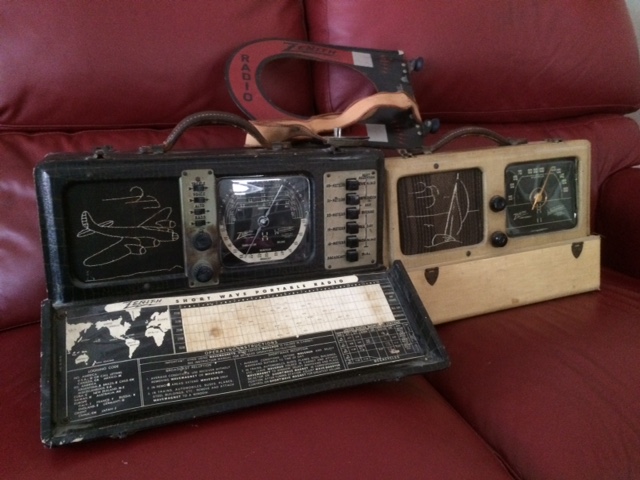 After posting a link to Paul Litwinovich's Zenith Transoceanic article, SWLing Post reader, Bob LaRose (W6ACU) sent me the following message:
"Just a quick story to follow-up on the excellent Zenith Transoceanic article today. It brought back a lot of great memories!

About twenty years ago I decided to collect some of the things that I couldn't afford when growing up. I acquired quite a number of Hallicrafters receivers and other "heavy metal" including several transmitters (including my Viking I AM Transmitter). In the process of our last move, I got rid of a lot of the collection. One part of the collection that I did keep was my Transoceanics. If I remember correctly I have every major model except the military one mentioned in the article and the very last one.

Here is my story is about obtaining a "Bomber" as described in the article. I was visiting a gun show at the North Carolina Fair grounds in Raleigh (I went there with a friend who is into Civil War collectables). Anyway, we were walking around and I spotted a small dusty suitcase on a table in the back of a booth. It was closed and to anyone else it looked like an old carrying case. However, by the size and the brown leatherette-grained case I thought it just might be a "Bomber".

I tried not to act too excited and asked the seller what it was. He said it was an old radio and I asked him to bring it out. Sure enough, it was a Bomber! Still trying not to act too excited, I tried to let on that I didn't know what is was and asked him if it worked. He said he didn't know. I made a point of saying that it was missing the dial cover (but the pointer was there and unbent and the inside looked pretty clean and even had its "Wave Magnet").

I asked him how much he wanted and he said $100. We haggled a bit over the condition and I finally got it for $75. I walked away very happy and excited!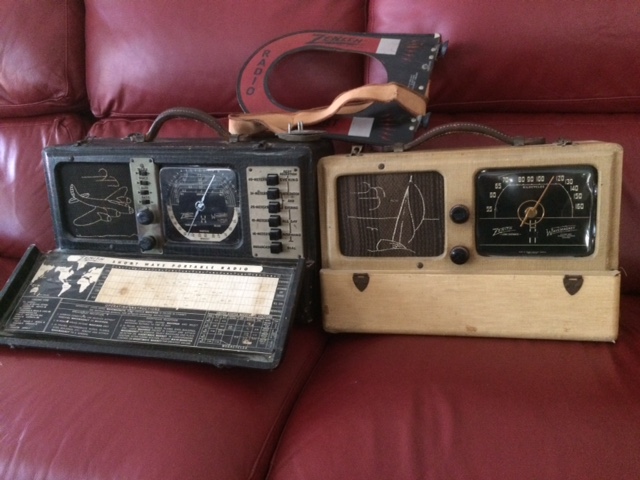 I spent some time cleaning it up, de-oxing the contacts and then used a VARIAC to slowly bring up the voltage to reform the electrolytics. But guess what? IT CAME TO LIFE!

I was even able to get the Sam's manual and do an alignment. I don't recall that I had to change any electrical parts or tubes and I even found a guy that made a replacement dial cover! It's not as shiny as the one in the article but it was sure a great find. It proudly sits on the bookshelves in my office along with the Zenith "Sailboat" AM receiver mentioned in the article and my other Transoceanics. I've attached a picture of the two side-by-side. [See photos above]"

Many thanks, Bob, for sharing your "barn find"–or should I say "gun show find"(?)– Zenith "Bomber." What a great story. I'm glad it's in the hands of someone who has restored it and can appreciate its history. Indeed, your story proves that you never know where you're going to find a vintage radio deal.