Guest Post by Troy Riedel
Every radio enthusiast or ham operator knows this definition – something we all dread.  Electromagnetic interference – also known as radio-frequency interference when in the radio frequency spectrum – is a disturbance generated by an external source that affects an electrical circuit by electromagnetic induction, electrostatic coupling, or conduction (Source: Wikipedia).
I've been "off the shortwaves" (in fact, off ALL bands!) for a few weeks (a reminder to those who do not remember – I'm an SWL'er, I'm not a ham operator so I'm a listener only).  Here's my story:
My house was built in 2004 thus the home's electrical is "modern era".  I've never, ever had a significant problem with RFI … except when the dishwasher is running (if it's running, I have ZERO reception).
I didn't want this (I acquiesced only in an attempt to become grandfather of the year), but an in-ground (vinyl liner) pool has been installed in my backyard (yeah, I've probably lost everyone's sympathy with this statement).  If it's any consolation, construction started long before the summer and won't be fully completed until [hopefully] next Spring (and what's left of my yard is a disaster zone and something that will cost a fortune to mitigate – maybe I've gained back just a little bit of sympathy?).
Pools are required to be bonded (the process by which the electrical and metallic components of the pool are joined together with a wire to form a non-resistive path between the components. The goal of bonding is to connect, contain and prevent the transmission of any harmful electrical voltage to pool equipment, people and pets).
I'm not an electrician, but essentially the pool is grounded by a copper wire … and a copper wire "ring" encircles the pool (now covered by the concrete pool deck).  The copper wire runs underground and resurfaces where the pump & filter are installed.  That copper bonding/grounding connects to the remote master switch at the pump & filter (pictured here – note where the copper line connects to and grounds the unit):
Electrical power line(s) run underground from the pump/filter area until resurfacing just outside the garage wall where they enter my home's main breaker box inside the garage.
There is an unfinished electrical component.  A conduit was installed to add a pool light when the project is completed next Spring (see below), but at this point there's nothing connected thus a "pool light" is not yet present.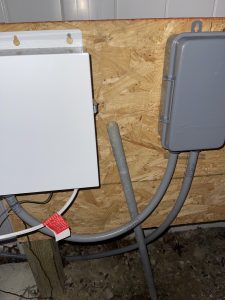 Throughout the dig, installation of the steel walls, pouring the concrete bottom & steps, liner installation, the bonding, and covering the bonding "ring" with the concrete pool deck – all of this had zero negative effects on my SWLing.
Once the pool electrician connected power (connected the pump/filter) to the house, ALL radio bands were knocked out due to very extreme RFI.  All bands – the complete spectrum (choose your letters … AM/MW, FM, SW, VHF, UHF – all bands).
I've easily spent double-digit hours trying to isolate the EMI.  This is what I've done & discovered:
(1) Disconnected the pool grounding: no effect.
(2) [Only] Powered-off the two main breakers for the pool pump & filter: no effect (the pool equipment was tested, then the pool was winterized so nothing has been running).
(3) We used a handheld EMI detector over every inch of the interior and exterior of the house.  Yes, there are sources but nothing to the level that should cause a radio blackout.
(4) Turned off the main breaker, all power to the house: this is the only thing that eliminated the EMI/RFI.
(5) Multiple times, I've painstakingly turned-on one breaker at a time (isolating each circuit, on/off then proceeding to the next breaker).  I've found that for whatever reason, extreme RFI returns (and is present) on these three circuits: (upstairs) Master Bedroom (my Listening Post), the other upstairs bedrooms (combined on another circuit), and the (downstairs) Family Room circuit.  Note: Even if everything is unplugged on one of these circuits, just turning on the breaker introduces the extreme RFI (thus it must be coming from the breaker & not introduced from a device plugged-in).  Ferrite chokes have been installed on nearly everything plugged-in to outlets on the three "trouble" circuits.  I'm not saying the house was an RFI-free zone before the pool – but these three circuits only produced light-to-manageable RFI prior to the pool equipment being connected to the house's main breaker box.  After 6000+ days of living in this house with no significant RFI issues, I've been in a complete radio blackout with very extreme RFI since the moment the live electrical line was connected between my pool pump/filter and my main breaker box.
And before you ask: No, there have not been any new electronics, no new devices, no new appliances, no LED lights, and all big screen TVs and other notorious RFI unfriendly devices are unplugged – nothing new has been plugged-in or added to the household except for the pool equipment.  There have been no new utilities in my area that could have caused a coincidental problem (no DSL, no fiber optic – nothing).  I cannot see how this situ could be caused by a neighbor, because the problem ceases when my power is off.  And "no", I can't move my Listening Post because even though the majority of the RFI is introduced over those three circuits, the entire house is impacted and it's a complete radio blackout.
To reiterate, I had no radio-related problems during the entire construction (I listened to my radios as I pleased) and the problem did not start until the pool's electrical line was connected to the main breaker.
Could the new wiring – at/inside the breaker box – be improperly shielded?  Could something be touching(?) that shouldn't be?  Could something be loose inside the breaker box?  The three circuit breakers that are introducing the extreme RFI are in close proximity to each other in the breaker box and in close proximity to the two new pool breakers – could there be contamination from one to another?
I don't make it a habit to play with electricity.  The pool company could frankly care less about my radio woes (it's my problem, not theirs).  My power company supposedly checked their utility line coming into my house (I didn't see them here, but they said the problem is not on their end).   And local electricians all essentially say, "[from their prospective] EMI sources are hard – if not impossible – to find".
I have an electrician lined-up but we both thought it might be best to "put this out there" because someone may have an idea that he hasn't thought of. Thus far, I've done almost everything myself that they stated they would do (minus opening-up the breaker box).  I'm hoping to solicit ideas from the SWLing Post Nation before I put the electrician on the clock.  And on the clock = $$$.
Thanks in advance for your input.  If I can't get this mitigated, a liquidation event may be in my future.