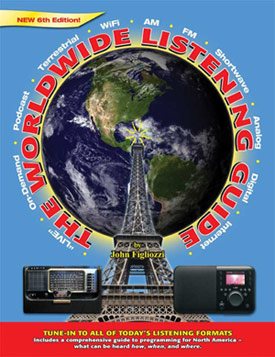 I'm very pleased to have just received the 6th edition of John Figliozzi's Worldwide Listening Guide (WWLG). This is the latest updated version of the guide I reviewed last year.
As I said then, you may want a copy of the WWLG in your shack–and, may I suggest, next to your computer or wi-fi radio.
SWLing Post readers know that I'm a huge fan of the Word Radio TV Handbook (WRTH)–it's my go-to guide for radio frequencies–and Figliozzi's Worldwide Listening Guide is my helpful companion for programming and for content.
Figliozzi exhaustively curates more than 4,000 programs, indexing their airing times, stations, days of broadcast, program types, frequencies, and web addresses. He also sorts the programs by genre:  from arts, culture, and history; to music, sports, and more. In fact, he has a well-thought-out directory of at least forty genres–this directory has helped me locate programming about which I would otherwise have never known. Want to find jazz and blues programming, or shows focusing on sports?  This book's got you covered. Frankly, I'm not sure how Figliozzi manages to curate such a vast assortment of programming, but I'm happy he does, and that he offers it for our benefit!
Figliozzi even dedicates a section of his book to "The Big Six" English language broadcasters–namely, NPR, BBC, CBC, ABC, RTE and RNZ. These networks are widely regarded as the best in the business, with audience numbers to back this claim. The WWLG dedicates several pages to describing the structure and programming diversity of each, with listening tips and more.
I've always liked the WWLG, and it has become a permanent reference book in my shack, alongside my trusty WRTH. There is a surprising amount of information packed into this slim, spiral-bound book…enough to keep even a seasoned DXer contented for years.
The 6th edition of Worldwide Listening Guide can be purchased here: