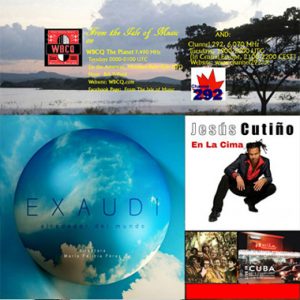 From the Isle of Music:
Our July 5 (July 4 in the Americas on WBCQ) program includes special guest María Felicia Pérez, director of Coro Exaudi, winner of the Choral Music category in Cubadisco 2016. We'll also play some Popular Dance Music by Dinza y Soneros de la Juventud, nominated in the Popular Dance Music – New Talents category and some of Guilty Pleasure by Alexis Baro, which was nominated in the Jazz category in Cubadisco. Also, some new music by Eliel Lazo and the Cuban Funk Machine and the Pedrito Martínez Group.
Two listening options on shortwave:
WBCQ, 7490 KHz, Tuesdays 0000 UTC (8pm EDT Mondays)
Channel 292, 6070 KHz, Tuesdays 1900 UTC (2100 CEST)
See the NOTES section of our Facebook page for more information.