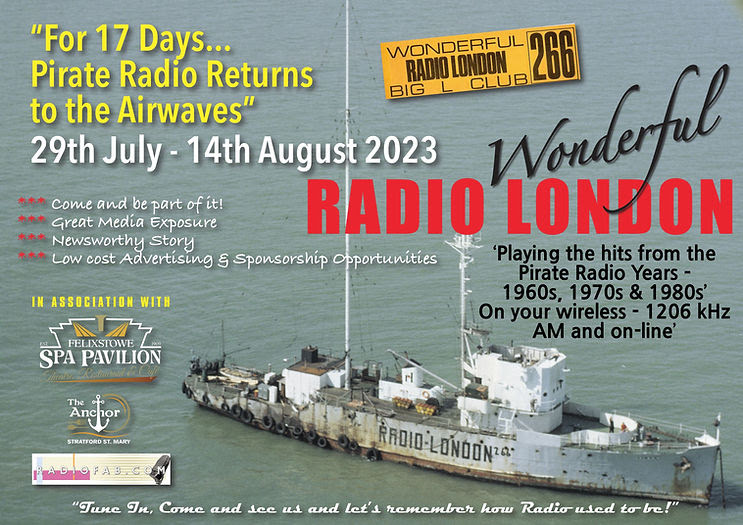 Many thanks to SWLing Post contributor, WD3C, who shares the following announcement:
RADIO PIRATE: The return of Big L Radio London on 1206 kHz, 24 hours a day, from July 29th to August 14th. Back with, in my pocket, a temporary license issued by OFCOM. This time Big L will be broadcasting not from a ship but from studios in a double decker red bus installed in Felixstowe's Spa Pavilion car park on the seafront. This is an initiative of Ray Anderson, RadioFab and the Spa. Radio Caroline will no longer be the only pirate to have boarded for the 17 days of this special broadcast which will also broadcast all the hits of the years "Pirate Radio" with many famous DJs of the past!
You can tune in to 1206 kHz or find out more at www.biglradiolondon.co.uk ( RadioFab.com Facebook)
On August 12th, catch "Roger "Twiggy" Day's Pirate Radio Hits Show" on stage at the Spa
Pavilion Felixstowe with Dave Berry, Vanity Fare and Chris Farlowe.
Many former DJ's from pirate station are participating in the event. August 14 marks the 56th anniversary of the adoption of the "Maritime Offenses Act". This will be, once again, the last day of broadcast of this ephemeral radio on 1206 khz.
Online and more info at www.biglradiolondon.co.uk
Subscribe to Radio Magazine it's free!
Thank you for the tip!