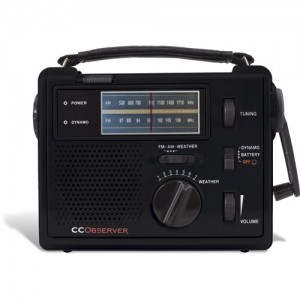 I just received an electronic sales ad from C.Crane announcing that they're selling off their stock of the C. Crane Observer for $29.95.
Though this is not a shortwave radio, I do think this is a superb value. I've used the Observer; it is sturdy, has excellent AM reception (it is a C. Crane, after all) and also includes FM and the NOAA weather bands (useful in the US). It also has a flashlight and even a fully functional dial light.
The Observer also has excellent ergonomics, is simple to operate, and–best of all–has the added feature of being self-powered.
What's more, C. Crane also includes adapters which can be plugged into many cell phones and iPods to charge them using the radio's crank power–again, a highly useful feature if you lose power and need to place an important cell phone call.
This is a great little radio to have on hand in case of a power outage or severe weather. C. Crane claims that this offer is only good while supplies last; I doubt they will last long. I'm going to hasten this process, and take one from their stock, myself.