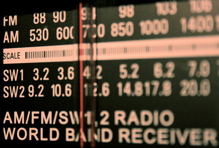 (Source: BBG)
(WASHINGTON, D.C.—November 15, 2011) U.S. government funded international broadcasters reached an estimated 187 million people every week in 2011, an increase of 22 million from last year's figure, according to new audience data being made public by the Broadcasting Board of Governors.

[…]The record numbers, released in the BBG Performance and Accountability Report (PAR), measure the combined audience of the Voice of America (VOA), Radio Free Europe/Radio Liberty (RFE/RL), Radio and TV Martí, Radio Free Asia (RFA) and the Middle East Broadcasting Networks (Alhurra TV and Radio Sawa). The report details impact on audiences around the globe including people in the world's most repressive media and political environments.

[R]adio remains the BBG's number one media platform, reaching 106 million people per week, [while] television's growth puts it at 97 million people. The Internet audience was approximately 10 million, with the largest online audiences measured in Iraq, Russia, Indonesia, Egypt and Iran.
In summary, BBG's stats show that radio has fully 10 times the audience of the internet/SMS, and radio listeners surpass television viewers by 9 million. Clearly, radio leads the way because it is a basic technology that has been in place for decades, building a lasting infrastructure and audience. We've posted numerous articles proving that radio–specifically, shortwave radio–is still a viable and dynamic information medium, with no regard for borders, for the party in power, or for the economic status of the listener.
Indeed, radio is perhaps the only information medium–other than word-of-mouth–that informs both some of the most wealthiest and some of the most impoverished people on our planet.
Let's keep it alive: remind your broadcasters that radio is a lifeline for many listeners across the planet.