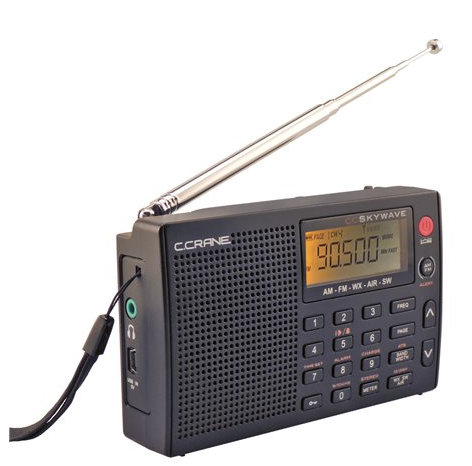 The CC Skywave is the latest shortwave portable from the manufacturer and retailer, C. Crane.   While this radio's form factor looks a lot like the CCRadio-SWP,  you can tell, based on features, that this is a complete re-design internally. Indeed, the Skywave sports an NOAA weather radio–and an aviation band–as well as AM/FM and shortwave.
Here are the features C. Crane lists for the CC Skywave:
AM, FM, Weather plus Alert, Shortwave (2.3-26.1 MHz) and Air Aviation Band
Direct Entry of a Frequency plus Auto Scan and Store
Lighted LCD Display
Selectable Fast or Fine Tuning on all Bands Except Weather
400 Memory Presets
Runs on (2) AA Alkaline batteries (not included)
(Optional) CC Skywave Power Adapter w/ Mini USB Plug Required for Charging NiMH Batteries.
Stereo Headphone Jack and Fold-Out Back Stand
Clock with 12/24 hour format, Alarm
Rotary Volume Knob
High Quality CC Buds Earphones and radio Carry Case included
One Year Limited Warranty
Dimensions: 4.75″ W x 3″ H x 1.1″ D
Weight: approximately 5.5 ounces without batteries
The Skywave is now available to order on the C. Crane website. Since availability is scheduled for July 14, 2014, ordering online is a means of reserving your unit.  I would expect C. Crane to ship on time; this is a retailer with a good track record.
I do hope to review the Skywave in the coming weeks. Update: Click here to read a full review of the CC Skywave.