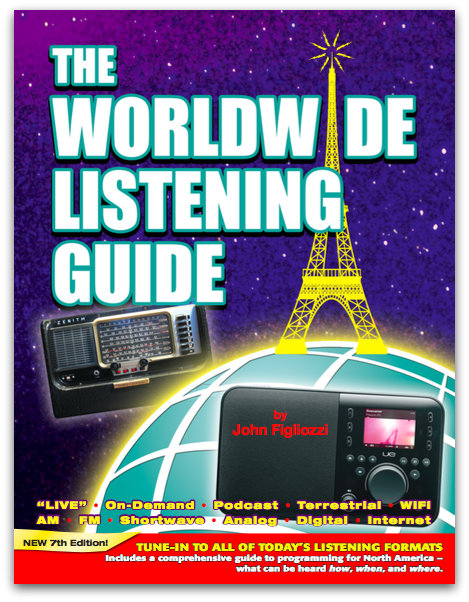 Many thanks to SWLing Post contributor, Thomas Ally, who notified me that he has just purchased a copy of the WWLG 7th edition through Amazon.
Here's the description of the new edition:
New, fully-updated 7th edition provides a complete guide to listening to radio in all of today's formats: "live," on-demand, WiFi, podcast, terrestrial, satellite, internet, digital, and of course analog AM, FM, and Shortwave.

The introductory section explains all of the newest delivery methods for radio, and the devices used to access broadcasts from around the World at any time of day or night. Listening to programs from distant lands is no longer a late-night activity dependent upon shortwave propagation conditions. There are thousands of radio stations worldwide that use the Internet to stream their broadcasts. Traditional radio is being augmented by computers, tablets, smartphones, satellites, WiFi receivers, and multiplexed digital transmission methods, greatly enhancing the listening experience.

The Worldwide Listening Guide shows you how to access all of this audio content using these different delivery platforms. The Guide is focused on English language broadcasts that can be heard in North America. There is a comprehensive listing of more than 3500 programs. These are then placed in separate categories by program type, such as news, music, talk, current affairs.
The WWLG 7th edition is also available from Universal Radio, the W5YI Group and Ham Radio Outlet.
Whereas the WRTH–also just released–is a guide to stations and broadcasts, the WWLG is a guide to content and programming. I always have copies of both in my shack.
Thanks, Tom Ally, for the tip!