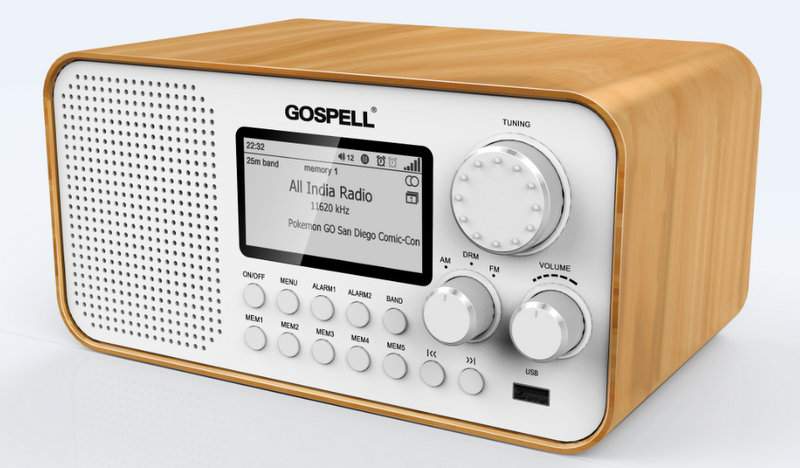 Many thanks to SWLing Post contributor, Ed, who writes:
Here's a review on a Swedish Hobby Radio website of the GOSPELL GR-216 MULTI-BAND AM / FM /Shortwave / DRM receiver, which you reported about on 9/6/2016 and is now is reportedly about to go into production:

http://www.hobbyradio.se/en/drm/gospell_en.html

The latest Mediumwave / Shortwave / VHF-FM receiver GR-216 from Gospell can receive both digital and analogue mediumwave and shortwave signals as well as VHF FM broadcasts. The software-defined receiver is based on a NXP chipset. The firmware may easily be updated over the USB connector on the front.

The size of the radio is 240 mm (w) x 120 mm (h) x 150 mm (d) (without the knobs). It is supplied with a 230 VAC power cord, a 230 VAC / 9 VDC power supply and a user's manual. Its retail price is about xx USD.

The radio has a pleasant design like your favorite kitchen radio but it is also fit for any livingroom. Unlike other products the GR-216 has a soft and clean design and all buttons and controls are easy to operate. It weighs about 2 kg and sits firmly on a table or a shelf. Much of the weight comes from its large loudspeaker (77 mm diameter) and the mains transformer. The two strips on the bottom of the cabinet prevents the GR-216 from slipping around when tuning or pressing the pushbuttons. The AF output power amplifier is 4 W.

There is also a 12 or 24 hour clock and a dual alarm clock (radio or buzzer) and a sleep timer. In addition to the built-in AC/DC power supply there is a DC jack on the rear panel for an external 9 Volt DC power supply if so required.
Thanks for the tip, Ed! Reading this, it's most encouraging to see that Gospell reached out to radio enthusiasts and used their input for firmware and hardware upgrades prior to production.
This may be the most encouraging portable DRM receiver yet. Indeed, Paul Walker, has been enjoying his Gospell GR-216 tremendously and–using an external antenna–has captured a number of DRM broadcasts from Pennsylvania. He might produce a review of his own to post here soon.
If anyone else has notes about the Gospell GR-216's performance, please comment! Could this finally be a DRM portable for the DXer?