Many thanks to SWLing Post contributor, Daniel Hawkins, who shares the following guest post:
---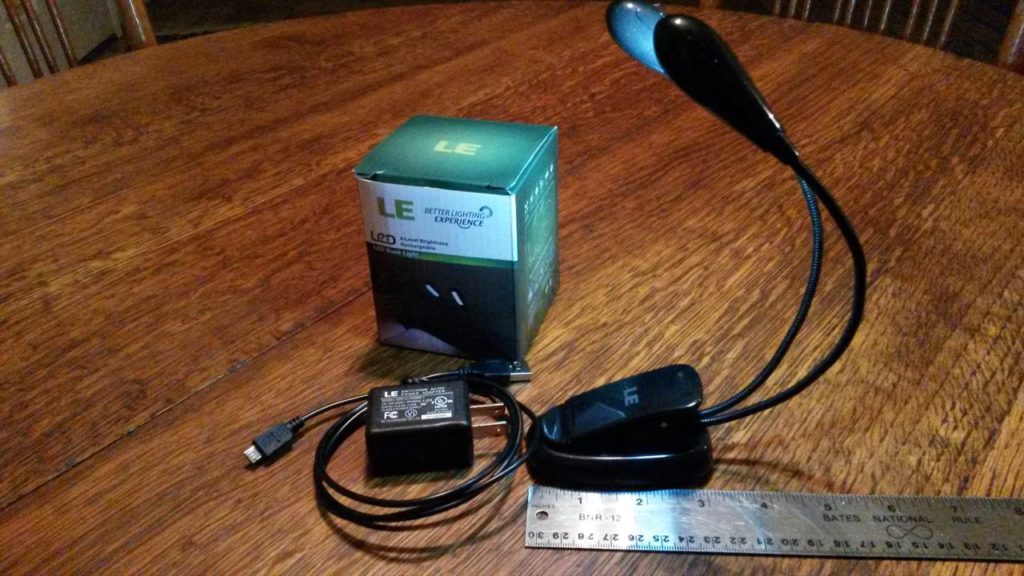 LE Book Light as an SWL Accessory
by DanH
The LE Book Light (Lighting Ever, LTD.) is a handy portable LED lamp that provides light for reading, music stands, or even use with portable radios. I have run into very bad luck in the past with cheap LED reading lights that run directly from USB power. The LEDs always burned out after a couple of days or weeks making me very nervous about putting my computer power supplies at risk by using these things. This LE light is very different. The LE lamp runs from a rechargeable built-in Li-ion battery. This battery may be charged by plugging the included USB cable to USB or the included AC power adapter.
LE makes a few different models of book lights. This model features two lighting pods on sturdy goosenecks. These pods look like classic cobra head street lights to me, which I kind of like. Each pod includes four bright white LEDs and an OFF/LOW/HIGH switch. The lamp will stand unaided on a flat surface and features a clip for temporary mounting. The end of the clip is jointed and padded for improved grip. I purchased a pair of these LE lights early in 2017 and have used them often for eleven months. Each lamp has been charged at least a half dozen times since then. I get about ten hours of light if one pod is lit at low power. Charging time from dead battery (no light) is about two and a half hours. I keep one LE light in use and another charged and ready to go when needed.
My Sangean ATS-909X has a very nice display for use in the dark but the front panel controls are not lit, just like every other multi-band portable I know of. Just try to use keyboard frequency entry or enter a station into memory in the dark! The LE Book Light comes in handy for using portables at home or on field trips in low to no light. Likewise, the meter light on my vintage Hammarlund SP-600 is unlit. I simply clip the LE lamp onto the side panel of the SP-600 for that. There is no way that I'm going to drill into that Marion Electric meter to hack in an indicator light. I can also read the WRTH from the LE Book Light.
This is a nice accessory for portable radio listening at night and many other jobs. I paid $10.88 plus shipping for one of these on eBay in January. I think that was a good deal. Here is $9.99 with free shipping from the Walmart online store. Sold directly by LE from Walmart. The LE Book Light is a very nicely made little light and small enough to make a nice stocking stuffer.
DanH
---
No doubt a great accessory for the SWL! Thanks for the review, Dan!