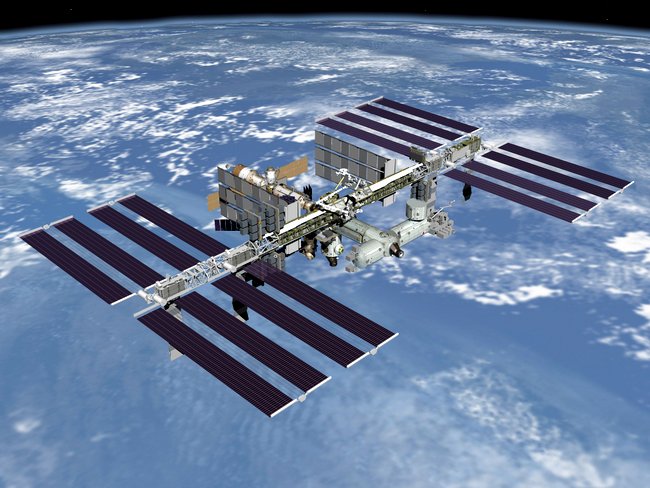 On April 18, consider setting your scanner or handheld VHF radio to 145.80 MHz around 15:57 UTC; you may be able to hear the downlink from the International Space Station. The Amateur Radio on the International Space Station (ARISS) contact will be between between NA1SS (on the ISS) and KD2IFR at a school in Central Islip, NY.
As long as you're within the ISS' signal footprint (which is rather large) you should be able to easily hear NA1SS' side of the conversation. I've listened to the downlink in the past using an Icom ID-51a and the super compact Yaesu VX-3R:
Click here to view on YouTube.
Click here to view on YouTube.
The frequency of the downlink will be 145.80 MHz. As the ISS climbs above your horizon, because of doppler-shift, listen on 145.805, then move to 145.80 as the ISS approaches zenith and finally move to 145.795 MHz as the ISS drops toward the other horizon. As we've mentioned in past posts, you'll know when to switch frequency when the audio gets bad.
ARISS contacts happen quite frequently–I'm posting this notice because I've noted it in my own calendar. Check out the ARISS "Upcoming Contacts" page where future ARISS QSOs are listed. This is a great opportunity to show kids of all ages what you can hear with a modest radio!
Check out a news article about this event via the Southgate ARC:
Upcoming ARISS contact with Central Islip Union Free School District, Central Islip, NY

An International Space Station school contact has been planned with participants at Central Islip Union Free School District, Central Islip, NY on 18 April.

The event is scheduled to begin at approximately 15:57 UTC. The duration of the contact is approximately 9 minutes and 30 seconds.

The contact will be direct between NA1SS and KD2IFR. The contact should be audible over the state of New York and adjacent areas. Interested parties are invited to listen in on the 145.80 MHz downlink. The contact is expected to be conducted in English.

Welcome to the Central Islip Union Free School District – Home of the Musketeers and a proud Suffolk County, New York school system, where approximately 8,000 students in grades Pre-Kindergarten through 12 receive their formal education. Our School District's motto is Children Our Future ~ Diversity Our Strength. The Central Islip Union Free School District is comprised of eight schools: one district-wide early childhood center, four elementary schools, two middle schools and a high school.

The Hamlet of Central Islip is a vibrant, culturally-diverse community. A suburban community with urban demographics. We are a positive and progressive school district whose teachers are dedicated to helping students achieve their maximum potential and to develop academically and socially. Our district offers an array of afterschool activities including sports, music, theatre arts and much more.

Participants will ask as many of the following questions as time allows:

1. What are the challenges of spending so many months constantly around the same people?
2. What is the best way to describe the feeling of zero gravity?
3. Have you experienced anything unexpected while in space that could not be explained?
4. Have you experienced any significant changes, either physically or emotionally, since being in space?
5. What type of robots do you use on the ISS and how are they helpful?

6. What is your advice for young people who want to become involved in programs at NASA?
7. What is the biggest challenge about being on a long duration space mission?
8. How does digestion in microgravity compare to digestion on Earth?
9. Have you experienced anything in space that has made you change your perspective on life?
10. Are there any plants aboard the ISS and if so, what's different about how they meet their daily requirements?

11. What are the long term effects of reduced leg muscle use in long duration space travel?
12. Is your circadian rhythm affected by multiple sunrises and sunsets each 24 hour period, perhaps making it difficult to sleep for long periods of time?
13. Can you describe the types of training that prepared you for this mission?
14. Can you catch a cold on the Space Station?

15. Do the properties of light appear to be different in space?
16. Are there differences in how your body responds to physical exertion while in microgravity?
17. Would it be possible to transmit a mechanical wave on a rope onboard the space station or outside the station?
18. What are the hardest tasks to perform in space that are routine on Earth?
19. Could you blow a bigger than normal gum bubble in space?
20. Are there precautions that you take BEFORE going into space that can help to prevent bone weakness when you return?

PLEASE CHECK THE FOLLOWING FOR MORE INFORMATION ON ARISS UPDATES:

Visit ARISS on Facebook. We can be found at Amateur Radio on the International Space Station (ARISS).
To receive our Twitter updates, follow @ARISS_status

Next planned event(s):
1. King's High School, Warwick, UK, direct via GB4KHS
The ISS callsign is presently scheduled to be OR4ISS
The scheduled astronaut is Ricky Arnold KE5DAU
Contact is a go for: Thu 2018-04-19 12:05 UTC

2. Russian school TBD
The ISS callsign is presently scheduled to be RS?ISS
The scheduled astronaut is Alexander Skvortsov
Contact is a go for Tue 2018-04-24 11:05 UTC

3. Russian school TBD
The ISS callsign is presently scheduled to be RS?ISS
The scheduled astronaut is Alexander Skvortsov
Contact is a go for 2018-04-25 08:35 UTC

About ARISS:

Amateur Radio on the International Space Station (ARISS) is a cooperative venture of international amateur radio societies and the space agencies that support the International Space Station (ISS). In the United States, sponsors are the Radio Amateur Satellite Corporation (AMSAT), the American Radio Relay League (ARRL), the Center for the Advancement of Science in Space (CASIS) and National Aeronautics and Space Administration (NASA).

The primary goal of ARISS is to promote exploration of science, technology, engineering, and mathematics (STEM) topics by organizing scheduled contacts via amateur radio between crew members aboard the ISS and students in classrooms or informal education venues. With the help of experienced amateur radio volunteers, ISS crews speak directly with large audiences in a variety of public forums. Before and during these radio contacts, students, teachers, parents, and communities learn about space, space technologies, and amateur radio.

For more information, see www.ariss.org, www.amsat.org, and www.arrl.org.

Thank you & 73,

David – AA4KN