Crew 15.61 announces its first DXcamp in the Amazon rainforest of Brazil and launches its exclusive event site.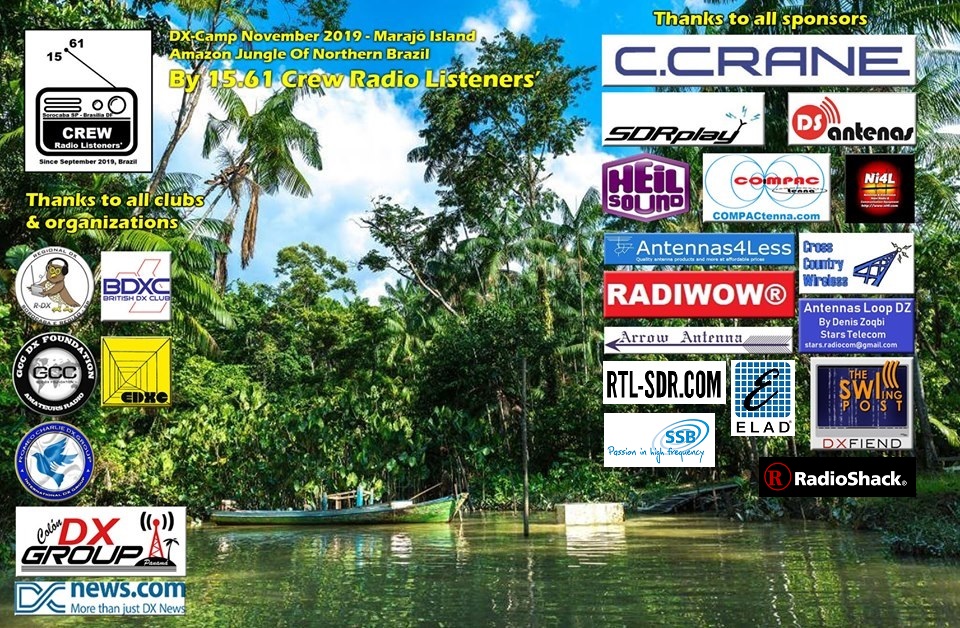 From today you can visit https://dxcamp-marajo2019.blogspot.com/ and find all the information about the first DXcamps of the 15.61 Crew.
The DXcamp, will be held between November 15-18 on Marajó island. It's the first time that an event with these dimensions and characteristics is held in Brazil and maybe in South America.
This DXcamp got the attention of several sponsors who helped the 15.61 Crew, including: C.Crane, SDRplay, DS Antennas (Brazil), Heil Sound, COMPACtenna, Cross Country Wireless, Antennas4Less, NI4L Antennas, Radiwow, RTL-SDR, ELAD, SSB, RadioShack, Antennas Loop DZ by Denis Zoqbi (Brazil), Arrow Antennas and the SWLing Post blog.
Vital to the planet weather, the Amazon region has suffered fires for several weeks and several organizations have denounced the silence of Brazilian President Jair Bolsonaro about what they consider a devastating environmental crime against Earth. Such disaster has caused worldwide shock and must be remembered, because as something that happened during September, unfortunately the media coverage is focusing probably another disaster.
Marajó is the largest island in Brazil and the largest river island in the world, where the Amazon and Tocantins rivers and the Atlantic Ocean meet. It's located about three hours by boat from Belém, capital of Pará state.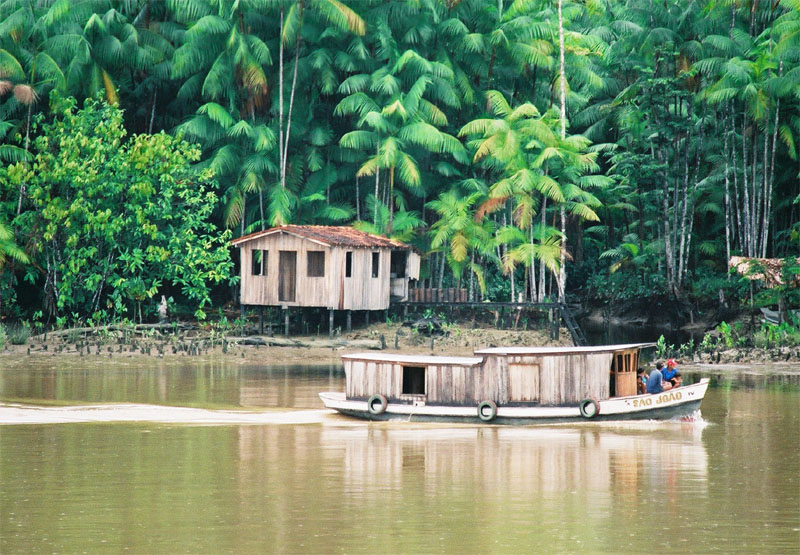 The 15.61 Crew founders are Martín Butera, correspondent journalist in South America for the British DX Club and Ivan Dias da Silva Júnior, founder of the Regional DX group of Sorocaba/São Paulo.
The objective of 15.61 Crew is not just DX. We will take a direct and committed action to help the planet and raise awareness about the climate change that we are sadly living.
We will plant a tree on behalf of the European DX Council (EDXC). Planting a tree amid the flames that are killing the Amazon rainforest today will certainly not be your salvation, but it will leave a legacy and our contribution for a better world.
We will raise awareness that together we can change this situation with actions such like waste sorting, buying products that can be reused, lowering electricity consumption, eating more organic fruits and vegetables, moving on public transport and so on.
Martin Butera lives in Brasilia, the capital of Brazil, about 27 hours from Belém or 1982 km. Ivan, lives in Sorocaba,São Paulo state, 38 hours from Belém or 2893 km. Both will meet in Belém and then go by boat to the island.
A trip like this requires a lot of preparation. It's not something cheap or easy to be done. It takes a lot of time, effort and personal expenses to go to these remote places in South America and then share our catches with you. Those who would like to collaborate with us can do by Paypal account, from our website.
Why do we ask your financial support? Airline weight limits and luggage size are a problem in South America and are increasing the costs for us. We also have a long boat trip of more than 3 hours and will rent a house in the island.
Everything is already paid, but your help can made everything easier on the next DXcamps of 15.61 Crew. All donations will be reported on our site, but whoever makes an anonymous donation will be kept anonymous, and we will report only the value. Please consider support our DXcamp camp in Marajó island!
Your contribution will help us take the best listening station we can gather and have more and better chances of getting good results.
The 15.61 Crew founders, have extensive experience in the hobby, both Martin, 29 years as a ham radio operator (LU9EFO-PT2ZDX), with many DXpeditions in several South American islands, as Ivan, started DXing 26 years ago, including contributions to several clubs and as utility stations professional monitor.
Everything we do during this DXcamp will be shared by texts, photos and videos of our correspondent Martín Butera and will be published as son as possible on the BDXC bulletin and SWLing Post blog.
This will be the first of many DXcamps in exotic places that we plan to carry out, always with a message and a proposal for direct action. We are living in a world in danger and our roles as a society can't be limited only to be only radio listeners.
Thank you!
Martin Butera & Ivan Dias
15.61 Crew Radio Listeners founders
To know more about CREW 15.61 Radio Listeners' please click here.
Martín Butera is a correspondent journalist in South America for the British DX Club.