Many thanks to SWLing Post contributor Martin Butera who shares the following note:
___________________________________________________________________________________________________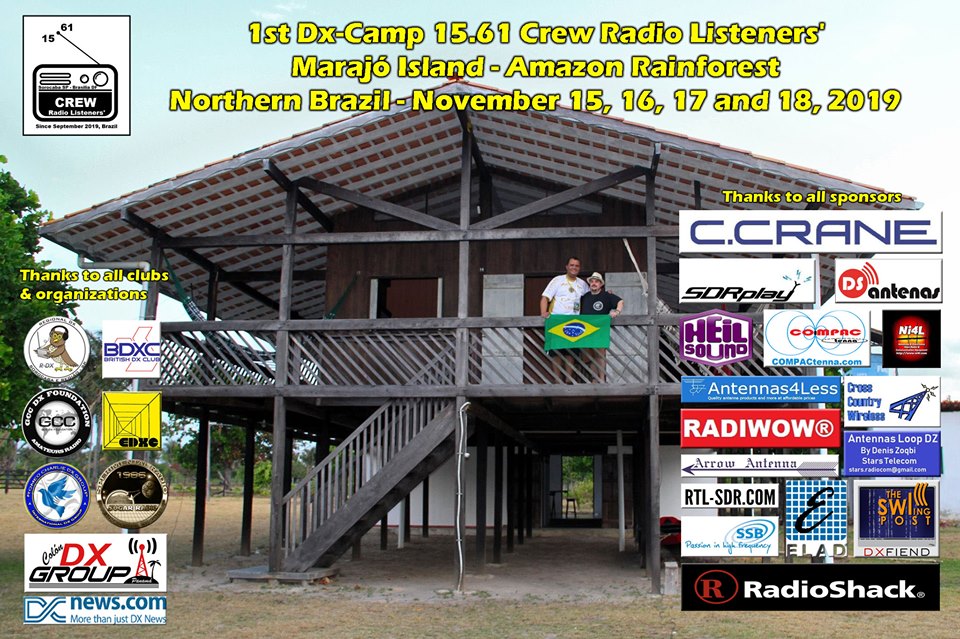 The DXcamp that took place between November 15 and 18 on the island of Marajó was the first event of this kind held in Brazil and perhaps in South America.
This DXcamp got the attention of several sponsors who helped the 15.61 Crew, including: C.Crane, SDRplay, DS Antennas (Brazil), Heil Sound, COMPACtenna, Cross Country Wireless, Antennas4Less, NI4L Antennas, Radiwow, RTL-SDR, ELAD, SSB, RadioShack, Antennas Loop DZ by Denis Zoqbi (Brazil), Arrow Antennas and the SWLing Post blog.
Different organizations and clubs are included: BDXC (British DX Club), EDXC (European DX Council), SR (Sugar Radio – Sperimental Group), RC (Romeo Charlie Dx Group), Colón Dx Club, Dxnews.com, among others.
We would like to thank everyone for supporting us and we hope to have all of you, in the next Dxcamp as well as all the people, beyond the brands, who believed in our project and supported this Dxcamp: Ligia Katze (DXcamp photographer and Martin Butera's wife), Mark Van Marx (Marcos Melzi, photo editor), Orlando Perez (PT2OP), Chrissy Brand BDXC (British DX Club), all members of the European DX Council, Thomas Witherspoon ( SWLing Post), John Wilder KJ6AVJ (C.Crane Radio), Jon Hudson (SDRplay), Murilo Rodrigues (DS Antennas – Brazil), Bob Heil (Heil Sound), Chris Molding (Cross Country Wireless), Chris Fox (Ni4L), Madeleine Wellie (SSB -Electronic GmbH), Tim Chapman (Arrow Antennas), Jack Nilsson (COMPACtenna), Carl Laufer (RTL-SDR.com), Darrell / K7LZR (antennas4less.com), Denis Zobqi (Stars Telecom – Brazil), Radiwow, Elad SDR , RadioShack, Stephane (RC Int. DX Group), Mimmo (Sperimental Radio), Sal Al (GCC DX Foundation), all members of the Colón Dx Group and DXnews.com.
The report will be ready in January 2020,
Stay tuned for the official website https://dxcamp-marajo2019.blogspot.com/ and for the publications of SWLing Post and the BDXC (British Dx Club).
Ivan Dias da Silva Junior & Martin Butera
(15.61 Crew founders)