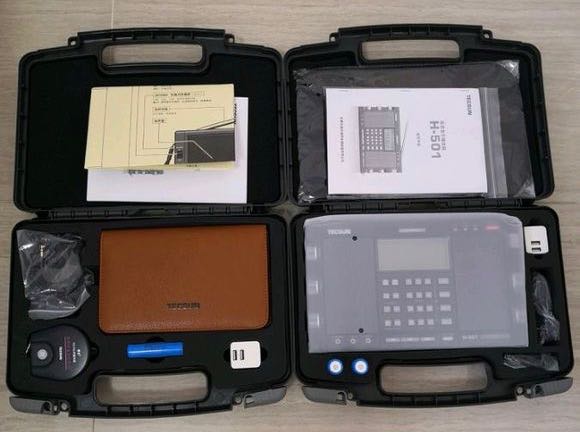 Many thanks to SWLing Post contributor from China, Mei Tao, who writes:
I would like to share the latest news about Tecsun's New Products: the PL-990 and H-501.

These day I found that several Chinese BCLers who received the PL990 or H501 one after another–they posted many a detailed pictures of these two radios. Lots of my friends asked me when they could buy these two radios on the market.

Then I asked the Tecsun's boss, Mr Liang.

He replied that they had begun to supply the PL-990 and H-501, but there were only a quantity of 300 in the first batch. These radios were first supplied to the subscribers who pre-ordered PL-990 or H-501 in October. Therefore other customers would have to wait for the second or the third batch. As for the foreign BCLers, I believe the wait time will be longer.

In addition, there is a bit of bad news: Mr Liang told me that PL-990 and H-501 were the last products he led the team to design, and they were his last masterpieces. In other words, the PL-990 and H-501 may be Tecsun's last high-end portable and desktop radios. What a pity!
Thank you for sharing this, Mei Tao. Yes, that would be a pity indeed if the PL-990 and H-501 end up being the last high-end portables from Tecsun. I suppose it's not surprising, though, as I'm sure some of the demand for shortwave radios is on the decline at the same time so many inexpensive DSP-based portables are saturating the market.
Two years ago I heard from a reliable source that Tecsun might be pulling the plug on their high-end portables, so I was quite surprised when I saw the PL-990 and H-501 announcements earlier this year. I suppose these models could be a "last hurrah" and certainly a way to mark the PRC's 70th anniversary (as we've seen on some of the radios' promotional material).
Regardless, I'm looking forward to reviewing both of these radios. Frankly, I'm quite happy a few hundred production models are in the hands of enthusiasts in China. Hopefully early adopters have given critical feedback to Tecsun so that when the first major production run is exported, the units will have been well-vetted and solid performers.
---
Do you enjoy the SWLing Post?
Please consider supporting us via Patreon or our Coffee Fund!
Your support makes articles like this one possible. Thank you!