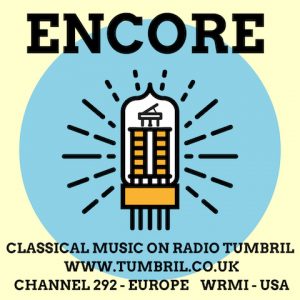 WRMI will broadcast Encore on Thursdays at 20:00 UTC to Europe on 15770 kHz
Propagation is already very good and should improve as the days get longer.
Regular Broadcast times of Encore are:
10:00 – 11:00 UTC Saturday 6070 kHz 
Channel 292 to Europe
Repeated:
01:00 – 02:00 UTC Sunday 5850 kHz and 5010 kHz 
WRMI
to the US, Canada and Central America.
08:00 – 09:00 UTC Sunday 7440 kHz
Channel 292 to Europe
02:00 – 03:00 UTC Monday 9455 kHz 
WRMI
to the US and Canada
13:00 – 14:00 UTC Tuesday 15770 kHz WRMI to Europe
20:00 – 21:00 UTC Thursday 15770 kHz 
WRMI
 to Europe
19:00 – 20:00 UTC Friday 6070 kHz 
Channel 292
 to Europe
Our email is  
[email protected]
. Informal reception reports as well as those requesting eQSL welcome.
The website is 
www.tumbril.co.uk
 where we show transmission times and frequencies, the playlist for the most recent programme, more information about Radio Tumbril, and the email link.
This week the programme will feature pieces that were going to be played in concerts in Europe and the US but which have been cancelled in response to Covid-19.
There will be a selection from Mussorgsky's Pictures at an Exhibition, some songs by Henry Deparc, part of the St Matthew Passion by Bach, some of Alfred Schnittke's String Quartet No. 3, a Pas de Deux from Swan Lake, and the Rondo form Beethoven's Emperor concerto.
Tune in if you can. Some great tunes.
The playlist is on the website and will be updated as  soon as possible after Saturday's broadcast of the new show by Channel 292 at 11:00 UTC.
Channel 292 can be pulled live off the internet if the reception is poor in your location. Easy to find their site with a google search.
(Beware – there have been reports that the antenna that feeds this link has broken so the receiver may not work. go here for a set of alternative online unable receivers if required:
http://rx.linkfanel.net
In the meantime – thank you for spreading the word about Encore – Classical Music on Shortwave on Radio Tumbril. And thank you for letting us know how well the signal is received where you live.
Brice Avery – Encore – Radio Tumbril – Scotland