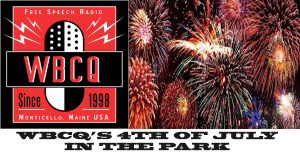 Special Simulcast: WBCQ's 4th of July in the Park
Date/Time: Saturday, July 4, 8pm-9pm EDT (0000-0100 UTC July 5)
Frequencies: 6160 and 7490 kHz
4th of July concerts at the bandshell (usually a concert band or orchestra sometimes followed later by a rock or country band) are a long tradition throughout the United States. Take your radio or laptop outside and join Uncle Bill of Uncle Bill's Melting Pot, SirJack Scratchy of beHAVior Night with SirJack Scratchy, Jason Hill of Rock Wave and Marion Webster and Christina of Marion's Attic as we honor that tradition with an hour of uplifting music from marches to concert band music to rock in WBCQ's 4th of July in  the Park.
Thanks to Allan and Angela Wiener of WBCQ for supporting these special simulcasts.