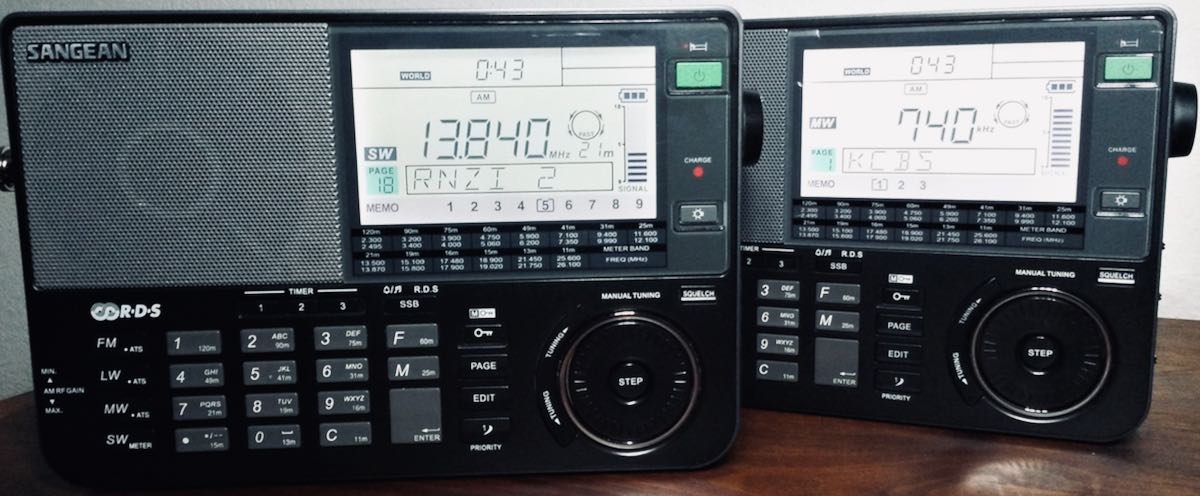 Many thanks to SWLing Post contributor, DanH, who shares the following guest post:
---
How two Sangean ATS-909Xs led me to news of an ATS-909X2
by DanH
I decided to buy a second Sangean ATS-909X this summer. I operate shortwave portables on batteries and wanted the ability to switch radios if one ran low on power during a listening session. I received the new radio and used it for about a week before noticing slight differences between the two 909Xs. Then I noticed big differences with the power supplies and began to ask questions. The answers led me to the new Sangean ATS-909X2 mostly by accident. Rumors have circulated for years that the 909X would be the last shortwave portable made by Sangean. It now appears that the rumors are not accurate. Thanks to an anonymous source the true story begins to appear.
I purchased my first 909X in 2015. It was built in 2014 and has been used almost every day since it arrived. The firmware is v. 1.29, the color is black. My 909X is featured in SWL and DX videos I shoot for the YouTube channel Willow Slough DX.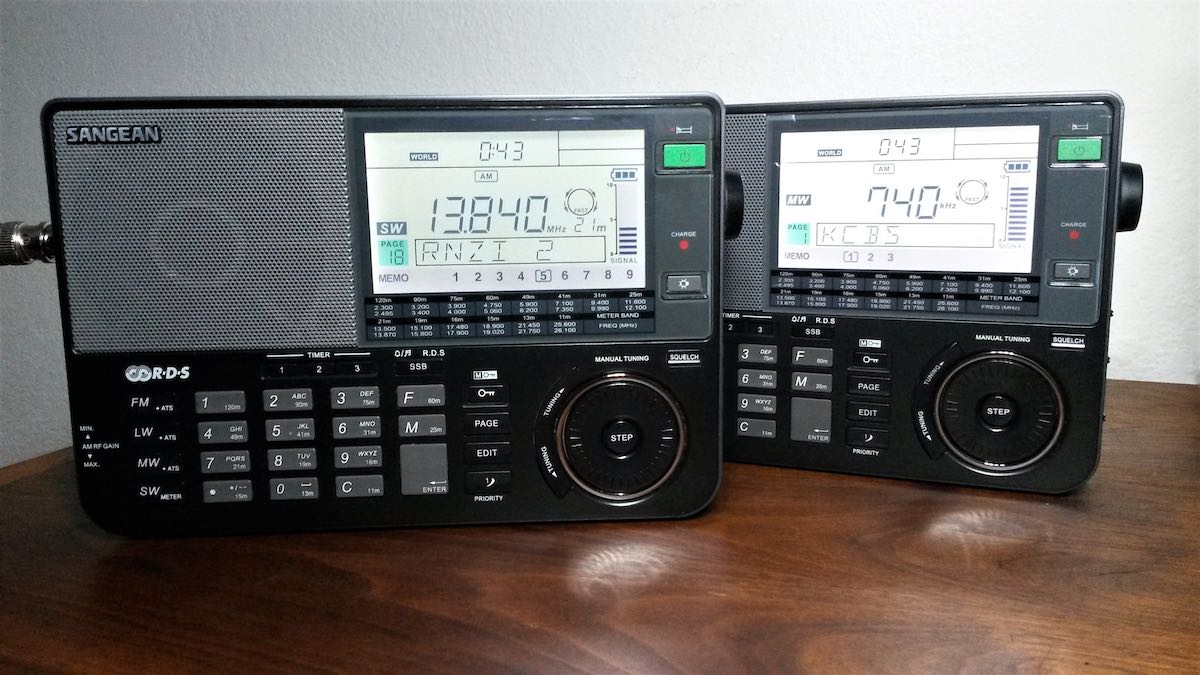 The new 909X was purchased early in August. This radio was made late in 2019 and has firmware v. P01. Minor changes include the color of the magnetic metal piece on the radio's kickstand and tightness of the volume control knob which has been loosened a little.  Another small change affects the beeper that sounds with certain keyboard commands. The beeper is now relatively soft-spoken.
The newer 909X features major changes made to the power supply including the AC/AC wall wart adapter. I use the 2014 909X with battery power for shortwave listening because AC operation introduces noise at different frequencies across the shortwave bands. Incidentally, internally generated noise like this happens with all of my shortwave portables when operated from AC power. The 909X is no exception. Portable SW radios made during the last 30 years just seem to do this regardless of make or brand.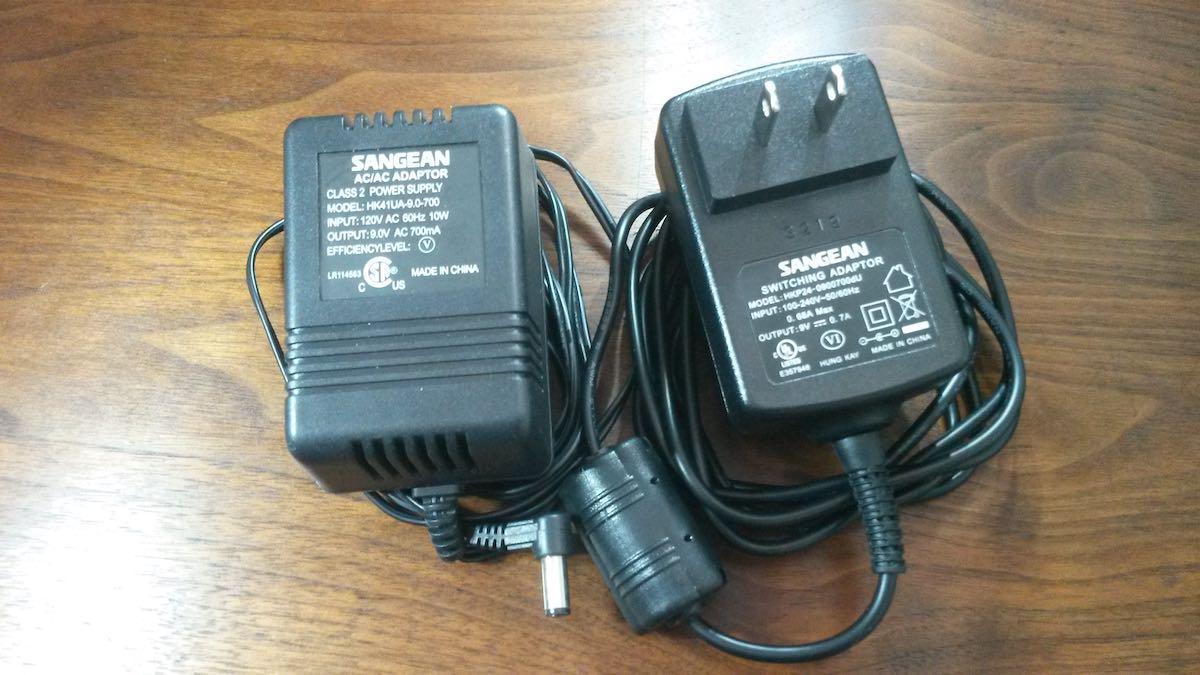 The 2020 909X generates significantly less interference than my five-year old 909X. These radios have different model wall warts. The older radio is a 120 VAC / 60 Hz unit as opposed to 100 – 240 VAC / 50 – 60 Hz. The new adapter sports a ferrite core RF choke on the power line which is now shielded wire instead of small gauge zip line. So far, subtle traces of signal mixing from the new adapter are heard only when using my Sennheiser HD 280 Pro headphones. The power connection for the newer 909X is now center pin positive instead of center pin negative. Not surprisingly, the newer adapter does not work with the 2015 909X.
The search for a technical explanation for the mysterious (to me) and incompatible AC adapters required talking to several contacts. I found someone who earnestly wanted to discuss the 909X including the new AC adapter. That person floored me by saying "It's the same adapter that will be on the 909X2." That was last week…
Introducing the Sangean ATS-909X2
My unnamed source was happy to answer questions about the 909X2 and sent me leaked documents. The first is a sheet issued last spring listing some changes for the new radio. The second is a treasure trove: a 40+ page draft copy of the English language operating instructions for the 909X2 including line drawings. I hit gold and wasn't even looking for it. This draft was issued earlier in the summer. I did some fascinating reading that evening.
At this point I want to caution readers that the 909X2 is very much a radio in development. The prototypes have yet to be distributed for evaluation although that is expected to happen soon. None of the features or component choices are set in stone at this point. Indeed, the very name of this radio may not be a done deal. I have heard the new model called either ATS-909X2 or ATS-909X Mk. II. Still, the draft copy of a manual that lists and explains operation of all of the many new features confirms that development is well underway. Production is rumored to begin in 2021. That date makes perfect sense as the 909X will be ten years old next year and Sangean likes to celebrate company anniversaries.
What will Sangean's new multi-band shortwave flagship look like? The 909X2 shown in the draft booklet retains the size and form factor of the 909X to an amazing degree. The number and placement of buttons, switches, knobs and jacks remain the same. The functions of some controls may change and the location of some buttons on the radio may be switched around. A display menu will be added to operate many of the new features. Without taking a close look at how the outboard controls are labeled the 909X and 909X2 will look like siblings. A larger and much busier LCD for the 909X2 will be the most visible difference.
Here are some of the main features of the 909X2. Again, there may be changes before the final version is decided upon.
VHF AIR band in addition to LW / MW / SW / FM
Automatic Tuning System (ATS) for FM / LW / MW / SW bands
Total of 1674 radio station presets
Three memory banks for preset stations: store presets for different users and/or different areas or categories
Local/World Time with two customizable city names
FM RDS with PS, PTY, RT and CT features
Potentiometer-type RF Gain Control retained
Six-digit frequency display
SSB (Single Side Band): USB / LSB, 10/20 Hz tuning steps selectable
Three alarm timers with snooze
Larger display screen with more functions and improved backlight controls
New NiMH charge controller charges each 4xAA cell individually
Station presets/memory lock
Auto or manual bandwidth control
Selectable and band-specific bandwidth filtering for LW-MW / SW / FM / AIR
Tuning dial detents removed
12-segment bar-graph S-meter plus signal strength and signal-to-noise displayed in dB
The new ATS-909X2 benefits from innovations that Sangean developed after the 909X was introduced in 2011. I'm looking forward to firing up this new radio as soon as I can get my hands on one.
DanH
---
Wow! Thank you for sharing your discovery, Dan! I, for one, welcome the new 909X version 2! Sangean is a solid radio manufacturer, so I would expect the new radio to perform at least as well as its predecessors. We'll post updates as they become available.