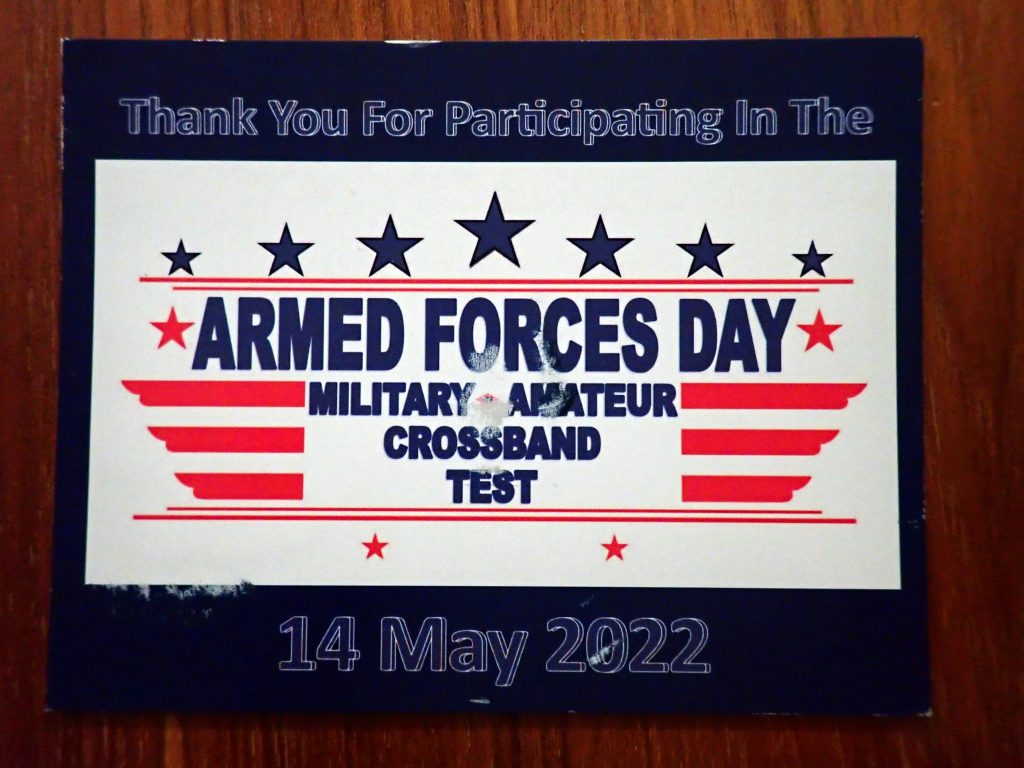 On May 14, 2022, this blog published an announcement of the Annual Armed Forces Day Crossband Test.
The blog included a link to a PDF file that listed all the details, such as times, frequencies, and military stations that were participating (including some that were aboard ships), and there was even a link where you could submit your information online to receive a QSL card. I thought it would be fun to see if I could hear some of the military stations.
At 3:29 pm on May 14, I posted a comment on the blog:
1850Z & 1925Z — 14.487 MHz — Station sending CW CQ CQ CQ (I can copy but not read the rest), believed to be NSS — US Naval Academy transmitting for Annual Armed Forces Crossband test.
At 3:37 pm, I posted:
1934Z — 14.487 station NSS announces in voice they are listening 14.234.0 USB. Additional contacts in SSB. "It's raining buckets here."
Not hearing anything further, I filled  out the QSL request for — which asked for two-way contact information. I explained that I had only heard the Anapolis station, but I gave the details. Frankly, I did not hold out much hope for receiving a card, but yesterday it arrived.
As I reported elsewhere the MFJ 1020C active antenna/preselector made it possible to hear the Armed Forces Day station.
It was a very nice surprise to received the QSL card in the mail.