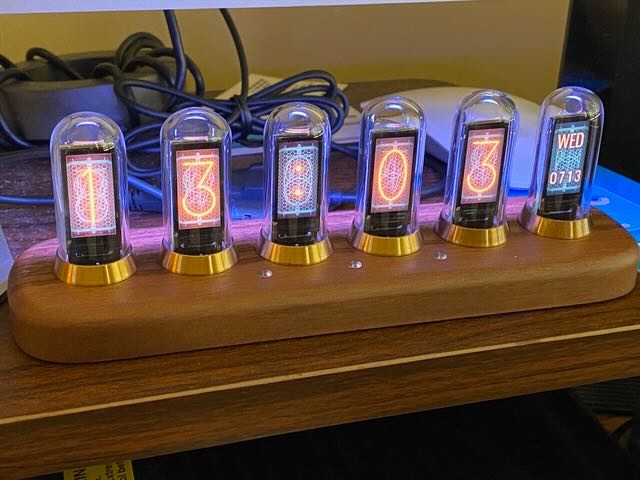 Many thanks to SWLing Post contributor, Al Hearn (WA4GKQ), who writes:
Thomas:
I've just received this Rotrics NexTube [see photo above] after a year of waiting. It was a KickStarter project and suffered numerous delays, and is just now shipping. It's beautiful — real walnut wood, glass tubes and brass fixtures.
It appears at first glance to be yet another imitation Nixie tube clock but it's actually much more than that. Each tube is a high-res IPS display that can display almost anything, including photos. It's highly configurable, uses WiFi to connect to the Internet, and has an (yet undocumented) open API.
Being a ham and SWLer, I can envision someone much smarter than I programming this device to show real-time propagation data from beacons, propagation forecasts, etc. or other information of interest to those of us in the hobby. Imagine each of the six tubes graphically showing real-time band conditions on six different ham bands. It can already be used as a GMT clock. A set of three touch buttons allows app switching and user interaction.
With your infinite access to members of our hobby, I thought maybe you could find a way to expose this to those who might have an interest and expertise to create such an application for this amazing little device. I believe that its potential is almost unlimited, in ways the creators haven't imagined.
73,
Al Hearn
WA4GKQ
Thank you for sharing this, Al! What a beautiful, modern take on the Nixie Tube clock! I love the simple design and versatility.
I'm very curious if any other readers have purchased the Nextube or have tinkered with the API. Please comment!