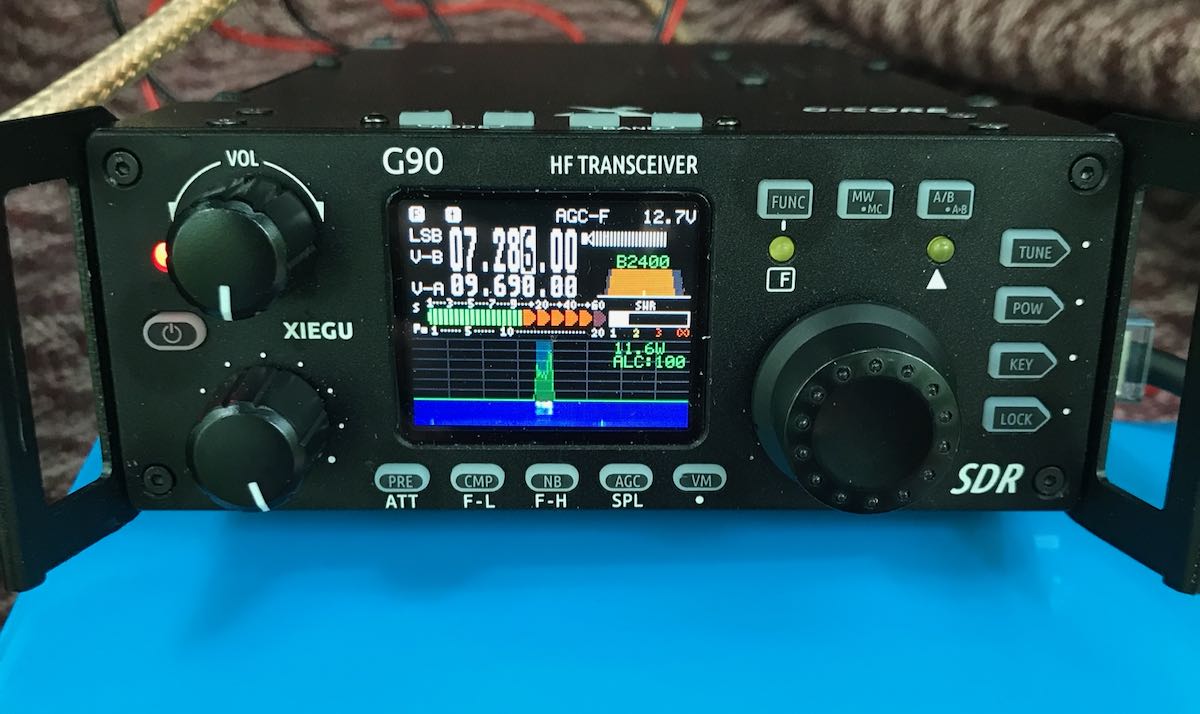 Yesterday, I was in my hometown helping my parents with a few projects. Around noon, I realized that I had a good four hour window of free time–a true rarity these days!
I had two fully-packed go bags in the car: one with my trusty Elecraft KX2, and one with my recently acquired Xiegu G90.  On the heels of a successful POTA activation this weekend, I was itching to activate a new POTA site.
I did a quick check of the POTA site map and decided a trip to the South Mountains State Park (K-2753) was in order. The park was a nice 30 minute drive on back roads, so why not?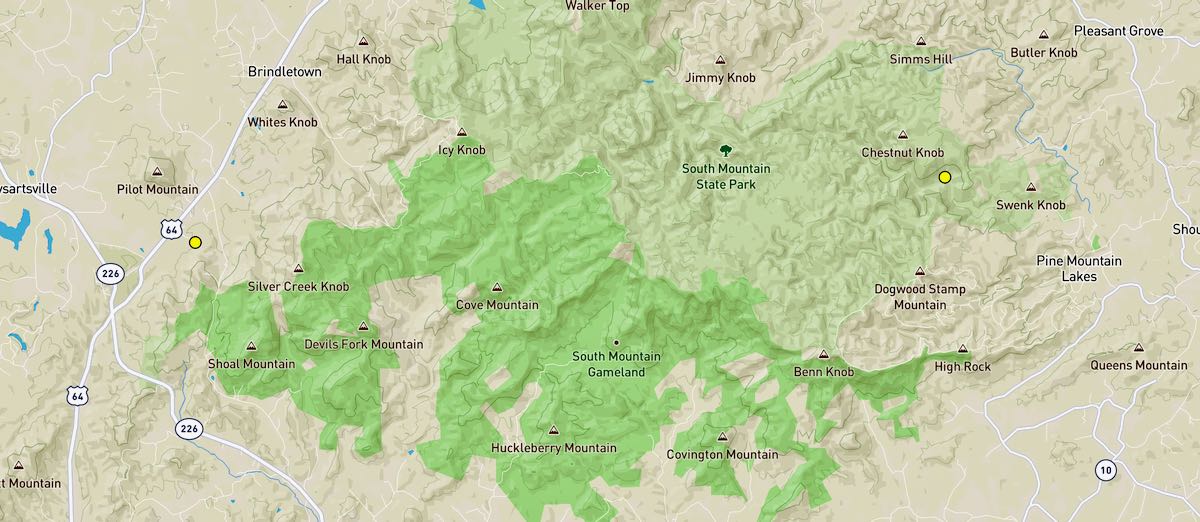 I posted a quick announcement on the POTA website, and jumped in the car.
When I arrived at the park, I noted an excellent, easily accessible picnic site with a nearby tree to hang my EFT Trail-Friendly antenna. Since I hadn't been to this park in many years, I continued driving to check out other potential POTA sites.
In the main parking lot, I spotted a ham radio operator's car with a prominent callsign on the back window and a POTA bumper sticker. I couldn't see their operating site from the parking lot and since we're all trying to social distance these days, I didn't bother searching for them to introduce myself.
While it's certainly allowed to have two activators running a park at the same time, I really didn't want to impose and certainly didn't want to cause any QRM by operating on the same meter band.
Contingency plan
I had a "Plan B" in mind in case the park wasn't accessible.  On the west side of South Mountains State Park there was another POTA site: the South Mountains State Game Land (K-6952). I started driving in that direction, then used Google Maps to help me locate the entry road. Turns out, it was an additional 35 minutes of driving! Still, it was a beautiful day so no complaints from me.
The road was typical of game land roads: gravel and washed out in places. I had to ford one creek. My Subaru had no problem doing this, of course. (I actually love off-roading, so secretly I hoped the road would be more challenging!)
About four miles in, I found a pull-off that was big enough for my car and had an ideal tree to hang the antenna. I backed into the site, opened the hatch on the Subaru, and used the trunk/boot as my radio table.
Within ten minutes I had the G90 on the air.
I started calling CQ on the 40 meter band and thanks to buddies Mike (K8RAT) and Vlado (N3CZ) I was spotted on the POTA website.
Although there was a fair amount of QRN on 40 meters, now that the G90 has an RF Gain control (with latest firmware v 1.74), I could easily mitigate it.
I worked a number of stations on 40, then decided to move up to 20 meters.
I was very impressed with the response on 20 meters as well. Fading (QSB) was very deep, however, so I kept contacts brief. At times, stations would call me, I'd give them a 59 report, and when they'd reply I could barely hear them (and vise-versa). It took a little patience and good timing, but I believe I worked everyone who called me.
In the end, I had a total of 27 contact in the log with about one hour of operating. Here are my log sheets:
After transmitting steadily for an hour at a full 20 watts, the G90 body was pretty warm to the touch, but it had operated flawlessly.
A great field radio
The G90 is a gem of a transceiver and has some features that make it ideal for field use.
For one thing, I love being able to keep track of my battery voltage on the display: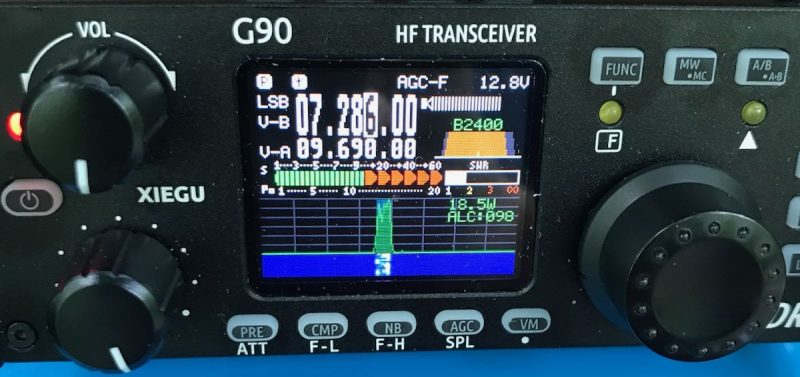 Also, the G90 has excellent selectivity. On both 40 and 20 meters, at times I could see adjacent stations on the spectrum display that would have bled over and created QRM on less robust receivers.
I also like the ability to control all of the major transceiver functions without  having to dive into an embedded menu. Adjusting the filter, RF gain, attenuator, and pre-amp, for example, is super easy.
I love the spectrum display, too. In the field, it's nice to be able to find an open frequency by simply watching the display for a minute or so before calling QRL or CQ. It also allows me to see when folks are tuning up nearby to make contact with me.
Although I've been using a resonant antenna in the field, the G90 has a very capable built-in ATU.  Back home, I've used it and have been very impressed with its ability to find good matches. Yesterday, for fun, I was even able to get it to tune up the EFT Trail Friendly antenna on 80 meters! I doubt it would be efficient, but the ATU did find a 2:1 match.
The only two features I feel like the G90 is missing are a notch filter (both manual and auto) and a voice keyer. I'm sure a notch filter could be added in a future firmware update (others have been asking for this as well), but I doubt a voice keyer could be added as easily. In truth, the voice keyer is a bit of a luxury, but it's a feature I use without fail on my KX2 since park and summit activations often require constant CQ calls. Being able to record a CQ and have the radio automatically send it allows the op to drink water, eat lunch, and relax between contacts.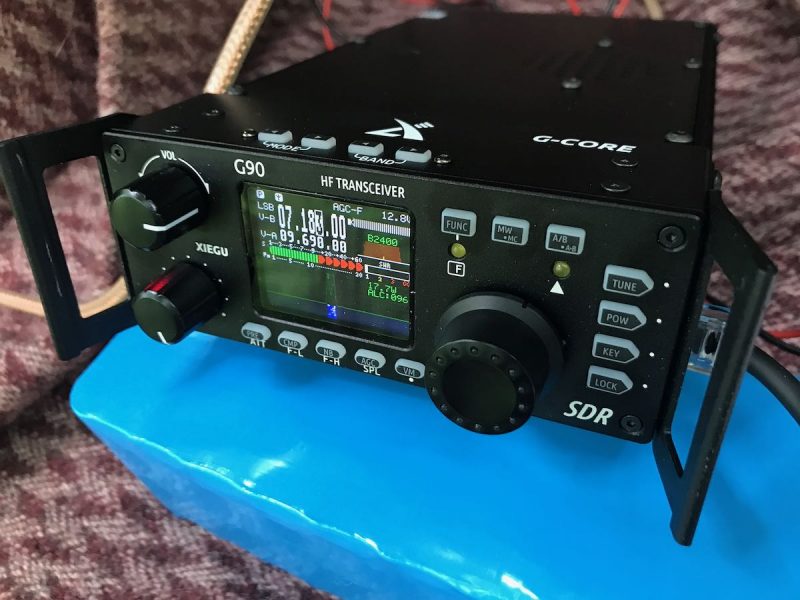 This is a lot of radio for $450 US shipped. I've also learned that the G90 has a very active community of users via this Groups.io email list.
I had planned to sell the Xiegu G90 after my upcoming review in The Spectrum Monitor. I must admit: this transceiver is growing on me. It might be hard to let go of it.
---
Do you enjoy the SWLing Post?
Please consider supporting us via Patreon or our Coffee Fund!
Your support makes articles like this one possible. Thank you!