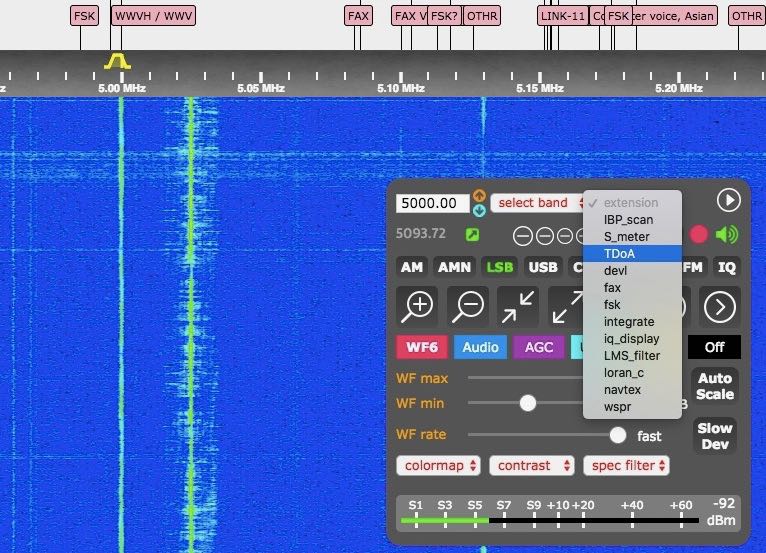 There has been some fascinating functionality added to the excellent KiwiSDR network of online software defined radios: Time Difference of Arrival (TDoA) direction-finding functionality.
RTL-SDR.com has posted an informative article about this new feature and how effectively it works:
The KiwiSDR is a US$299 HF SDR that can monitor the entire 0 – 30 MHz band at once. It is designed to be web-based and shared, meaning that the KiwiSDR owner, or anyone that they've given access, can tune and listen to it via a web browser over the internet. Many public KiwiSDRs can be found and browsed from the list at sdr.hu or by signal strength and location on this website.

One thing that KiwiSDRs have is a GPS input which allows the KiwiSDR to run from an accurate clock, as well as providing positional data. Time Difference of Arrival (TDoA) is a direction finding technique that relies on measuring the difference in time that a signal is received at over multiple receivers spread out over some distance. In order to do this an accurate clock that is synchronized with each receiver is required. GPS provides this and is able to accurately sync KiwiSDR clocks worldwide.

Just recently all KiwiSDRs were pushed with a beta update (changelog) that enables easy TDoA direction finding to be performed with them. Since many KiwiSDRs are public, this means that right now anyone can browse to a KiwiSDR web interface and start a direction finding computation. You don't even need to own a KiwiSDR to do this so this is the first freely accessible RF direction finding system available to the public.[…]
Of course, as the KiwiSDR network grows, TDoA accuracy will increase.
If you'd like to host your own KiwiSDR, you can purchase the full setup at SeedStudio or Amazon.com for $299 US (affiliate link).
Check out RTL-SDR.com's full article and TDoA tests by clicking here.