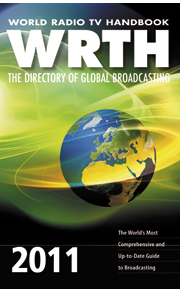 The World Radio TV Handbook (WRTH) summer (A11) schedules file is now available to download, free of charge, from the WRTH website. This is a comprehensive update and supplement to the printed 2011 WRTH.
This is what I love about WRTH–though they are a printed publication, they keep their readers informed with the latest changes in schedules via downloads from their website.  To me, this is the best of both worlds.
Click here to go to WRTH's website and download your copy. Consider giving them a small donation as well.