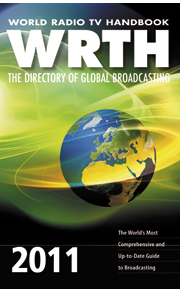 Last week, I received a copy of the 2011 WRTH, and enjoyed a most welcome read over the holiday weekend.
I always look forward to the newest edition of the WRTH. I find that, even in an internet world, and especially now in the absence of the much-mourned Passport To World Band Radio, WRTH's radio reviews, feature articles, and HF report make for excellent reading.
This year, for example, WRTH reviews several ultralight radios (the Tecsun PL-310/380, Kchibo KK-D6110 and the Kaito/Degen 1103), as well as the AOR AR5001D, the Flex 1500, the Winradio Excalibur (hint: they really like this one), the Medav LR2 and they also take a look a look at several classic pro receivers. They offer their digital update, articles on QSLing, a feature on the worthy radio charity, Ears To Our World, and much more.
But, of course, the reason we all buy WRTH is for their in-depth comprehensive radio schedules for the upcoming year. Personally I can't do without it–it's never more than an arm's length away from my shortwave.
Purchase your copy of WRTH directly from WRTH's publishers, or from a distributor like Universal Radio (US) or Radio HF (Canada).
If you're new to WRTH, note that they regularly update changes to their schedules throughout the year:  go to their website to download these updates.
If you would like to know more about using WRTH's schedules, please see our previous post.