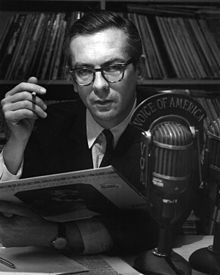 David Goren, Shortwaveology author and producer for Jazz at Lincoln Center, released a JazzStories Podcast today featuring VOA broadcaster, Willis Conover. Willis Conover is a noted name in both Jazz music and international broadcasting. His characteristic deep and articulate voice guided many shortwave listeners behind the iron curtain, into the realm of Jazz music.
Here is the description of the podcast from  Jazz at Lincoln Center:
During the Cold War with the Soviet Union, the United States had a secret weapon: Willis Conover's "Jazz Hour," carried on the shortwave radio signals of The Voice of America across Russia and Eastern Europe:. Starting in 1955 and running for over forty years, 'Jazz Hour' nurtured generations of jazz musicians who grew up under the restrictions of Communism. On this edition of Jazz Stories we hear Willis Conover and two outstanding jazz musicians, Czech bassist George Mraz and Russian trumpeter Valery Ponomarev – both of whom learned about jazz from his broadcasts.
You can preview this podcast on the Jazz at Lincoln Center podcast page (look under "Jazz and the Cold War") or simply subscribe and download it on iTunes.