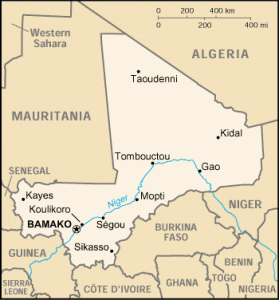 (Source: VOA News)
A Malian journalist who was hospitalized after being beaten by Islamist militants in the northern city of Gao Sunday says he was unconscious after the attack.

Speaking from his hospital bed Tuesday in Gao, Malick Maiga Aliou told VOA's French To Africa service that men "armed to the teeth" entered the studios of radio Adar Koima during a live broadcast and dragged him into a car.

He says the gunmen beat him with rifle butts and other objects, accusing him of spreading lies about them.  Eventually, he says, they dumped him at a local cemetery where they stomped on him and left him for dead.

Local residents who heard the attack live on the radio organized a search for Aliou, who was found unconscious and taken to a local hospital.

The beating, Aliou's third at the hand of Islamists, appeared to be punishment for reporting that local residents had prevented the amputation of a thief's hand on Sunday.

The Malian journalist also contributes stories to the Voice of America.  VOA's director David Ensor condemned the attack and applauded the local residents who came to Aliou's aid.

The Islamist group MUJAO, which controls Gao, insists on imposing strict Islamist laws in the region under their control.  But local residents organized a protest Sunday to prevent the amputation of the young thief's hand.

MUJAO and other Islamist groups took over control in northern Mali following the March coup in the capital Bamoko.

Last week, in the small Malian town of Aguelhok, another armed Islamist group, Ansar Dine, publicly stoned an unmarried couple.

Mali's government has condemned the stoning as well as the attack on the journalist.

Malian interim President Dioncounda Traore has recently returned to Bamako after two months in Paris, recovering from a violent attack by opponents to his appointment.  He vowed the government will retake the north.

Fifteen-member regional group ECOWAS has proposed deploying more than 3,000 troops to help restore order in Mali.