This year, at the Friedrichshafen Hamfest, Bonito introduced the AntennaJet AAS300–an active antenna splitter that will allow three receivers to use one antenna with very little loss. Dennis Walter, with Bonito, recently contacted me with info:
The AAS300 is a 3 way active antenna splitter with excellent specifications (like isolation of 70dB!) between the outputs.

No extra power supply is necessary, because it's USB powered– no switching, no buttons. The physical size is exactly like the Bonito RadioJet IF Receiver.

It was one of the most popular devices at the Friedrichshafen show and we already have many preorders.

The device is fully made here in Germany.

We are starting now to resell it.

The Price for end costumers is: 210,-€ / 278 US$ as an introductory offer and will be 230,-€ / 299,-US$ regular (next year)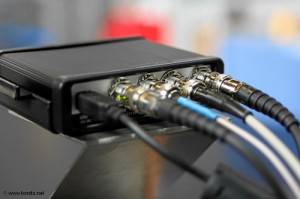 Thanks, Dennis!
If you would like to read more about the new AntennaJet AAS300, click here for specs on Bonito's site.
This is certainly a device I will consider purchasing. I tend to use one large multi-band delta loop for all of my receivers. I often record broadcasts on one receiver and wish that I could band-scan with the same antenna on another receiver. The AAS300 would make for a simple solution.
Dennis tells me that the AAS300 will be available through North American retailers and global distributors that currently carry the Bonito RadioJet.