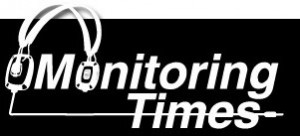 I just noticed the following statement on the Monitoring Times magazine's website:
After 33 years of service to the radio community, Monitoring Times will cease publication with the December, 2013 issue.  Subscriptions and renewals for the remaining months can be made by calling (800) 438-8155.
[Update] I also received this message from MT:
After 33 years of publishing the most informative and lauded magazine on monitoring the radio spectrum, Judy and I are finally going to retire. We are grateful for the dedicated efforts of our fine staff of writers for the excellent work which has kept MT alive for all these years. While we know the discontinuation of MT, with our December issue, will be a disappointment to our readers and writers alike, we realize that a combination of a poorly performing economy, as well as the ready availability of free listening and technical information on the Internet, has reduced sales and subscriptions throughout the market place. I would like to thank you personally for your knowledge, your dependability, and your professionalism in making MT the publication that is most often referred to in the radio monitoring hobby. It is a legacy that we have all inherited.

Warmest regards to all our writers, Bob and Judy Grove
This is sad news, indeed. I've been a regular reader for many years, and more recently, a regular contributor for Monitoring Times. I only have very positive things to say about the MT staff: they're friendly, professional and honor their word in every respect.
I've had articles in the past three issues–this month, there will be two that I wrote following the 2013 Dayton Hamvention. With any luck, maybe I'll get a couple more articles in before MT closes shop.
Monitoring Times will be sorely missed.