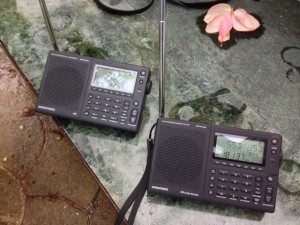 For the past week, I've been traveling:  this time, in the inner-city section of Belize City on behalf of Ears To Our World, where we've been working with ETOW's partner organization, The Belize Council for the Visually Impaired (BCVI).  I had the honor of working with a group of visually-impaired and blind children, giving each a self-powered shortwave radio, along with instruction on its use.
One of our talented advisory board members, David Korchin (KC2WNW)–also an avid SWLer–met me on this recent adventure. One afternoon, we found a moment to pull out our portable radios.  Turns out, he had brought his Grundig G5 while I had my Grundig G3. So we sat back to listen: to broadcast stations (including RRI and REE), to ham radio communications, and to some medium wave stations, including Radio Reloj on 790 kHz. Some great radio listening, by the way.
It was interesting to observe that in almost every case, the G3 had a slight edge on the G5. The G3 noise floor was slightly lower, and audio characteristics slightly better, than the G5's. Where the G3 really had an edge, though, was on single-side band, where its selectivity was far superior to that of the G5.
With that said, if you purchase a G3, be sure to check out  your unit's performance thoroughly–and keep your receipt. When Amazon last posted a sale on the G3, we had several reports of faulty units (check out the comment thread in this post). Though I cannot confirm this, I suspect these may be among the final units of the G3 production line.  Choose carefully, and you'll enjoy a great radio.
By the way, I've always had good luck purchasing through Universal Radio.