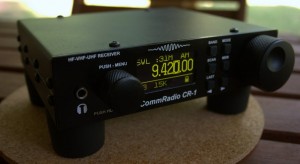 [UPDATE: Check out our full review of the CR-1 by clicking here.]
A hot tip:  currently, CommRadio offers the CR-1 software-defined tabletop receiver for just $500 (US), until August 1, 2013. Check out the sale on CommRadio's website and at Universal Radio.
I have been using the CommRadio CR-1 for almost two months now. I had planned to provide a brief review for The SWLing Post by early July, but my travel schedule has simply been too hectic.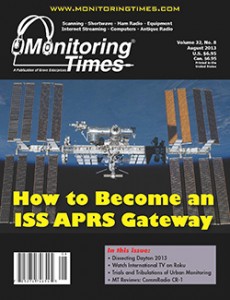 Fortunately, however, I offer a full in-depth review in the August 2013 issue of Monitoring Times magazine (incidentally, their turn-around time from submission to print is simply amazing). If you subscribe to MT–or can get your hands on a copy–you will have my full review.
Many of you have been asking me for my thoughts on the CR-1 so you will know whether or not to take advantage of promotional pricing.
In a nutshell, here is the answer your question:
Q: Is the CommRadio CR-1 a good deal?
A: Yes!
Though I was skeptical about this little receiver when I first saw the announcement in January, the CR-1 truly does hold its own. It's a sturdy radio built with longevity and performance in mind. It's the little touches I love: a near-perfect tuning knob (in my opinion), size & portability, multiple antenna jacks, an excellent internal battery and gold-plated circuit board pads…Performance-wise, the CR-1 has great sensitivity and selectivity on the HF bands…
Though there are a few negatives, in my book, the positives far outweigh them. If you really want to dig into the juicy details, I would encourage you to check out my full review in the August 2013 issue of Monitoring Times magazine (especially since MT, sadly, is slated to stop publishing at the end of the year).
If you've been on the fence about buying the CR-1, I would encourage you to give it consideration before August 1st, 2013, when the price increases to $599 US.
Here is the press release from CommRadio regarding the current $500 sale:
(Source: CommRadio)
CR-1 News for Friday, July 26th, 2013

Our Promotional Price of $500 will increase on August 1st.

All orders made after July 31st will be priced at $599 (battery included).

Order now before the price goes up.
www.commradio.com

Please note we are working hard to get all radios out as soon as possible, although the lead time could be up to 4 – 5 weeks starting this week (7/24/2013)

For any questions about ordering and shipping

or international orders please contact

Lizz Arias