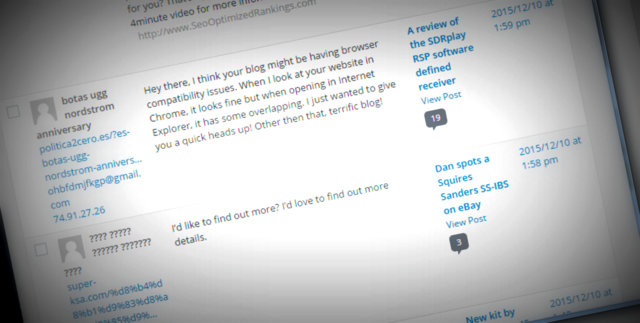 The SWLing Post has been online since 2008–plenty of time for SPAMbots to focus their attention on us! In fact, we receive a SPAM comment, on average, every 3 minutes! Way too many comments to moderate individually.
To fight SPAM, we've employed a number of strategies over the years including site plugins, scripts, and external applications.
It seems, though, that our SPAM filters are catching more than SPAM: they're catching your qualified comments!  Several readers and contributors have contacted me recently and noted that their comments haven't posted. I've had to search through the 4,000+ comments in the SPAM folder using their email address.
If you're a regular on the SWLing Post and submit a comment, but it doesn't appear in the post's comment thread, please notify me!
Keep in mind that there are certain comments that are automatically moderated or sent to the SPAM folder:
Those from a new user (who has never had an approved comment)
Those with multiple links to external sites (a characteristic of much SPAM)
Comments with common profanity
If your comment is sent to moderation, no worries. There are a few volunteer comment moderators that will approve it within minutes or, at most, a few hours.
I'll attempt to reset/reinstall our SPAM plugins/scripts in the hopes that this will keep our filters from being over-active.  In the meantime, please let me know if your comment doesn't post, yet meets the criteria above.
Many thanks and apologies for the inconvenience!