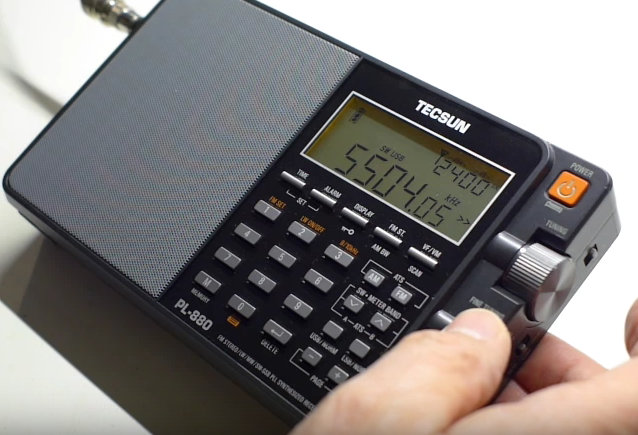 Many thanks to SWLing Post contributor, Georges (F6DFZ), who writes:
As you may know, a few [of us PL-880 owners] have documented the extremely annoying bug that affect the Tecsun PL-880 during Fine Tuning of SSB signals.
To sum it up, recently manufactured Tecsun PL-880 tune backward when using the Fine Tuning knob in SSB mode. This result in a very bad tuning feeling, especially for SWL and Ham radio operators, 1 kHz frequency jumps each kHz and a displayed frequency that can be off as much as 2 kHz.
Anna from Anon-Co has been very cooperative, serious, kind, in short: an outstanding person. She never denied the problem, and found a solution to correct it by loading a 8820 firmware just anterior to the buggy one.
Now, all PL-880 sold by Anon-Co have the corrected firmware.
I am extremely pleased with my PL-880 and I need to add that the tuning experience with the corrected firmware is night and day. Now, you can tune continuously using the Fine Tuning knob, without hitch and very smoothly ; the lack of shuffling is also very welcome, as is the Variable Rate Tuning (10 Hz or 50 Hz tuning steps).
This makes the PL-880 an outstanding receiver for its price, considering the 10 Hz fine steps, the choice of selectivity, the long life on its battery, etc…
Be sure to choose a distributor that sells PL-880 with the tuning bug corrected.
Click here to purchase a PL-880 via Anon-Co.
Many thanks, Georges, for the follow-up. I'm very happy to hear that PL-880 retailers like Anon-Co are assisting in such a helpful and effective way.
No doubt, other PL-880 retailers will also begin to offer a firmware upgrade to fix the fine tuning bug. As Georges notes, please check before purchasing!
Reders/Retailers: Please comment if you can confirm that others are now shipping PL-880s with the fine tuning control fix.