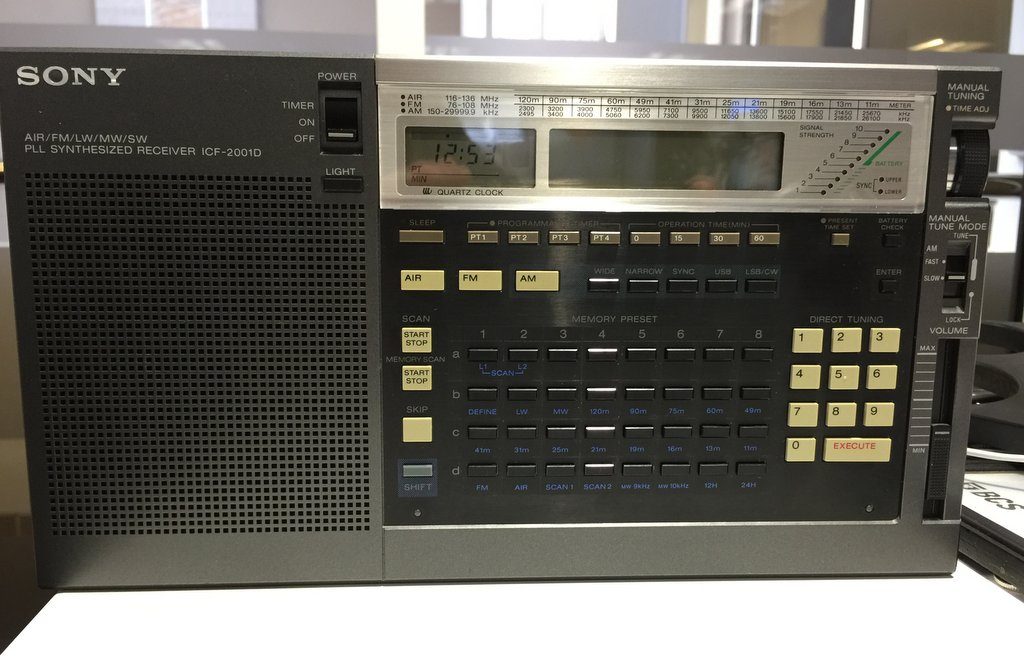 Many thanks to SWLing Post reader, Mark Lane, who writes:
Hi Thomas,
I just wanted to thank you for a great website, I have been interested in SW since I was a boy and used to listen to my grandfather's world radio. I cannot remember the make or model now but it was an amazing experience.
After all these years, at the age of 44, my interest perked again and I happened across your site.
Like a lot of people I was wondering "is there anything left to listen to on SW now we are truly in the 'digital' age"? After reading the content on your site and the blog I made up my mind, jumped onto eBay and after a number of failed attempts at winning any auctions I managed to bag a near mint Sony ICF 2001D [photo at top of page]!
I did get rather over excited and probably paid a bit too much for it, but too be honest I don't care. I have already had a good couple of evenings trying to bag some far off stations and I am still trying to figure out all the buttons on the thing.
Then this past weekend, my daughter (15) asked about the radio and I showed her what I had been doing–she was hooked and kept asking me to try for some more stations. We spent the whole evening with the help of a couple of other websites trying to track down more distant stuff.
I have to say the 2001D is now my prize possession and my daughter was messaging her friends telling them all about the wonders of SW.
All I can say is keep up the good work and let's hope SW does continue for as long as possible I will certainly be listening in until the airwaves go quiet, I trust that won't happen for some considerable time.
Regards
Mark Lane
Worcester UK
Mark: thank you so much for sharing your message! It's an honor to know that the SWLing Post played some part in your renewed interest in shortwave radio. The community here is simply amazing and I learn a lot myself from so many reader contributions.
Being a father of two daughters, I can say that there's no better feeling than to know that a little radio listening time also translated into quality father and daughter time!
You just made my day!