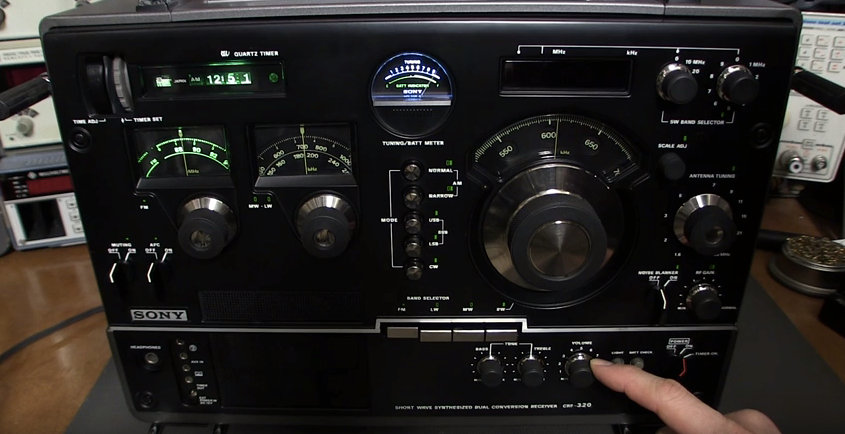 Many thanks to SWLing Post reader, Patrick Mason, who writes from Juneau, Alaska:
I am the owner of the radio that Paul Carlson restored in the video. The serial number is 31358.

I wanted to comment about a statement regarding the receiver's sensitivity.

After Paul concluded his final tune-up of the radio I can confirm on the shortwave bands, particularly 80 and 40 meters, the sensitivity on AM was better than 0.2 uV/m. That's outrageous! The VFO is rock solid with no detectable drift whatsoever.

Also, Paul replaced all nylon gears with custom metal gears… they will never fail again.

Anyone considering acquiring this radio, buyer beware! There are many on the WEB who will claim it to be in some 'totally restored' condition…when mine arrived from the seller it 'seemed' to be ok…..until the counter went fruit loops shortly after unpacking. When Paul got inside the radio it had been 'tweaked and peeked'….all wrong.

I have a CONSIDERABLE sum invested in this SONY. If I could have known it's ACTUAL condition BEFORE my purchase, I may have passed….however, I now own what I consider to be the quintessential example of SONY's best engineering. All I can say, it's an absolute joy to use
Patrick, you no doubt have a benchmark Sony in that CRF-320.
It's funny: I was just attending a local hamfest here in North Carolina and a vintage radio vendor pointed out Carlson's repair video for your CRF-320! He said (and I agree), that your CFR-320 was restored to a level that's almost in a league of its own. I know you invested a lot in this radio, but you certainly have a fine example now–that is fully-functional–and will most likely outlast us all! Enjoy!